"The speed with which we generate meshes has given people new ideas about what they can do with meshes."
This week at SPAR International, Thinkbox announced the open beta of their new AEC-focused Sequoia software, which converts point cloud data into geometry. Though the technology behind Sequoia was developed by Thinkbox while providing visual effects software for feature films like Harry Potter and Avatar, Sequoia is intended for the reality capture industry. 
According to Thinkbox, Sequoia's main benefit is its great speed in processing very large point clouds. In a statement, they explain that "its multi-threaded technology leverages modern multi-processor systems and handles data processing asynchronously to ensure interactivity even during heavy calculations. Thanks to an out-of-core design, Sequoia can also process data successfully even if the system memory prevents data from being loaded all at once
Director of Development Ian Fraser explained that there are many reasons you would apply a mesh to a point cloud rather than using an auto-extraction workflow. Sequoia, he says, is already popular for people who create virtual environments and visualizations, "and that can be from artistic all the way to industrial–from being able to do a training video on an oil rig to making an artistic environment to put people in for an installation."
He added that a mesh can also be a useful way to simplify a point cloud for easier visualization or processing. Sequoia is already being used by early adopters to "extract reasonable surfaces at a lower resolution than point clouds themselves. Point clouds these days are dense, and pretty heavy and hard to move around. Moving a mesh around is much easier."
There are a lot more targets in a mesh, he added, which makes it easier to use in a game engine such as Unity or Unreal, or even design software like Revit. Noting the difficulty that many novices have understanding a point cloud when looking at it, Fraser added that this increased number of targets also makes a mesh much easier to understand.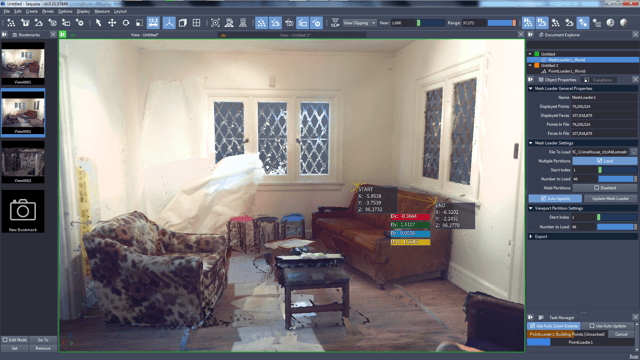 The software also includes image projection functions, which align an image onto a mesh generated from a point cloud. What's the benefit? Fraser explains that it allows the program to mix multiple different kinds of data sets. "We didn't want to lock the user into any specific kind of 3D data, so whether the points came from photogrammetry, or various kinds of laser scans like aerial or terrestrial, to us it's all 3D data that we want available to mix and match inside one cohesive unit."
When it comes to creating a virtual environment, Fraser explains, "it's very important to have good texture information" and an image overlay is one way to provide that.
Sequoia is Thinkbox's first product for the reality capture market, but that doesn't mean others won't be coming in the future. As long as clients ask for it, Fraser told SPAR, the company is open to developing new features or software. "What will happen to it in the future is largely dictated by the users and what they want to see and what problems they might have. We always try to find a solution that takes away pain points for them and allows them to do something more."
Thinkbox believes the software will offer a number of different industries a solution for generating an effective mesh model of a point cloud without a lot of manual or automated work. "The speed with which we generate meshes," Fraser says, "has given people new ideas about what they can do with meshes."
Go see Fraser and Thinkbox at booth 224 for demos and more information.