LAKE MARY, FLA — FARO, known for their efforts to "democratize 3D scanning," has taken another step toward their ultimate goal with the announcement of the FARO Freestyle3D Handheld Laser Scanner.
The scanner, which at 2 pounds is lightweight enough to be held in one hand, comes with a Microsoft Surface tablet. It scans up to a distance of three meters, captures 88k points per second, and touts accuracy greater than 1.5mm.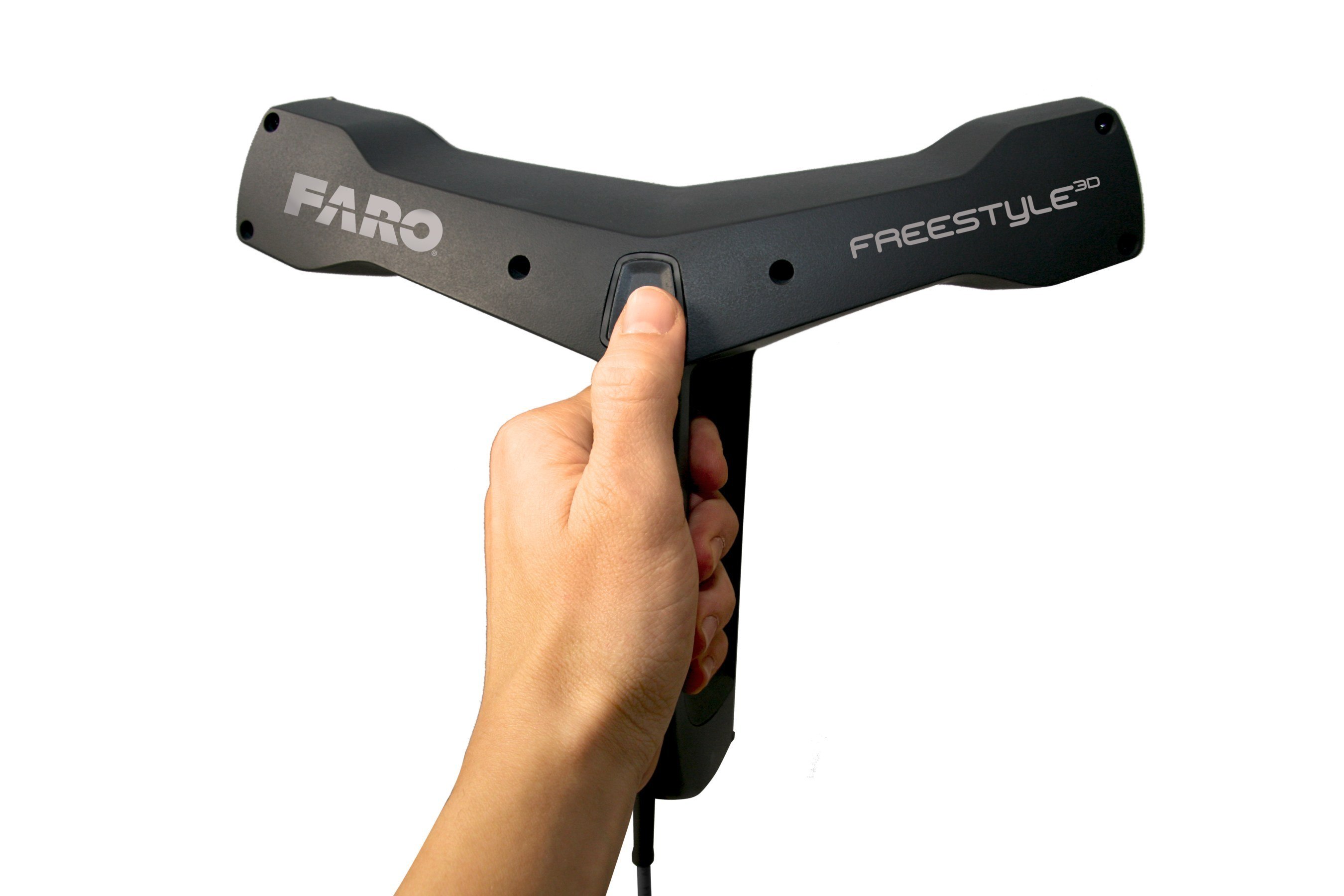 Hardware/Software Details
When contacted by SPAR, Product Manager for 3D Documentation Hardware & Business Antonio Ballester provided some more details on the scanner's hardware. "The Freestyle3D," he said, "has three cameras and one laser projector (Class I, eye safe). The projector projects a pattern of small infrared dots on the surface of the object; through the infrared cameras and colour cameras the 3D coordinates are calculated using a mathematical method called triangulation."
Judging by this information, it seems that FARO has released its first non-laser scanner meant for documentation purposes.
Such structured light technology will no doubt make the technology affordable for those who were previously priced out of 3D scanning. On top of that, the tablet interface will make it simpler for these brand-new users to reap the benefits of 3D scanning.
As Ballester explained it, the tablet interface "provides a split screen view, where the user is able to see in real time the 3D point cloud that he/she is scanning. At the same time the second screen provides live feedback about the quality of the scanned scene. With the new Scene Capture (the scan software) we focused on making the scanning experience as easy as possible, this means that the new user is just one click away from starting his first 3D scan."
Also contributing to scanner's ease of use is the Memory-scan technology, which allows users to pause scanning at any time and return later to finish the job, all without external targets. When I asked Jonathan Coco, advanced measurements and modeling department leader at Forte and Tablada about the scanner, this technology was something he mentioned with enthusiasm. "With hand-scanning operations," he said, "we have often struggled to put separate sequences together and there are often times when our arms get tired and we need a break but don't want to break the sequence."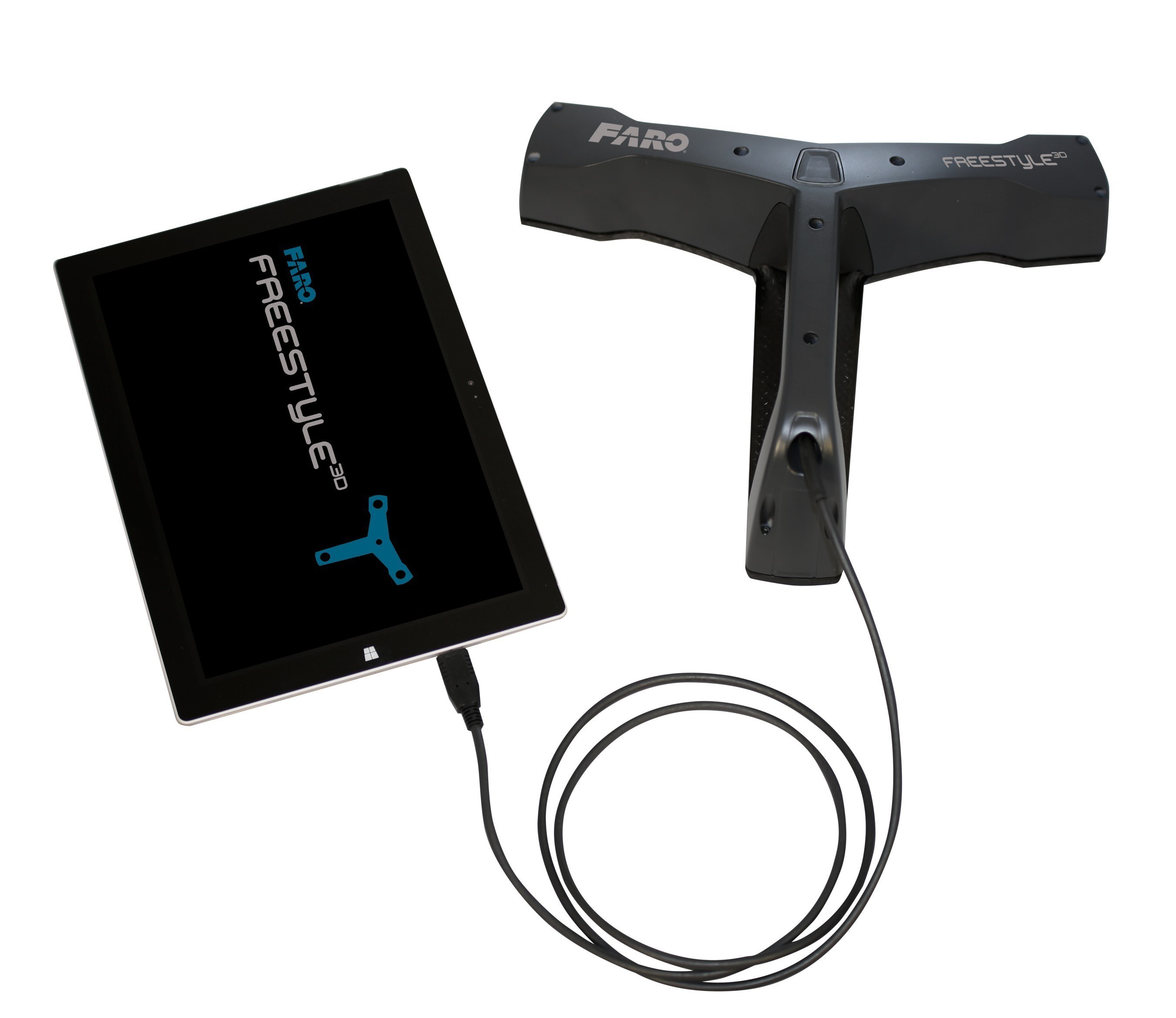 Who is it for?
Despite FARO's obvious attention to Freestyle3D's ease of use, Ballester stressed during our conversation that FARO sees it as a "professional 3D scanner" intended for use in segments like AEC and forensics. 
"In the AEC market," he said, "the Freestyle3D can be used as enhancement to Focus3D scans in larger projects: e.g. Voids above ceilings, staircases, down vertical shafts. Also as stand-alone device for mechanical equipment like chillers, HVAC units, elevator pumps. And even for small projects like small equipment rooms or offices."
Coco agreed that the Freestyle3D is ideal for uses like these, partially because one of the scanner's great strengths for professionals is "the ease to integrate the data with the Focus3D's data and provide additional coverage that was not attainable from a tripod-mounted device." The Freestyle3D's data is compatible with FARO's existing software visualization tools including FARO SCENE, WebShare Cloud, and FARO CAD Zone packages. 
However, Coco says, that doesn't mean the Freestyle3D won't be a good fit for "people that only need to scan a small area, but do so with accuracy on a budget." For example, he explained, the scanner would be useful for architects beginning to use Revit for renovations. These architects could send an intern in with the Freestyle3D scanner instead of contracting a guy like Jonathan at a higher cost.
if FARO wants to democratize 3D scanning, they could do a lot worse than releasing a professional-grade scanner that anyone could use on their first try.