Velodyne Lidar has announced plans to manufacture solid-state lidar chips. These chips are expected to cost less than $50 when produced at high volumes*.
Solid-state lidar integrates the parts of a lidar system into a microchip. Since solid-state chips have no moving parts, they are smaller, faster, less expensive, and easier to manufacture in large numbers. Velodyne says its chip is smaller than 4 mm x 4mm, and promotional materials show it as just large enough to cover George Washington's eye on the US quarter.
The company's immediate plans are to develop the technology for the high-volume self-driving automobile market.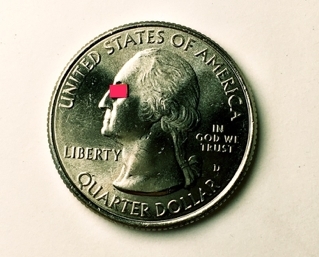 However, VP of Research and Development Anand Gopalan told SPAR 3D that Velodyne already "has plans to integrate the technology into their existing Puck form factor as well as non-rotating solid-state products."
Velodyne is not releasing the particulars of its plans at this time, or announcing what form factors it is working on. Gopalan emphasizes that the company is "constantly evaluating various market opportunities" and will begin sharing the development roadmap with major customers soon.
Gopalan also told SPAR that Velodyne sees solid-state technology as "a path to lower prices for all lidar products."
As he explained in an official statement, "we will soon have a portfolio of integrated circuits to address various aspects of lidar functionality, paving the way to a whole new generation of reliable, miniaturized, and cost-competitive lidar products."
Velodyne explained that the "breakthrough design" makes use of a monolithic gallium nitride (GaN) integrated circuit developed with partner Efficient Power Conversion. In an official statement, EPC co-founder and CEO Dr. Alex Lidow touted the benefits of GaN. Compared to the silicon generally used in solid-state lidar applications, he said, "GaN technology brings higher performance resulting in higher image resolution," as well as reduced overall cost.
Velodyne will announce further details in 2017.
* 12/19/16: This article has been updated to indicate that Velodyne has announced a solid-state lidar chip that is expected to cost $50, not a full lidar system as was previously stated.