The final session of the 2022 Geo Week conference program ended up being one of the most important as it explored what it will mean to drive the entire geospatial industry forward. As detailed by Geospatial World, the global geospatial industry will have a total value of $1 trillion by 2030. New tech geospatial startups will drive much of this value but how is the VC investor community approaching what it means to create and unlock this value? How should individuals and organizations looking for VC funding approach receiving it? A panel of VC experts discussed these details during the Connecting Investors with New Tech Startups session to leave the Geo Week audience with defined action items going forward.
Moderated by Sanjay Kumar, who serves as the founder and CEO of Geospatial World, the session explored what it will mean for individual companies and the entire geospatial industry to unlock the value of the entire sector. Doing to is only possible because of the foundation for geospatial that connects to the opening of the Internet and a host of public policy reforms that have changed in a major way over the past few decades.
Kumar explained how before 1992, GPS signals were controlled by the government and selectively available. That changed when the organization that would become EarthWatch Incorporated became the first company to receive a high-resolution commercial remote sensing license from the US Government in 1992. This change in public policy opened up the commercialization of the geospatial industry changing it forever. Because of that, the geospatial industry could now offer enhanced Earth observation capabilities in commercial and consumer domains.
By doing away with the selective availability of GPS signals and enabling the authorization of licenses for commercial satellites, the foundation for the mainstreaming of geospatial industry was laid. Through commercialization and scalability of its applications in various walks of mainstream economy, significant capital was invested in the sector. That came from companies like Trimble and Sirf (which is now part of Qualcomm), Bentley, Autodesk, MapInfo and many others, creating a much larger industry as well as new avenues across engineering and consumers sectors. This change in policy enabled consumable GPS which would fuel consumable products.
These developments further evolved as part of a new public policy under the United States Space Council, which was reestablished in 2017 after being disbanded in 1993. This body issued new rules to increase openness and transparency in the licensing process to eliminate most restrictions on how licensed remote sensing systems may be operated. Recognizing the power of geospatial, this new public policy created an avenue for new business intelligence tools that layer maps and location into their products, ranging from 3D modeling companies all the way to CRM's like Salesforce. These products and opportunities are driving the estimates of the global geospatial industry being worth $650 million by 2025 and over $1 trillion by 2030, all of which directly connects to the investments that the panelists are focused on making to utilize the power of location.
"In this backdrop, you're going to see a lot of investment coming into this market," said Kumar. "As the market matures, there will be more market realities and public policies. The investment firms will be helpful in defining these public policies. That's why the industry is going to grow more."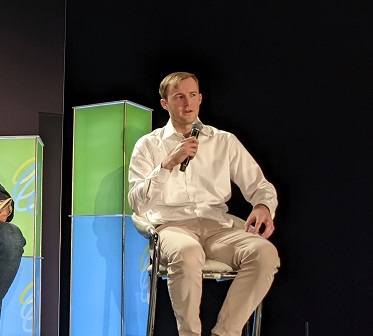 Clay Gordon is a Partner at Stout Street Capital and is very much focused on cultivating and enabling this growth. He mentioned that while he's seen how geospatial data can enable micro-efficiencies, it also enables industrialization in a much bigger sense. As an example of the type of value Stout Street Capital enables on both levels, Gordan mentioned Stout Street Capital investment Blastpoint, which is an A.I.-driven customer intelligence tool that gives companies the power to discover & engage the human in their data. In a practical sense, that means allowing a construction company to enroll in paperless billing, saving time and money that can be measured in the bottom line.
Doing so is something that Gopan Madathil, Managing Director at Innosapien Ventures, highlighted as essential. Funding companies that can harness the power of location to connect everything are the sort that he's looking for since he has seen how they create that bottom-line value. For him though, this value is just part of something much bigger for what many have positioned as the geospatial revolution.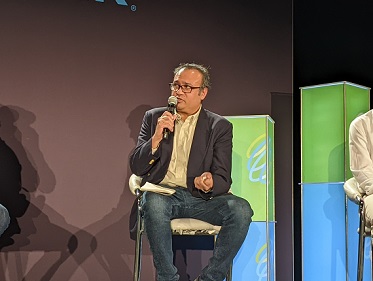 "Geospatial can be part of everything we do," Madathil explained. "What excites me is that we're at an inflection point for what had essentially been a government-driven industry becoming a mainstream industrial one, with control over location and data in real-time being driven by individuals and organizations. It's a horizontal technology that's being leveraged in brand new ways including unmanned systems, telematics and AI/robotics."
Nick Durham is a Senior Associate at Shadow Ventures, a venture capital firm interested in these new opportunities, although they're specifically focused on startups that innovate for the built environment. While construction is one of the least innovative industries, over the last 5-10 years the tide has shifted in a major way. But COVID-19 brought this shift to the forefront.
"The question of how you get work done came up in a big way once the pandemic hit," Durham said. "The answer ended up being leveraging tech. While there were plenty of people that were thinking about these solutions, many were conservative and hadn't moved forward with adoption. They were suddenly forced to, and guess what? It works. The infrastructure to virtually walk-through rooms was there. COVID forced an acceleration of tech adoption."
The Autodesk suite of products has been around for years, highlighting what this shift looks like on the design side but it hadn't been realized across the rest of the construction life-cycle. That barrier around adoption in the construction space is something others on the panel agreed with, as they have seen the challenges firsthand.
"The #1 competition for tech products in the construction space is the #2 pencil," Madathil said. "That underscores the opportunity for huge innovation in this sector."
As the least digitalized industry, the changes that have taken place across the construction industry have proven to be seismic, with an entire industry needing to respond to working from home and in remote environments in ways that were not previously ever considered. Enabled by geospatial data that connects data, teams and workflows, these changes have provided an entirely new perspective around the necessity and possibility related to such changes.
"We've seen companies open up to new ways to approach long-standing problems, which has done things like enabling robotics in a workflow," Gordon said. "Our lens is the efficiency side and being able to define how these machines are working together has been eye-opening on all sides. We see robotics as a means to transform work."
That transformation is connected with automation and how workforces are evolving, all of which is being driven by data that is enabling or driving decision-making. Such capabilities aren't enough though, as innovations related to this transformation can't happen in silos. What can be done to connect technologies, teams and entire industries? How can doing so make everyone more profitable and leverage things others are doing? These are the questions the panelist are asking of start-ups making their pitch while also working to answer them across their portfolios.
That led into a discussion about what the panelists are ultimately looking for when it comes to making an investment in a start-up and how anyone making a pitch needs to position the value of their product or company. Their advice centered on defining the value proposition which can be as simple as fully defining what it means to capture or leverage geospatial data. But VCs are often looking for something even more fundamental.
"Don't look at an investor as someone who's just writing the checks," Madathil said. "Look at them as partners. That's the difference between a professional venture firm and an individual investor and anyone making a pitch needs to understand that distinction and seek smart money."
As the panel wrapped up, each person had some advice for anyone looking to position their product or solution in a way that made sense to investors.
"You have to calculate from the bottom up," Durham explained. "What is the price of your product and how many people can you sell it to? We're placing investment in 20-25 companies and expect maybe one of them to do 300x. That asymmetry forces us to pick ones that have massive scale and massive returns. It's tough to scale quickly, but the opportunity is there for anyone focused on delivering quality or on a massive platform. It can't be a single product that solves a single problem. You need to think bigger if your goal is to pursue venture capital. That's the only way to make it work"
Innosapien Ventures has a similar focus on companies that can deliver massive returns but what resonates to them is about being able to push past the hype and potential and be able to speak to the wants and needs of users and the market.
"What you have to remember is that VCs are smart and get exposed to a lot of deals coming by," Madathil said. "Even when you are going after a big market, what is your piece of the pie? Not all deals are venture fundable. Get your data correct. Get your facts first and then do as you please. After getting an external validation, approach the investors at the right inflection point."
Stout Street Capital prides itself on investing in under-served markets, which is something Gordon indirectly reinforced with his final thought.
"Persistence is key," Gordon said. "Even if something isn't a fit, keep the door open as we've turned down investments and created synergy in the future."
That future synergy is ultimately behind the desire on the part of investors to invest in the geospatial industry and the construction sector, as the returns that are possible thanks to the power of location data as well as the inefficiencies in construction are as obvious as they are lucrative. That potential is related to the impact such solutions have on sustainability issues that will only become more prevalent in the coming years. The necessity to enable sustainability in this manner provided Kumar with a way to connect what stakeholders on each side of the funding conversation need to keep in mind in the short and long term.
"As a community, the geospatial industry has become more mature," Kumar concluded. "If we all work together, we'll see that trillion-dollar prediction achieved. In fact, you can see how we're going to get there with how companies like Trimble and Bentley are growing. They're getting bigger by acquiring the very companies that these VC's are funding, and geospatial data and services are at the core of them all. These big companies are making investments in this technology because they realize they can't outsource it. The geospatial industry has come a long way but we're really just at the beginning on account of how many are recognizing the power of location and what it means to make maps a part of a product. That's what the next generation digital economy will run on."