If there's one problem that keeps 3D visualization tech from reaching its full potential in the AEC market, it's the difficulty of sharing large 3D data sets. This is why engines like Unreal and Unity, which were created to process and optimize huge 3D data sets in video games, have been expanding into the commercial market and growing in name recognition. One name you might not have heard, but which deserves mention alongside these giants, is Umbra.
Umbra was founded in 2006 as a spin-off from a Finnish 3D graphics company that specialized in mobile 3D tech. When that company was bought by NVIDIA, the co-founders saw the potential for developing their technology in the PC and console gaming market, and peeled off to form Umbra. Their solution, which comprises a number of different technologies for optimizing 3D data, has been used in a number of major video-game titles by major publishers in previous years.
Now Umbra is bringing its tech to AEC with Composit, a software solution that integrates cleanly into existing AEC workflows to handle, optimize, and share 3D data as easily as possible. We caught up with Shawn Adamek, Chief Strategy Officer for Umbra to talk about Composit, the benefits of 3D visualization, and the current state of AR in AEC.
What Composit is, and what it can do for AEC
At its simplest, Composit is a tool that minimizes the amount of work necessary for a user to share 3D design data in AEC.  "We automate the entire optimization process," Adamek says. "You then log into your account and decide what device you want to view it on, and then you share that data with whomever you want," whether that person is using a smartphone, a tablet, a computer, or an AR headset. When someone views the data set, the program shows them a level of detail optimized for both their device and the level at which they are zoomed in. The effect is that the viewing is always smooth, and always the highest detail possible.
Design
Here's what it can do for architects. Users of Revit, Navisworks and ARCHICAD download a plug in that makes the process as simple as clicking one button. "Let's say a designer is working on a BIM model in Revit," Adamek says. "At any time in the process, there's an "Umbrify" button they can hit to export their BIM so it can be optimized and shared with a bunch of people."
He says that might not /seem/ like a big deal, but it goes a long way to help designers overcome the challenge of building a truly collaborative working process around these models. That's because it's still difficult—even in 2018—to get everyone looking at the same model at the same time, since workers are often spread out to different geographic locations.
A lot of the big construction and architecture firms that use Umbra's technology like that it makes the 3D data easy to share for everyone who needs to review it. With Umbra, Adamek says, "they can be all over the world and all on different devices, but looking at the same model and leaving annotations, walking through the model at the same time and c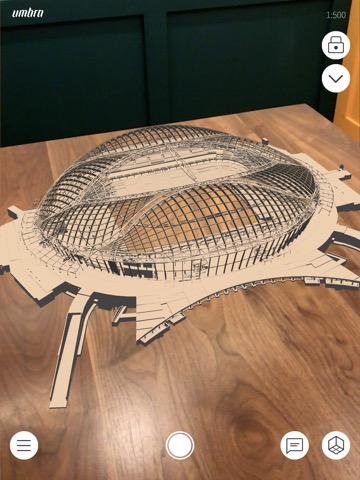 ollaborating with the original designer." That enables "an accelerated workflow."
Sales and marketing
The second use, he says, is for sales and marketing. "When you go out and bid for a project, you want to give your customer the best, most immersive experience possible, and visualization is part of that. Yes, you can walk in with a physical 3D model or 2D blueprints or 2D screenshots of your 3D BIM model. Or you can walk in with an iPad or an AR/VR headset and let your customer actually walk into the building you're going to build for them. The architectural firms that are actually going out and pitching and bidding on big projects are seeing a major difference when they use the tool this way."
Construction
From an ROI perspective, the biggest deal about software like Umbra is the things it can dp on the construction site. Suppose, says Adamek, that you're a construction worker and you want to refer to the BIM data so you don't make a mistake. For a long time you didn't have the option, and those who did have the option could not do it easily. "Maybe it means getting onto a device that isn't nearby, or getting access from someone who isn't on site that day. Either way, these construction workers aren't looking at this data as much as they prefer."
With Umbra's solution, they can view it on their own devices, like the smartphones in their pockets or an AR headset. They can pull it up in 1:1, lock it into place, and "walk right into it. They can see what they're going to build before they build it."
Is AEC ready for AR/VR?
Adamek says that, despite Umbra's full support of AR and VR visualization, the company is still facing some barriers to adoption in those areas.
In architecture the biggest problem is not cultural (which is surprising in AEC, since it's /always/cultural). Currently, it's just the simple availability of the hardware. "When you're looking at a HoloLens," Adamek explains, "there's not a huge amount of those out in the wild. Even for some of the larger AEC companies we're working with, it's rare to find anyone that has more than a dozen of those things in their whole company."
That's one of the reasons Umbra has focused on making 3D data available to users regardless of what device they use. They believe the technology will be adapted faster if they make it available on devices that people "already have in their pockets" instead of "waiting around for people to shift their devices." Smartphones are virtually ubiquitous, he says, so making their solution available in an app greatly reduces the barrier to entry—which is true for users in architecture, engineering, and construction alike.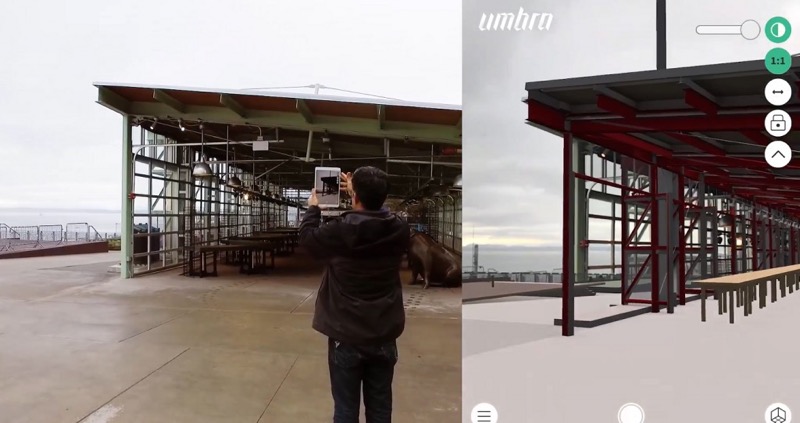 Integrating into the workflow
Given the way that the plugin integrates cleanly into the design software mentioned above, it won't be surprising to learn that integrating with different workflows as cleanly as possible—and even improving them—is high on Umbra's list of priorities.
That's why they're keeping an eye on the ways people are using their technology as a way to scout out possible future integrations.
One workflow they're keeping an eye on: "Some of our clients are using our Unity integration to take these models to the next level. We're seeing forward thinking design companies bringing in Unity developers for the purpose of basically taking what the Autodesk tools will export from Navisworks or Revit and building an entire scene around the building. So it's not just the BIM model, but you can build an entire city around it just to show how it will look in the environment where it will eventually live."
By integrating with workflows like this in the future, Adamek says, Umbra hopes they can create a workflow pipeline "that is basically seamless."
Give it a shot
For those interested, Adamek says that Umbra offers a free 30-day trial on their website. That's enough time to upload models from Revit, NavisWorks, ARCHICAD, and even Unity, and "Umbrify" them for viewing in HoloLens or on a smartphone. Construction users, he says, should download the app to view BIM data at 1:1 scale and "walk into it."
They also want your feedback. "Part of that push to sign up for the trial isn't just about getting people to buy the product, but also so that we can hear back about how someone thinks we can make it better. We want to hear about new use cases that we aren't currently supporting. It's still a young product, and we have a roadmap, and I think the more people start using this, the better we can prioritize new features in future releases. "
For more information, see Umbra3D.com