Trimble's latest Tekla software releases improve the free flow of information, the creation of data-rich constructible models and improved collaboration. Trimble released updates of its Tekla 2020 Structural BIM Software Solutions, that are used for advanced Building Information Modeling (BIM), structural engineering and steel fabrication management. The updates concern the following software products:
Tekla Structures is advanced structural BIM software for creating, combining, managing and sharing multi-material 3D models packed with constructible data. From conceptual planning to fabrication, construction and maintenance, to design, detailing and information management, Tekla models contain all the structural data needed to build and maintain any type of structure.
Tekla Structural Designer is a dedicated analysis and design software for structural engineers that combines analysis and design into a single, seamless process. From scheme design all the way through to detailed design, one single model covers all structural analysis and design requirements.
Tekla Tedds is an easy-to-use structural analysis software that reduces repetitive hand calculations and offers dependable multi-material element design with its extensive, easy-to-inspect quality assured library of calculations.
Tekla PowerFab is a complete and connected steel fabrication software solution that provides relevant and real-time information to all project parties. The solution gives project teams visibility into the status of components at every stage of fabrication—from model-based estimating to site delivery—so they can work together seamlessly for more efficient workflows and cost savings.
Additionally, Trimble introduced Tekla Structural Design Suite, a new bundled product that includes both Tekla Tedds and Tekla Structural Designer, as well as accessed using cloud licensing. The reason for bundling the two solutions in one suite is that now a more cost-effective pricing can be offered to firms that need both. Engineers today need the flexibility to access the software to do their work from outside the office. Cloud-based licensing allows them to access the solution and work from anywhere for instant model updates between team members across locations, resulting in seamless accuracy, automation and productivity.
All these software releases were harmonized to deliver a united set of tools for coordinating and optimizing the entire design, build and operate lifecycle. A great deal of development effort was put into delivering solutions that work together seamlessly. These are desktop solutions that include cloud-based license authentication which provides users with more flexibility.
Trimble's Constructible Process
Tekla Structures supports what is referred to as "the Constructible Process", to transform the entire design, build and operate lifecycle. The term describes a purpose-driven approach that coordinates and optimizes the entire design, build and operate lifecycle. With a constructible process, data sharing, combining and usage from every stage of the design and construction phases is secured, to make more informed decisions before construction starts and before it's too late.
At the core of The Constructible Process are the three Cs: all phases and trades are connected and an open and shared data platform improves collaboration and coordination across the whole lifecycle of a project; models and workflows are content-enabled so that designers and engineers save time developing detailed and comprehensive models by incorporating up-to-date digital content provided by materials manufacturers; constructible models drive smarter workflows. When you know exactly what you are building, down to the bolts and formwork, the entire process of estimating, scheduling, fabricating and installation can be completed with less waste and more predictability.
Tekla Structures 2020 enhancements
Tekla Structures 2020 delivers enhancements, improvements and new features that enable efficient workflows for better productivity, increased mobility and collaboration across project teams, including easier modeling of complex shapes with geometry improvements. More specifically, Trimble has enhanced the creation of lofted plates and lofted slabs. For example, in addition to using construction lines, arcs, or circles to create the lofted parts that were possible with the previous release, users can now model complex curved shapes by using polycurve construction objects.
In Tekla Structures 2020, the creation of lofted plates and lofted slabs has been enhanced as well. For example, in addition to using construction lines, arcs or circles to create lofted parts,  users can now model complex curved shapes by using polycurve construction objects. Lofted plates in single-part drawings can now be unfolded. With that flat plate, the drawing provides the instructions they need to create a complex shape.
Trimble Connect collaboration platform
Tekla Structures 2020 Maintenance now includes Trimble Connect collaboration platform, a cloud-based solution that allows stakeholders to share, review, coordinate and comment on data-rich building models, drawings, schedules and other project information in real-time across the project lifecycle, from a laptop, desktop or mobile device. In Tekla Structures 2020, a new user interface was introduced for automatically uploading models from Tekla Structures to Trimble Connect, a collaboration tool that connects the right people to the right constructible data, at the right time. It allows our users to access, share, review and comment on cloud-enabled, model-based projects and easily share Tekla models, drawings and documents with other project participants.
Trimble Connect was included in Tekla Structures 2020 Maintenance so users can extend the value of Tekla Structures by using Trimble Connect to share and view constructible models, and collaborate with other stakeholders. Also, Tekla Model Sharing allows teams to work on the same model, at the same time, but their work never collides. Tekla Model Sharing is the only sharing technology that allows users to work without an internet connection, which is only needed when they want to sync the changes.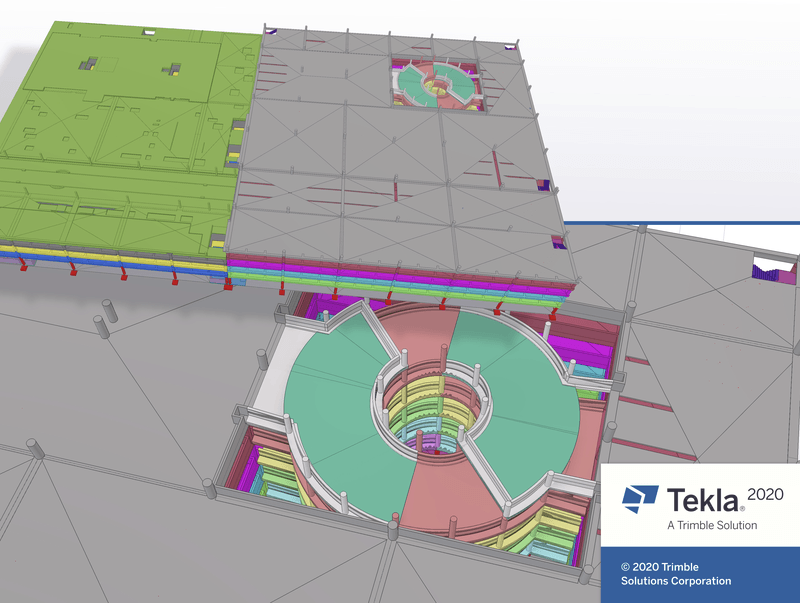 Modeling complex geometries with the Grasshopper plugin
Tekla Structural Designer 2020 structural analysis and design software introduces data-driven design with a new direct link between Tekla Structural Designer and algorithmic modeling plugin Grasshopper, enabling quick and easy exploration of different early-stage design alternatives. The Grasshopper-Tekla Structural Designer (GH-TSD) live link enables algorithmic modeling, parametric design exploration and data-driven design for Tekla Structural Designer (TSD) using Rhino/Grasshopper. The link is a set of Grasshopper components that can create and update objects "live" in TSD. The link also provides the capability to automate TSD static analysis & record global displacement results using Grasshopper. This functionality gives engineers the ability to model complex geometries and rapidly vary the parameters that define those geometries, thereby giving these engineers the ability to investigate the structural viability of a large range of complex options at an extremely fast rate.