Trimble has introduced the Trimble MX50 mobile mapping system for asset management and mapping. This vehicle-mounted mobile LiDAR system is a mid-range option for first-time mobile mapping users and experienced providers to expand their equipment fleet with precise, high-volume data capture technology that works in conjunction with Trimble's geospatial software solutions.
Trimble believes there is a significant market for asset management and mapping: many users in the space have been looking at mobile mapping because of the step change in field productivity along with the rich data that mobile mapping provides, but they have been challenged by the significant capital investment cost involved. The aim of the Trimble MX50 is to try to achieve a balance between productivity gains, rich data deliverables, and a price point that opens mobile mapping to a broader audience.
System overview
The Trimble MX50 features new Trimble-designed profiling lasers for high-accuracy data collection, a 360-degree panoramic camera and a GNSS/IMU positioning system from Applanix, a Trimble Company. The system produces dense point clouds and immersive imagery for surveying and mapping accuracy, and works with Applanix POSPac, Trimble Business Center and the Trimble MX software suite. The image below provides an overview of all individual system components: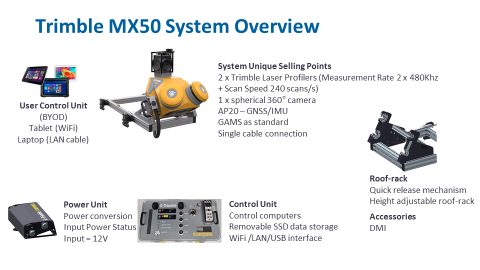 Using proprietary laser profilers allows Trimble to better support their customers, from a service point of view and offers more complete control of the product roadmap. In addition, in the case of the Trimble MX50 system, it offers greater control of the product cost. The following image provides the different laser profiler specifications: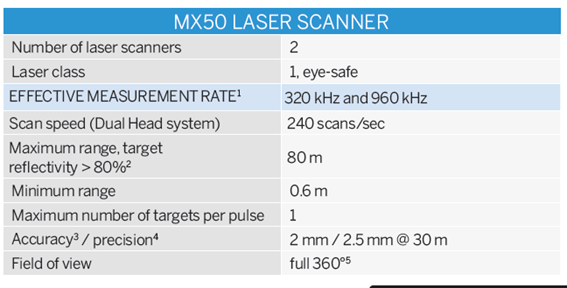 The Trimble MX50 also expands the company's mobile mapping portfolio, which includes the widely adopted Trimble MX9 system for large scanning and mapping missions and the highly portable Trimble MX7 for capturing precisely positioned street-level imagery. While software and workflow is the same across the portfolio, the following image shows the differences between the different products: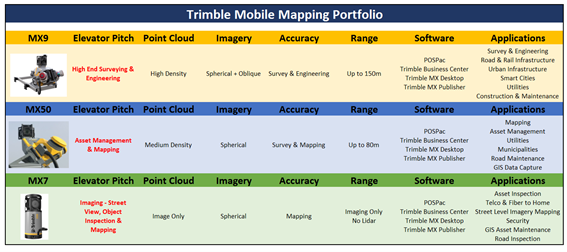 The Trimble MX9 has both spherical and oblique cameras, while the MX50 has only spherical. The oblique cameras on the MX9 provide the user with greater fidelity when it is important to focus on specific assets for inspection purposes. This "additional functionality" is consistent with Trimble's portfolio approach with the high-end product (MX9) offering greater capabilities.
Highway and road inspection
By providing clean and accurate data of ground surfaces, the Trimble MX50 is a practical choice for highway and road inspection and maintenance organizations. The system produces very low noise and accurate data on the road surface. The MX50 provides a very productive way of measuring road surface data and in Trimble Business Center (TBC) users can create appropriate deliverables such as DTM's, profiles, cross-sections etc.
The workflows available in TBC, which is a product that extends to Trimble Civil Construction applications, provides capabilities to combine, very quickly, acquired road surface data with new road surface designs which could then be delivered to a machine control system for automated road surface rehabilitation. Trimble focuses not simply on providing new hardware but on the data itself and optimizing the usefulness of that data in their Geospatial and Civil Construction solutions.