40 percent more range; 100 percent more points
LIVERMORE, Calif. – Topcon released last week the IP-S2 Compact+ 3D, a new mobile scanning system replacing its base-level IP-S2 system that was first released in 2009. Improvements include roughly 40 percent more range, out to between 40 and 50 meters, and more than twice the point density, to 100,000 points per second in its base package.
Topcon also still offers the IP-S2 HD, which offers increased range and density, but which costs at least $125,000 more.
"What's new on the Compact is the lidar scanners," said Dave Henderson, director of Geospatial Solutions at Topcon Positioning Systems. Topcon is making use of the next generation of lidar scanners released by Sick to get the increased range and point density, and the Compact+ also incorporates some control box changes to make the system more efficient.
"We're responding to the market," Henderson said. "They wanted to still get portability, but they wanted increased density and range … They want to go a little faster, pick the assets up, and have the comfort of knowing they can still pull those assets out of the point cloud."
Here's an example of point cloud data collected by the Compact+: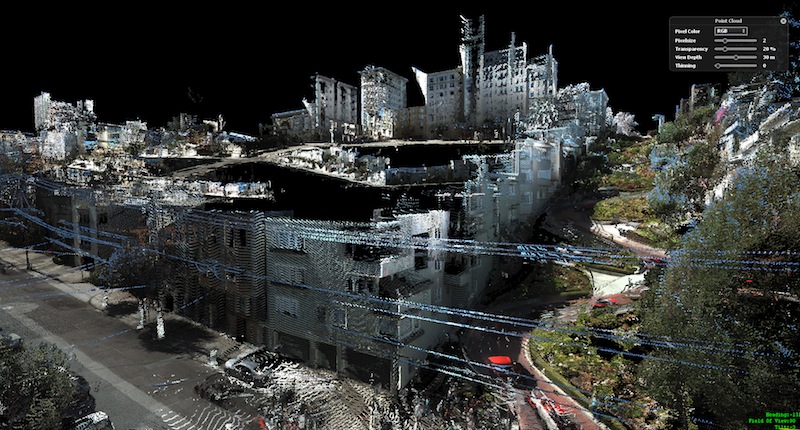 It's a series of choices the user has to make, he said, between cost and performance and portability. "We're trying to find that happy mixture," he said, "and stay price conscious while we're at it … Some people think a million points is great, some people think it's too much." Per usual, the choices reflect the potential application. If you're scanning for utilities, you might want the HD product because you'll need a higher point density at a longer range to pick up the individual wires. But if you're scanning for contour mapping or digital terrain modeling, you likely don't need that kind of density.
"It's a specifications game in a lot of ways," Henderson said of competing products in the marketplace, "but we're trying to respond to what the market is asking for. We don't want to build products that don't respond to the market. We want something viable that will respond to what the customer wants."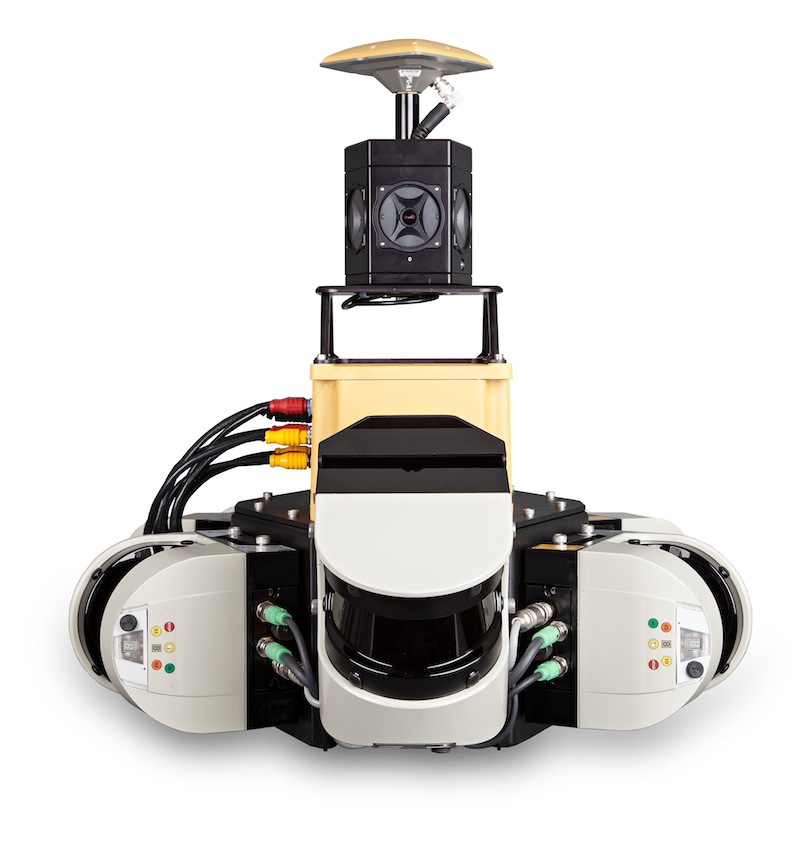 In terms of specs, the Compact+ system is available in two configurations: a three-scanner standard model or a five-scanner system. The three-scanner system gives a 360-degree vertical field of view at 100,000 points per second. The five-scanner system increases cloud density, minimizes scanning shades, and collects 150,000 points per second. The system can be purchased with either a commercial-grade or a tactical-grade IMU. The commercial grade IMU is a non-ITAR restricted device without export control.
Currently, Henderson said service providers are the target market for the Compact+, but that may change in the near future. "I think the end user is deciding that they might need to get into the business more," he said. They're already accepting the usefulness of the data, he reasons, and the next step will be that they want the data on demand.
"People with this technology are going to want to deploy it fast," Henderson said. "It's going to be: We have a problem and we need the data now … That's the whole key to the system's value, the availability of that data on short notice anytime and the ease with which you can process it. The fact that you can drive the area and make decisions before the end of the day. People need to do more with less."