Yesterday, FARO announced the launch of its first fully-integrated indoor mobile mapping solution that – as its name suggests – is built for speed. The Focus Swift is designed to tackle the time-intensive work of scanning large-scale as-built locations like construction sites, warehouses, office buildings, or hospitals and other large-scale indoor infrastructure. By combining FARO's Focus Laser Scanner into an integrated mobile system, FARO has come onto the mobile mapping scene with a lot of potential.
Positioned as the portable extension of the existing FARO Focus line of capture devices, the Focus Swift is designed to be both lightweight and fast. The Swift is designed for a wide range of challenging industrial operating conditions (5C to 40C) and can run for two hours on a 14.4-volt internal battery, or longer using additional battery packs. The entire setup weighs a total of 38.5 lbs (17.5 kg), and is built around a three-wheeled cart that can also be folded for storage and travel. FARO reports that the Swift system is able to be transported in two airline carry-on-sized cases.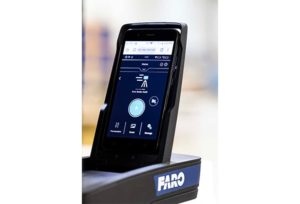 To operate the Focus Swift, a user positions themselves in front of the handles of the cart, and starts the capture with a simple button press. To monitor the scan in progress, the Swift's user interface can be run on any mobile phone, giving operators the real-time awareness to make better scans.
Beyond its portability, the Focus Swift is built for integration. Users of the Focus Swift can use it to capture data for FARO As-Built, BuiltIT Construction and WebShare Cloud. Internally, Swift is powered the revolutionary FARO SCENE software, which automatically processes data from Focus and ScanPlan into accurate 3D point clouds. FARO SCENE processes and manages scanned data efficiently and easily by using automatic object recognition and scan registration and positioning and can also be used for colorization.
The capture data can also be directly imported into any CAD system that can process point cloud data, while simplifying their modeling with automated processes to optimize the scans. By prioritizing compatibility, this device is yet another step towards the often sought "scan-to-bim" pathway.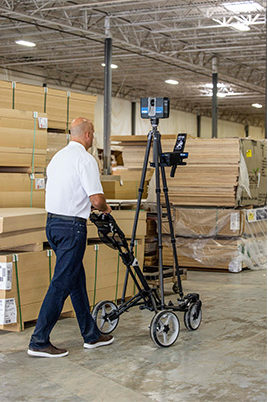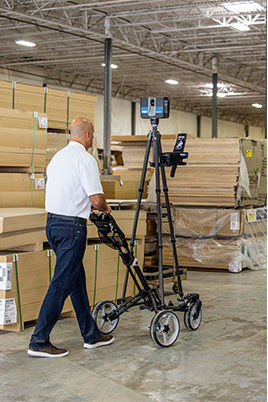 As with all mobile scanning devices, depending on the accuracy required, the device is capable of different speeds. The accuracy range of the Swift is listed in its specs as between 2mm to 10mm, with up to 1 million points captured per section when in motion (2 million when stationary). When compared to traditional static scans, the Focus Swift claims to be able to accomplish the task up to ten times faster. As-built capturing jobs that would require, for example, one hour or more with stationary 3D laser scans could be accomplished in about six minutes with Swift.
This seems a particularly opportune time for FARO to launch this solution, considering the recent proliferation of handheld and other mobile scanning devices, as well as the growing adoption of reality capture technology for broader use cases.
"In the mobile mapping space, there are handheld devices, wearable backpack products and bulky vehicle-bound systems," said Oliver Buerkler, senior product manager at FARO. "Swift is the first lightweight, highly versatile alternative that delivers the best of all worlds to maximize efficiency."