Lidar sales lag but Teledyne bullish on digital camera unit
Teledyne Technologies Inc. reported Thursday third quarter revenue in its digital imaging business was down 2.7 percent to $105.2 million, primarily due to lower sales of lidar sensor systems and MEMS (microelectromechanical) products.
Based in Thousand Oaks, Calif., Teledyne said the digital imaging unit's decline was partially offset by improved sales of sensors and digital cameras for commercial machine vision and medical applications, and infrared sensors and cameras for commercial and scientific applications.
The digital imaging unit includes Teledyne Dalsa, which manufactures about 65,000 digital cameras annually.
The company said its digital imaging unit did report robust third quarter operating profit of $11.5 million, a 51.3 percent jump, mainly due to "favorable product mix differences," partially offset by $1.9 million in severance and related expenses.
Lidar by Optech
Teledyne's digital imaging unit also includes a portfolio of lidar systems for airborne terrestrial mapping, mobile mapping and laser-based 3D imaging applications manufactured by Ontario-based Optech Inc., which Teledyne paid $28 million for a majority interest last year.
Optech had some growth from the first to second quarter, about $9.3 million to $11.5 million, up approximately 24 percent. Optech's fiscal 2012 sales were nearly $55 million.
Optech's third quarter sales were not disclosed Thursday, but it's fair to say the lidar business has not been a smooth one for Teledyne.
"We are not as optimistic about our lidar businesses," Teledyne CEO Robert Mehrabian said Thursday in a conference call with analysts to discuss third quarter results. "They have not done as well in the previous quarters."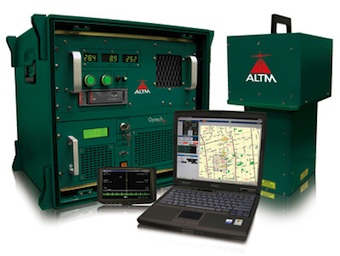 Optech's ALTM Gemini – a wide-area, high-altitude lidar mapping system
Mehrabian expressed some frustration with his ability to manage the Optech business when discussing Q2 results with analysts in July.
"Fundamentally, we really own only 51 percent of Optech, 49 percent is minority-owned," he said. "It's not the easiest business for us to control because, while we are majority shareholders, there is a very strong, minority component [at Optech]."
Digital imaging segment to grow Q4 sales
For the first nine months of 2013, the digital imaging business reported a less-than-one percent decrease in sales to $312 million, compared to the same period last year.
Mehrabian said he believes for the fourth quarter the digital imaging unit will grow about 3 to 5 percent, compared to the same period in 2012. Most of that revenue is expected to come from sales in the Asia Pacific region and most of that demand will be for Teledyne Dalsa's digital cameras for flat panel display inspection – a business segment where Mehrabian said the company "is doing reasonably well."
In 2012, Teledyne's digital imaging business posted $415.9 million in sales, a 19 percent increase, while operating profit for the business segment was $24.8 million, up 54 percent.
Teledyne's total third quarter sales were $571.6 million, a 4.4 percent increase over the same period last year. Net income for the quarter was $46.8 million, or $1.23 per diluted share, up nearly 10 percent.