Last month, TechSee raised $30 million in a Series C round, co-led by OurCrowd, Salesforce Ventures, and TELUS Ventures, to expand its remote Visual Assistance platform powered by computer vision artificial intelligence and augmented reality.
Similar to other platforms like TeamViewer Pilot, Apprentice.io, or Trimble PULSE Remote Expert, TechSee delivers visual, interactive, and personalized assistance, allowing customers and technicians to receive real-time AR guidance on their smartphone or tablet screens, simplifying issue resolution, eliminating the need for onsite visits, and reducing operational costs. Designed for smartphones and smart glasses from "leading manufacturers", TechSee's platform is available in three different solutions: Live Contact Centers, Live Field Services, and Visual Self-Service.
To help increase agent productivity and enhance customer experience, Live Contact Centers and Field Services bridge the visual gap between customers and contact centers or remote experts with remote visual customer assistance. As a browser-based solution, users don't have to download an app and the connection can be done through a simple SMS code. With an established connection, the remote assistant can opt to receive live video or photos, share their desktops and browsers, and provide on-screen guidance with AR annotations, by pointing out what needs to be done during every step.
By adding Computer Vision AI to the mix, the Visual Self-Service solution uses chatbots and IVR to automate troubleshooting steps. TechSee's AI platform can automatically identify components, ports, cables, LED indicators, and more to detect issues and suggest resolutions.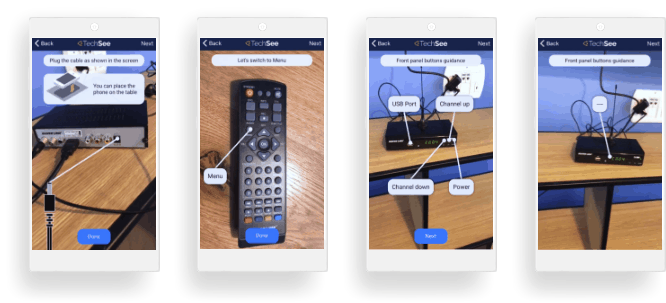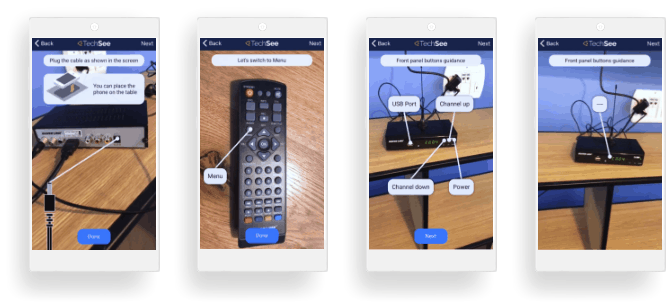 "Remote Visual Assistance is a key technology for tech support during the COVID-19 crisis", reads TechSee's blog post. COVID-19 has forced many companies to transition their contact centers to a WFH model, and self-service goes a long way toward alleviating pressure on a scaled-down workforce. Earlier this year, TechSee provided free access to the platform in European countries affected by COVID-19 to mitigate the impact of the coronavirus pandemic.
"There has been a significant increase in demand for contactless customer service technologies propelled by COVID-19 social distancing requirements and the acceleration of digital transformation projects," said Eitan Cohen, CEO of TechSee.
"Our Visual Automation technology is at the heart of it, and now that momentum is growing exponentially as businesses seek to reduce costs and optimize customer experience strategies in the current environment. Our vision is to get rid of the user manual and replace it with dynamic AR assistants."
Right now, TechSee is working with various companies, such as Vodafone, Samsung, Verizon, and Medtechnica, to reduce engineer visits to customers' homes and enable technicians to work from home by using Visual Assistance, ensuring technicians and customers' safety.
"Due to the dangers of COVID-19, we attempt to resolve all of our customers' issues from outside of their homes or businesses," said Jimmy David, a facilities technician at Verizon.
Currently, TechSee is working with Telecom, Consumer Electronics, Insurance, Manufacturing, Retail, Utilities, and BPOs. Apart from improving its platform, the company also wants to use the new investment round to enter new markets and verticals in the future.