CONEXPO-CON/AGG only takes place every three years and as such is always a unique experience. With trucks, excavators and other huge pieces of gigantic construction machinery taking over Las Vegas, it's an event that's impossible to miss in more ways than one. The 2020 event was especially unique in ways organizers, exhibitors and attendees couldn't have ever imagined, but that uniqueness ended up being about far more than concerns about COVID-19.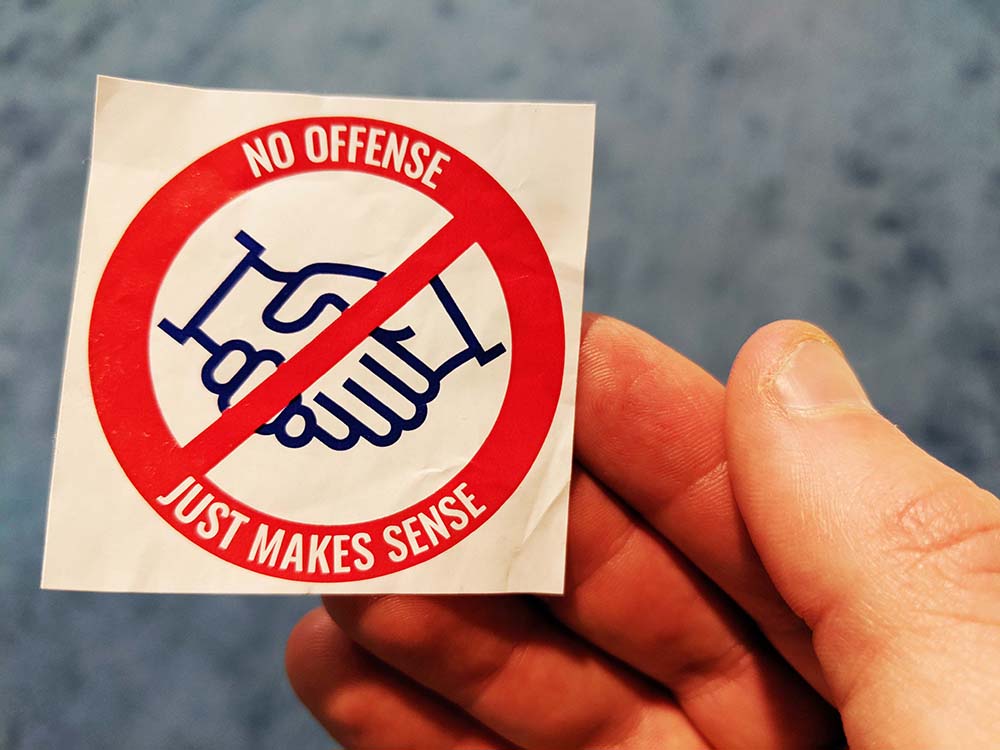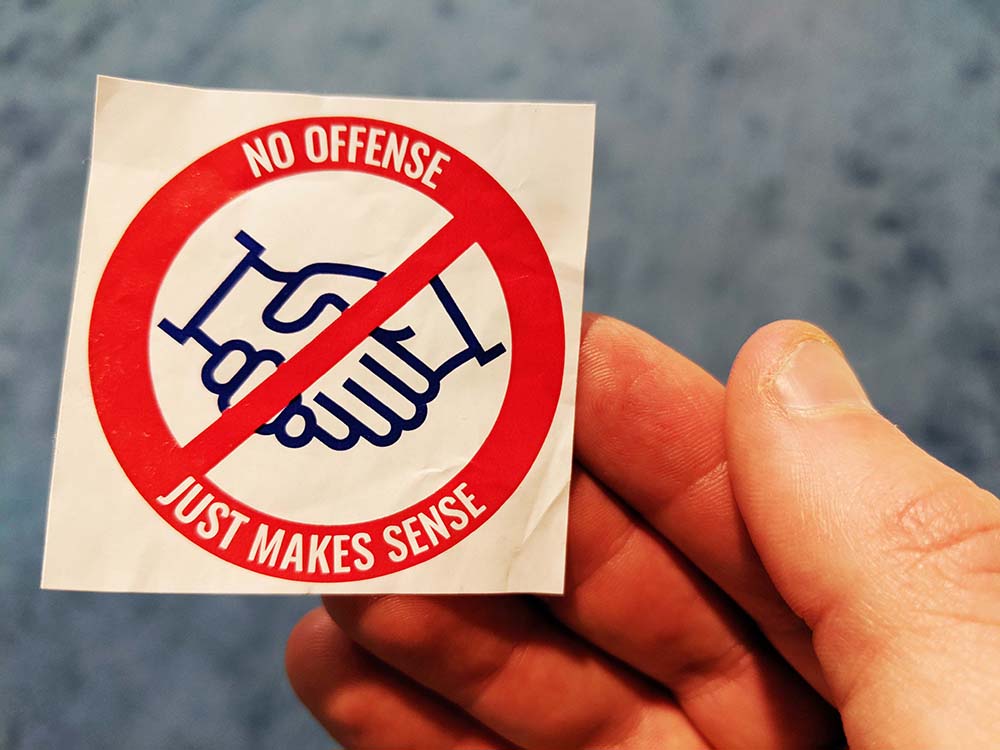 Coming Together in the Midst of COVID-19
At first, I wanted to see if I could get through this write-up without mentioning the word "Coronavirus disease" (COVID-19), mostly because there's already enough out there about how the outbreak has impacted the entire world, much less how it's affected the construction industry. However, not only would that have been disingenuous, but borderline negligent since the event ended up closing one day early on account of the situation caused by COVID-19.
While conversations were focused on products and news, it was impossible not to shift over to talk about how COVID-19 was and will impact the space. It was a literal impact as well, with the "no handshake" policy enforced across the event. There's an enormous amount of uncertainty about how all of this will impact the construction and construction materials industry segment, but people were at the event conducting business and exploring opportunities to give everyone involved a much-needed win. It also gave people an excuse to literally rub elbows, which most seemed to enjoy.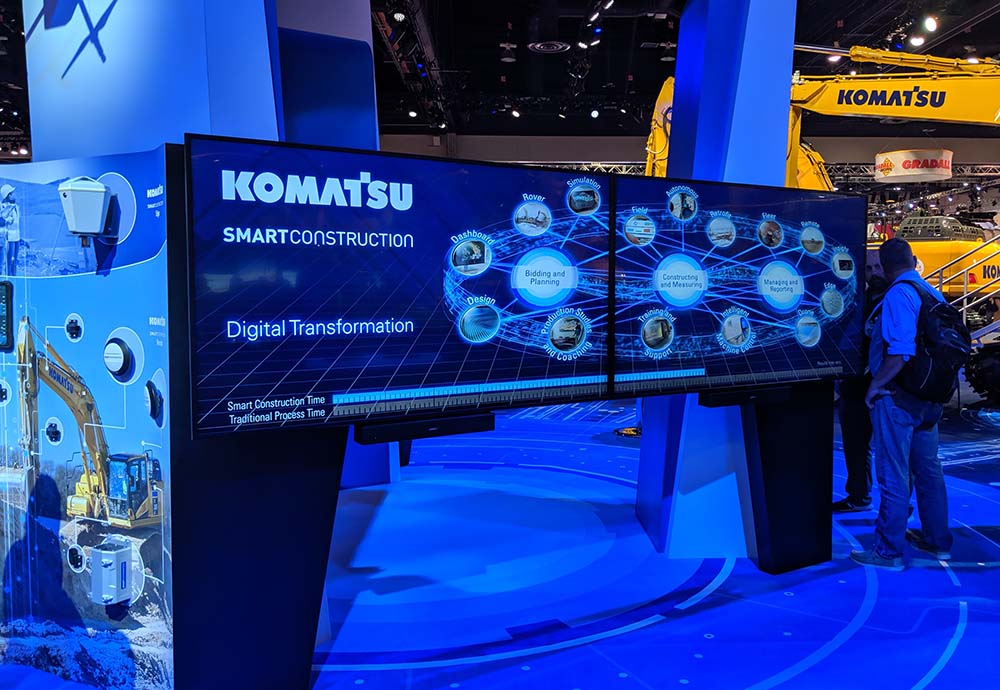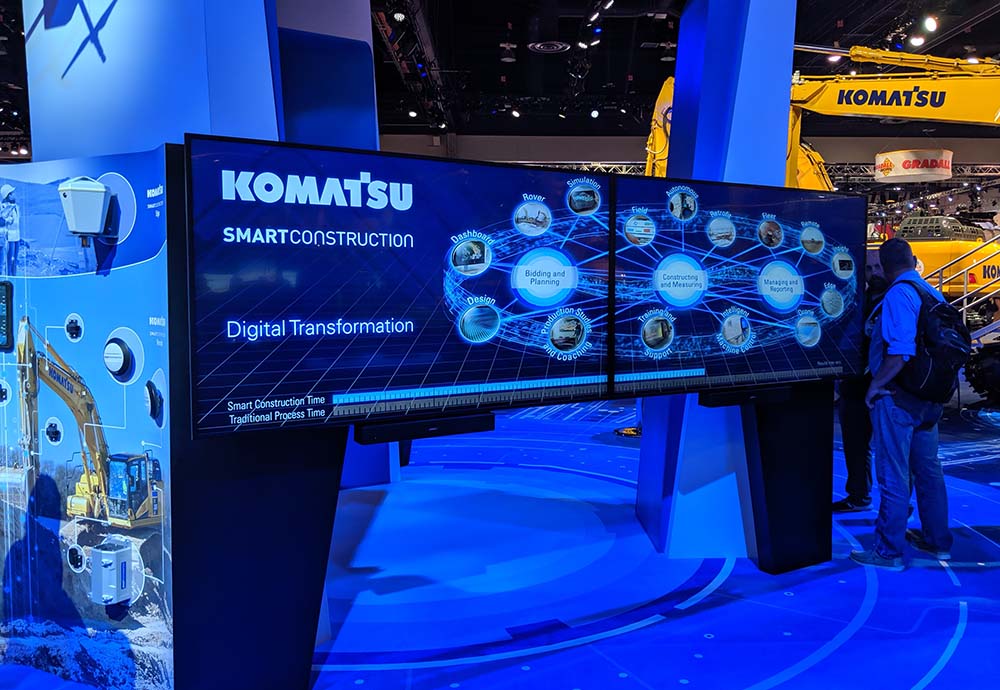 Lots of Noteworthy News and Updates
It's impossible to keep track of all the news and updates that come out of CONEXPO, even from one company. As an example of that, Komatsu had over ten releases, while John Deere had nearly as many. The partnership that Komatsu announced with Cesium was particularly relevant to anyone interested in utilizing 3D and geospatial data to advance smart construction.
Elsewhere, new functionality and options in Topcon machine control were announced at the event, all of which are designed to provide contractors with better performance and profitability in earthmoving applications. Their solution has recently been used for resurfacing work for the Singapore Grand Prix, which is helping make tracks smoother for faster and safer racing.
Hexagon's Geosystems and Mining divisions presented their portfolio of construction technology solutions at CONEXPO, but used the event to highlight the power of AR (augmented reality). Their AR environment is fueled by ConX, which connects people with machines and facilitates the flow of data across digital workflows.
These companies weren't the only ones that had updates around how more efficient and "smart" workflows are being defined though.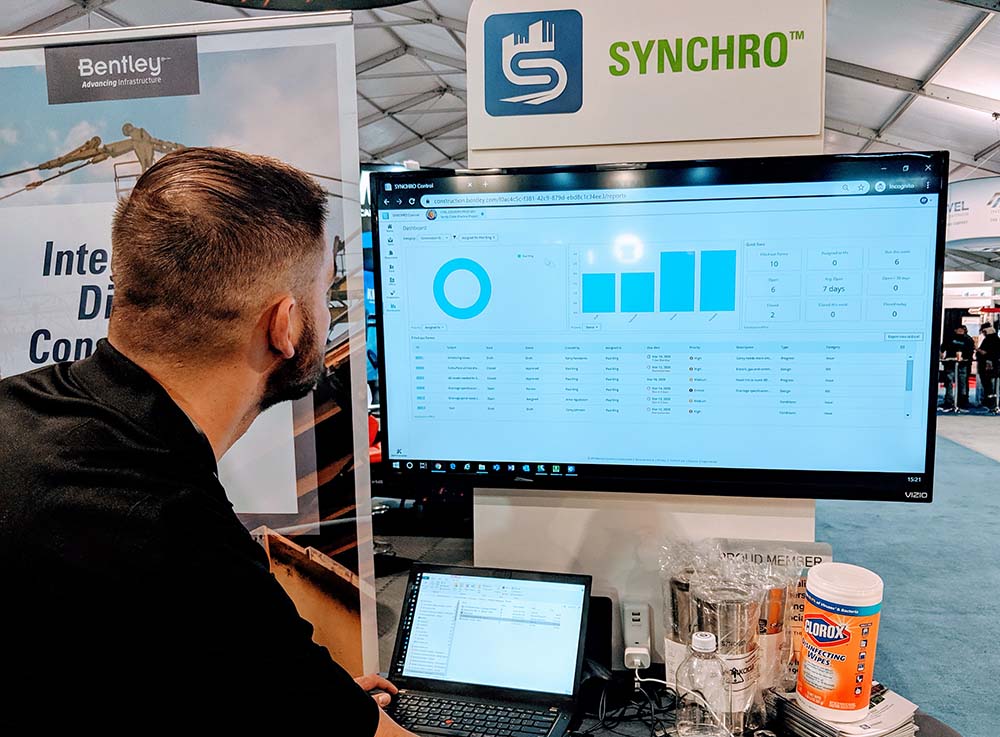 Seeing the Expansion of Bentley's Construction Portfolio
Bentley announced last year it would be expanding the application radically beyond 4D modeling capabilities to better address civil infrastructure projects, which is just one illustration of the company's major investment in construction. At CONEXPO 2020, they allowed attendees to see how that investment has paid off with SYNCHRO, as the tool now allows users to work at scale.
SYNCHRO is a complete portfolio of integrated software and services for digital construction management and attendees were able to get a full demonstration of the new SYNCHRO Construction Modeler at CONEXPO. SYNCHRO Construction Modeler enables model-based quantity take offs with a new set of capabilities to transform a design model into a true construction model.
Attendees were also able to get a walk-through demonstration of SYNCHRO XR for HoloLens 2, the potential of which they've been exploring to create a legitimate technological ecosystem. There has long been a question of what it will mean to eliminate inefficiencies in construction; digital construction management tools like SYNCHRO that work at scale are the answer.
Take a look at what SYNCHRO on HoloLens looks like via the video below.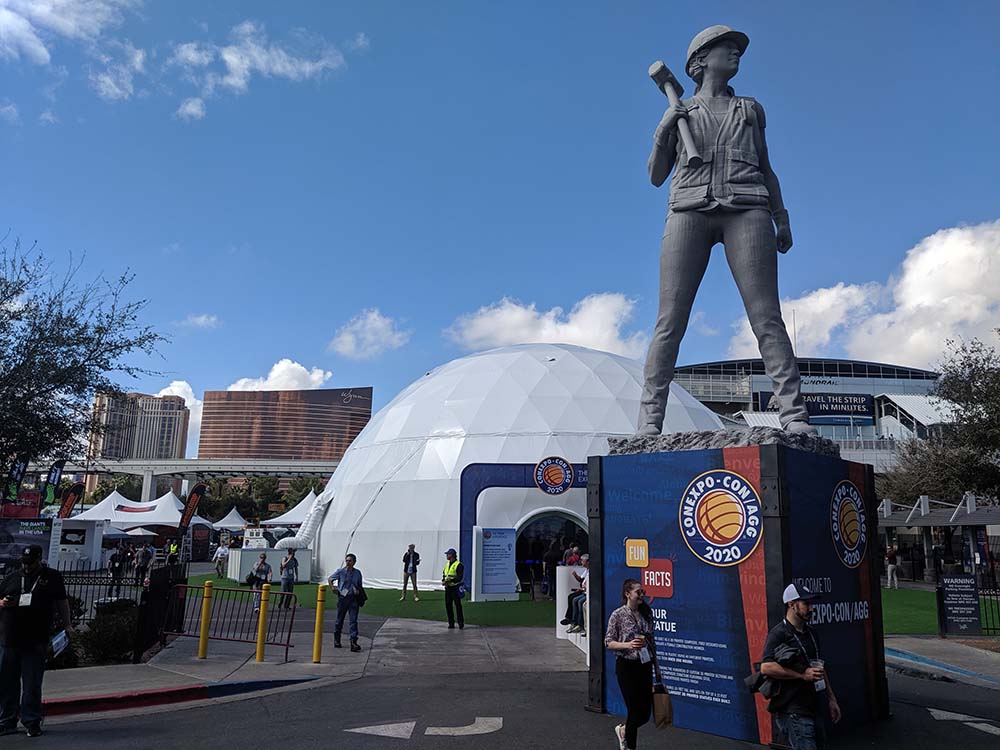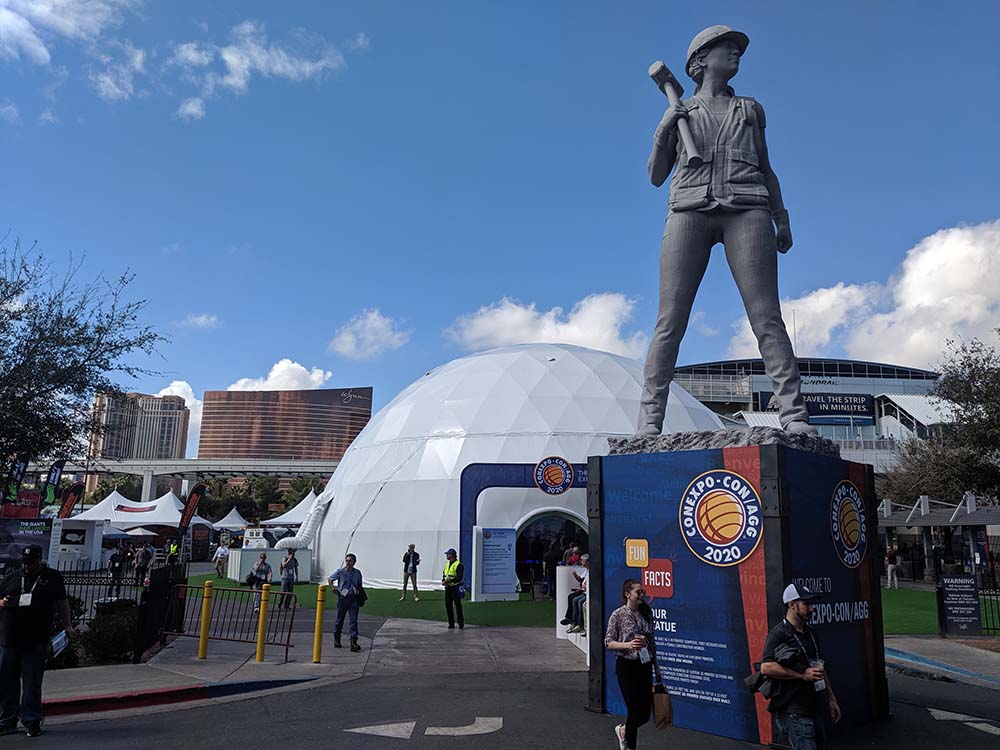 The Far, Far Future of Cities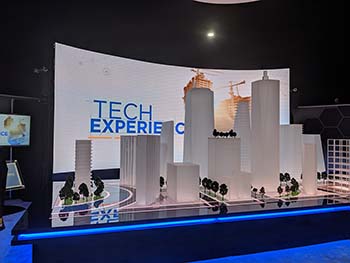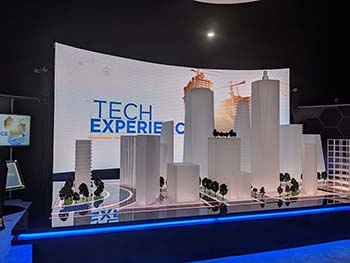 A 10 by 22-foot smart city replica had been unveiled as being an essential part of the Tech Expereince long before CONEXPO-CON/AGG 2020, but the statue that was built as a 3D printed composite was the most distinctive thing about their Technology Pavilion. The composite structure featured steel, fiberglass, foam and a cementitious painted finish was over 20 feet tall. Claimed to be one of the largest 3D printed statues ever built, it depicted a female construction worker to represent the growing role women play in the construction industry.
Inside the pavilion, displays that focused on city grids, connectivity in the city and how equipment will communicate in the future were all highlighted. Those displays along with Tech Talks that focused on topics like the wireless energy transfer built into roadways were a bit of the far, far future of cities. Thankfully, innovations that are much closer at hand were showcased elsewhere.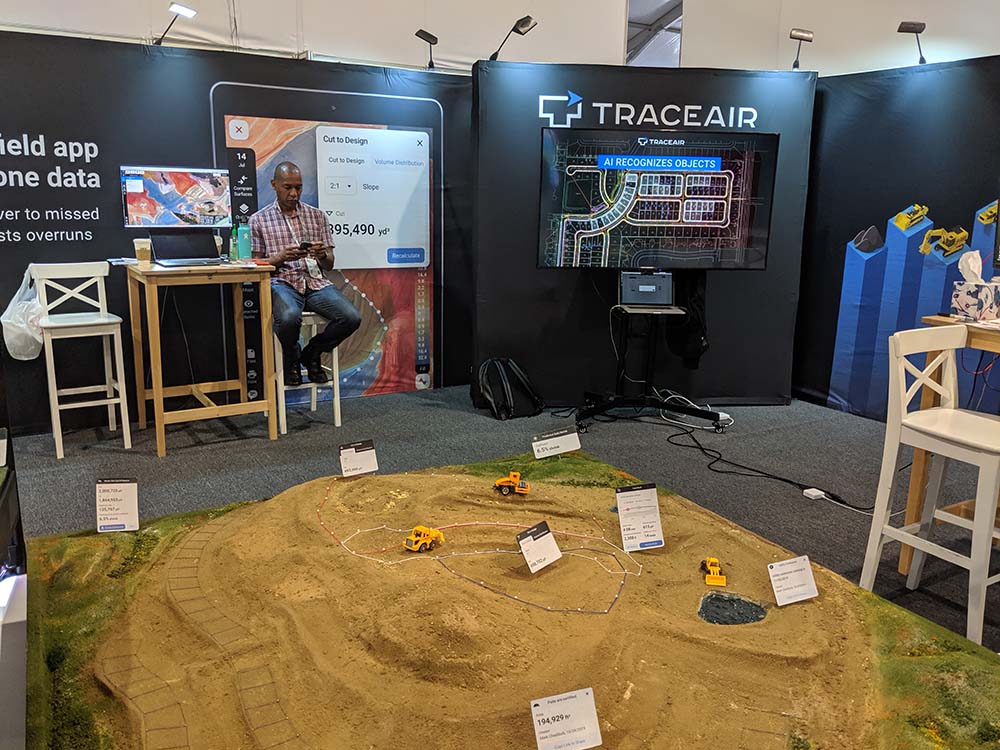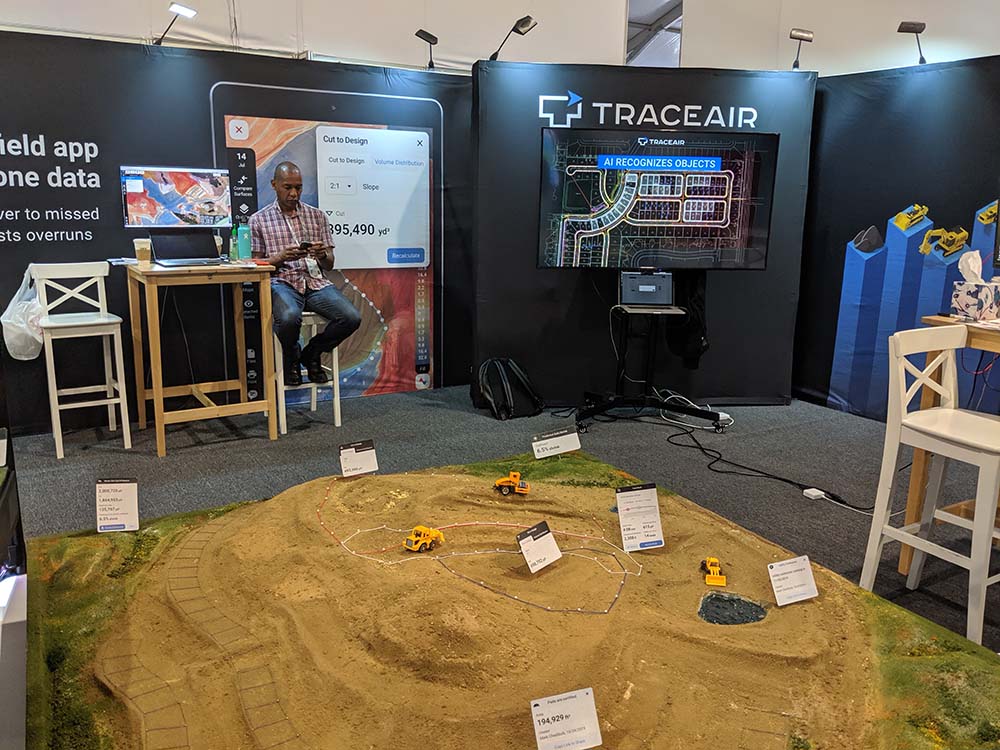 Drone Innovations Abound
We've previously detailed how tools like the ones that Stockpile Reports makes available can allow drone technology to work at scale in construction and those distinctions were further highlighted at the event. At CONEXPO, Stockpile Reports highlighted their fixed-camera inventory solution that enables near-real-time inventories. In moving to near real-real time tracking of inventory during every phase of an operation, the company is helping to define the future of inventory tracking operations.
TraceAir is software powered by drone data to help clients omplete construction projects on time and within budget. At CONEXPO, members of their team discussed how their drone-data driven software has helped contractors and developers save millions of dollars in overruns on large earthwork projects. A brand new tool that debuted at the event will help contractors run takeoffs faster and more accurately, enabling them to bid on more jobs and seamlessly pass bids to field teams for execution.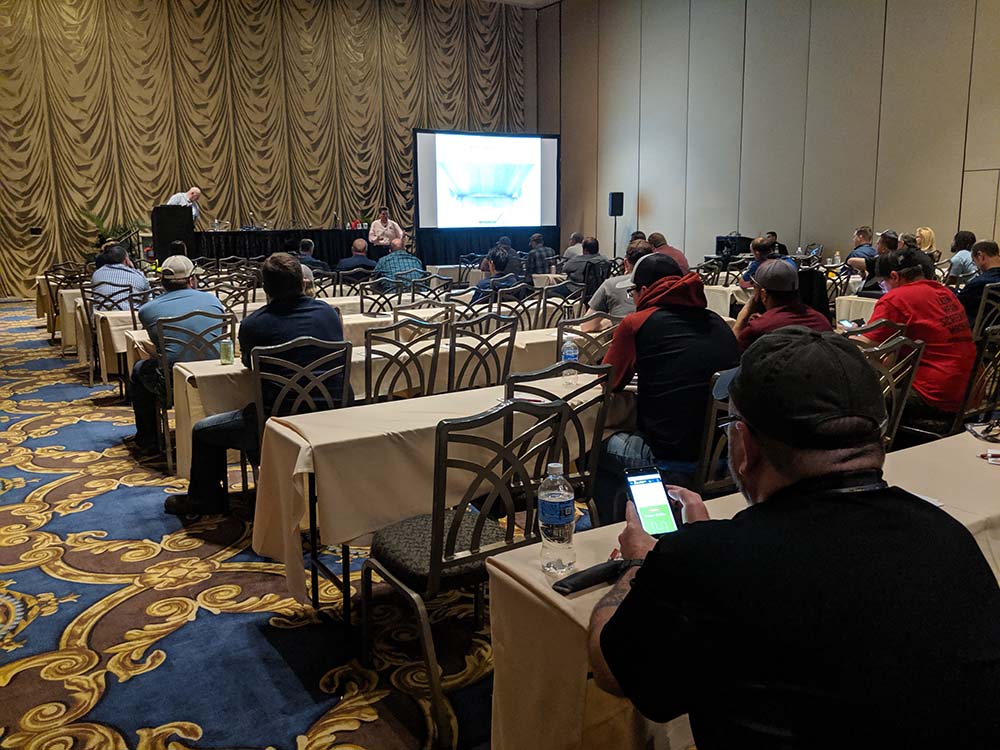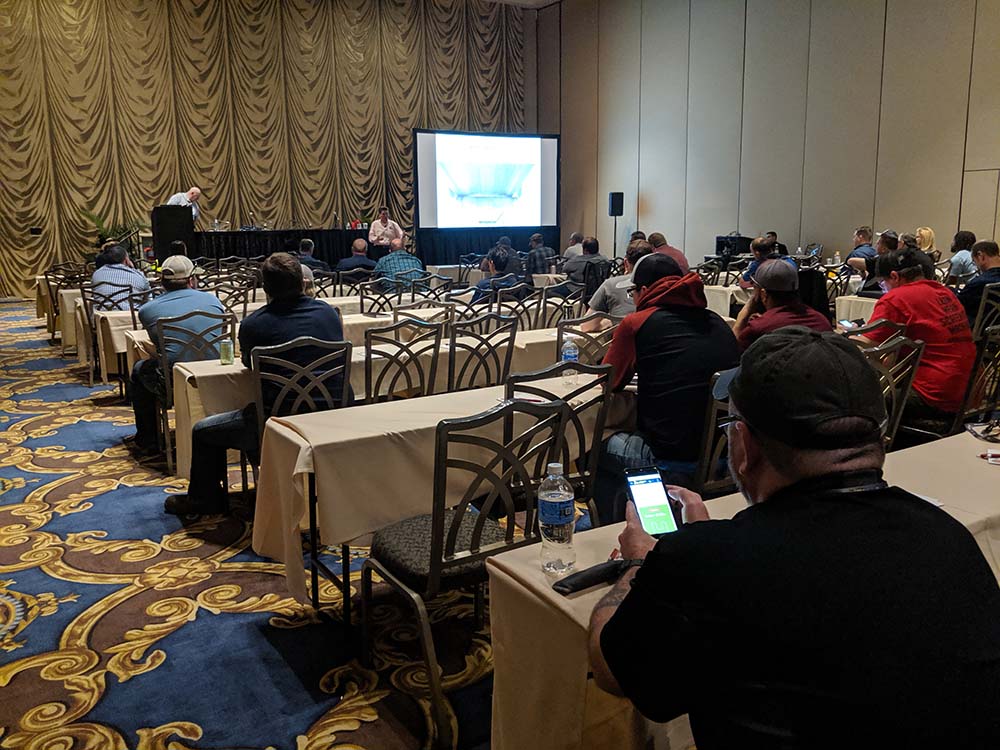 Education Options Galore
We're accustomed to a packed conference program, but the Education Session tracks at CONEXPO take that concept to a whole new level. With sessions focused on everything from Aggregates to Earthmoving to Safety, there's simply not time to take it all in.
The Technology Solutions tracks had some especially engaging discussions though. Using New Technologies in Asphalt Paving isn't the sort of "technology" we're usually focused on, but it's nonetheless enlightening to learn about efforts to improve the consistency of paving and compaction operations. Expanding IoT Value in Construction is more in line with topics that we've highlighted previously as it's an illustration of what it means to put digital twins to work.
That education wasn't just limited to sessions though.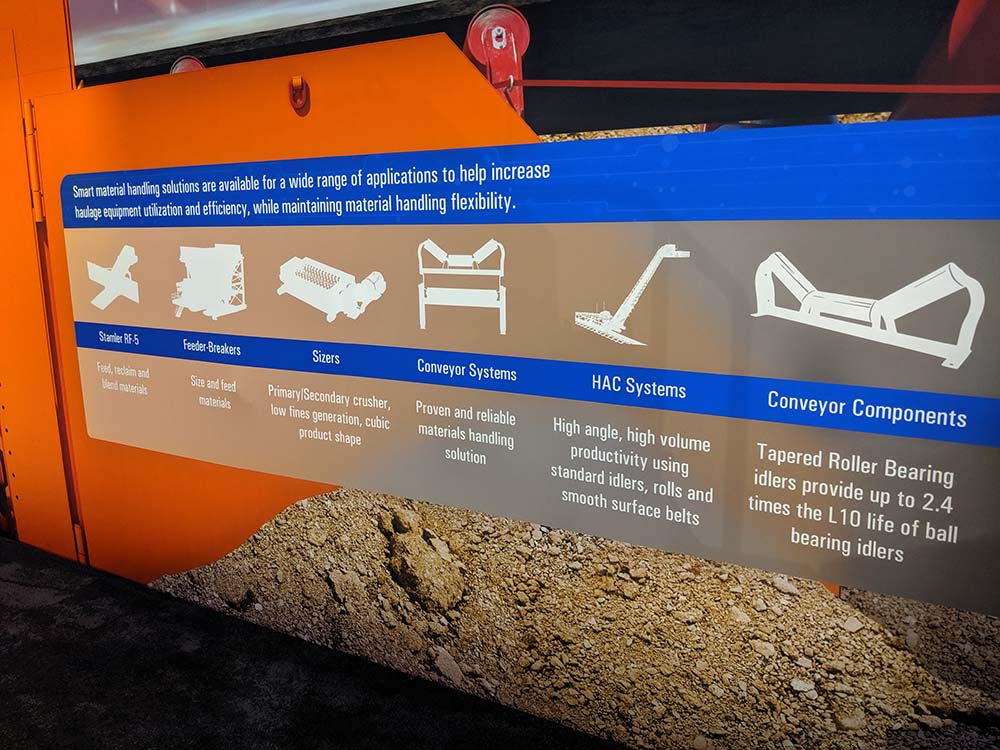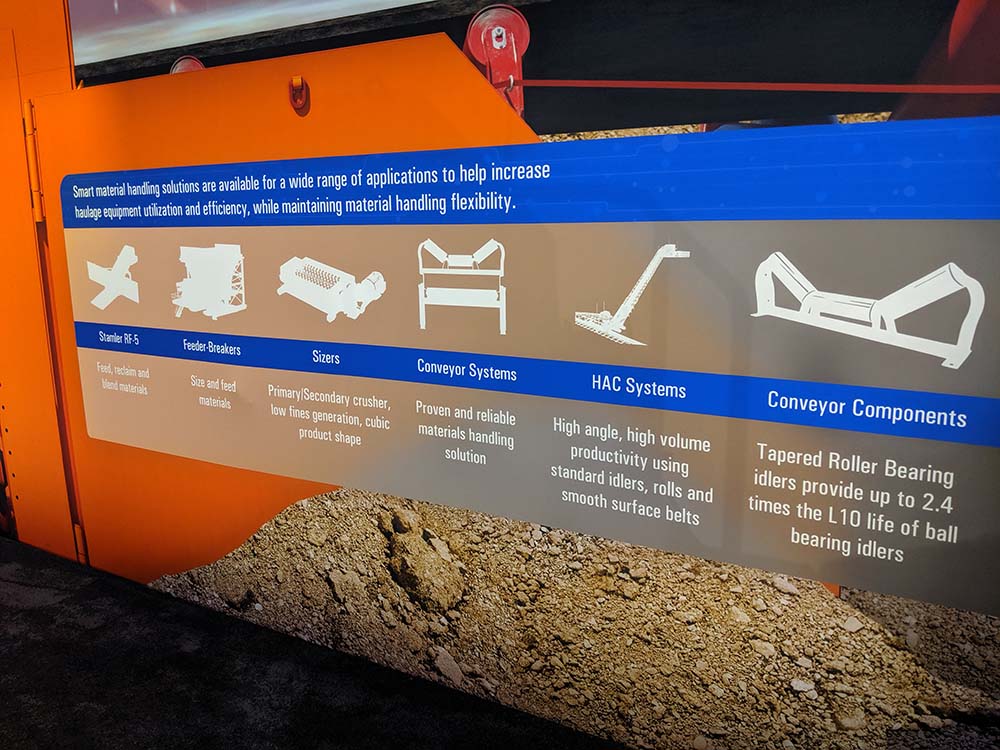 Know Your Gear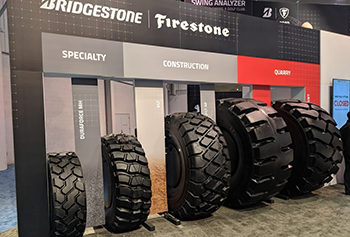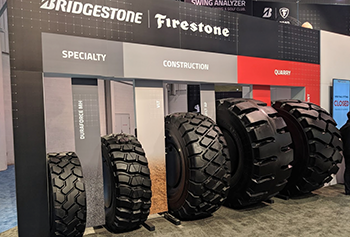 It's difficult to imagine that anyone at CONEXPO doesn't know the difference between a dozer and an excavator, but how many people could call out the difference between construction and quarry tires? Or the distinctions between conveyor systems and conveyor components?
Well, most attendees probably could, but for those of us that couldn't, many exhibitors laid out that detail in especially helpful ways.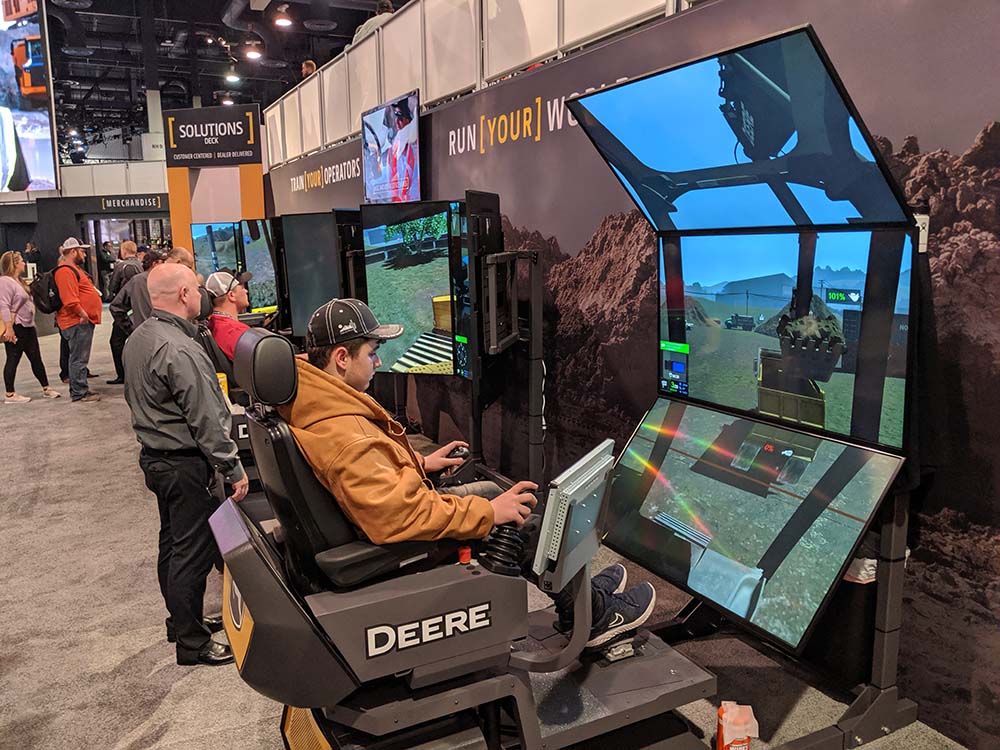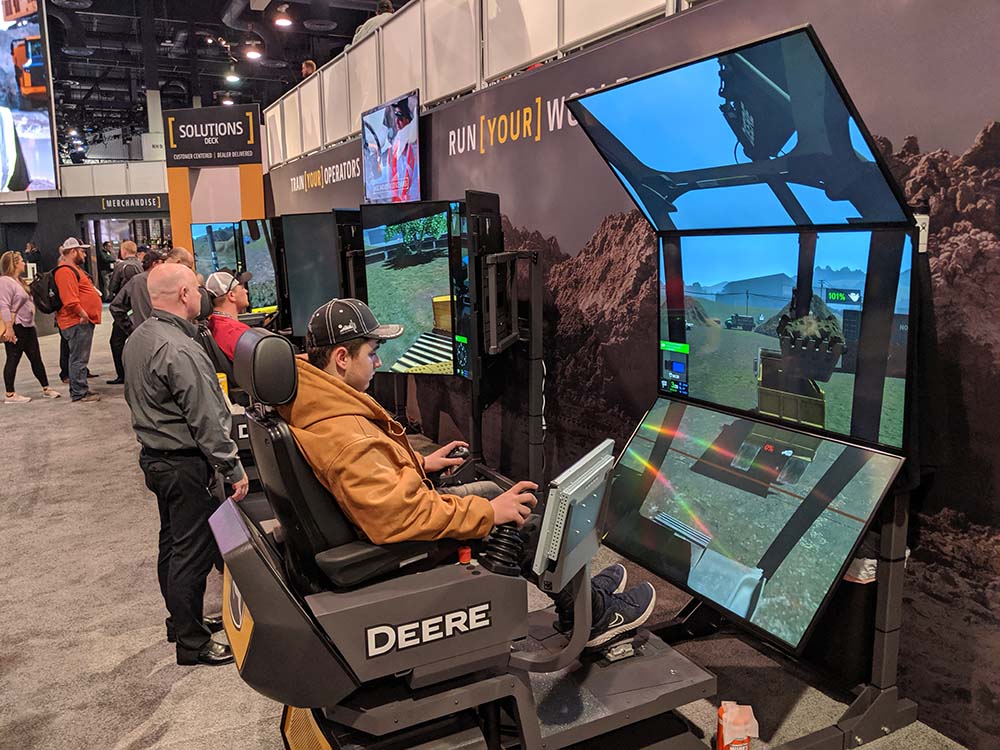 Hands-On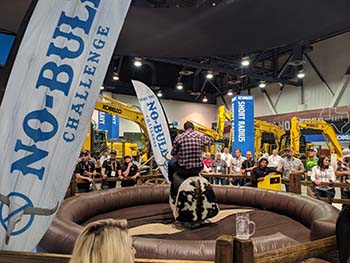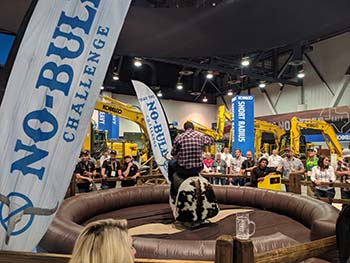 One of the highlights of being at an event like CONEXPO is how you're able to get up and into the massive trucks and machines themselves, but that hands-on experience isn't limited to the machinery. Numerous companies showcased virtual training setups, while others let attendees utilize actual construction equipment, giving each a better sense of what it would mean to utilize these tools out in the field.
The KOBELCO "No-Bull" challenge provided an entirely different kind of hands-on experience though.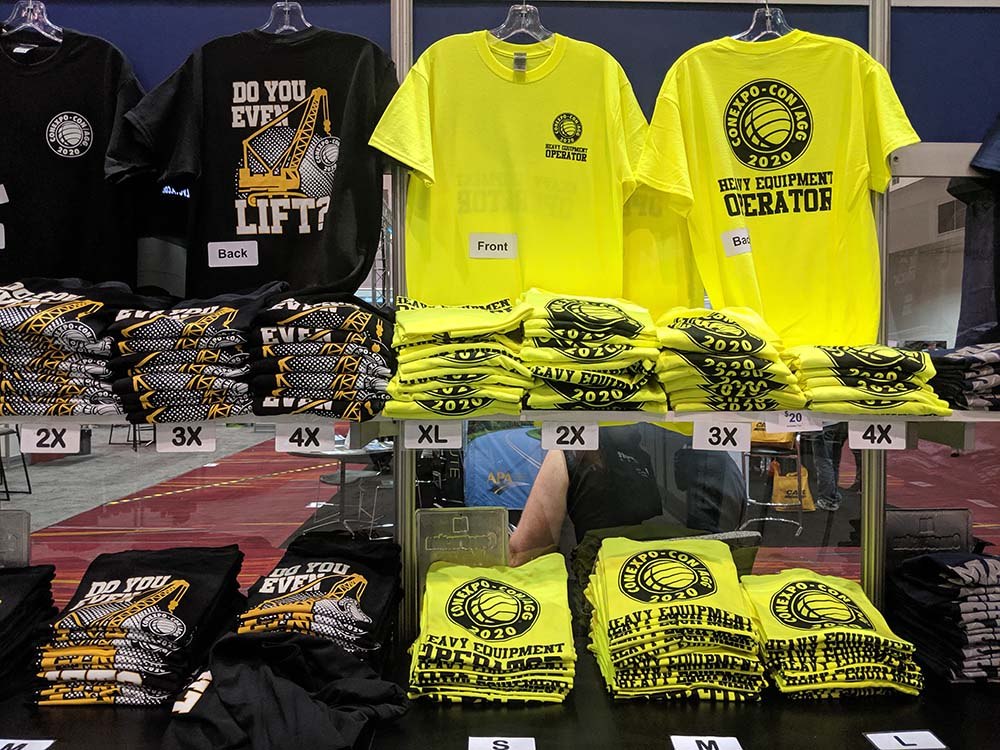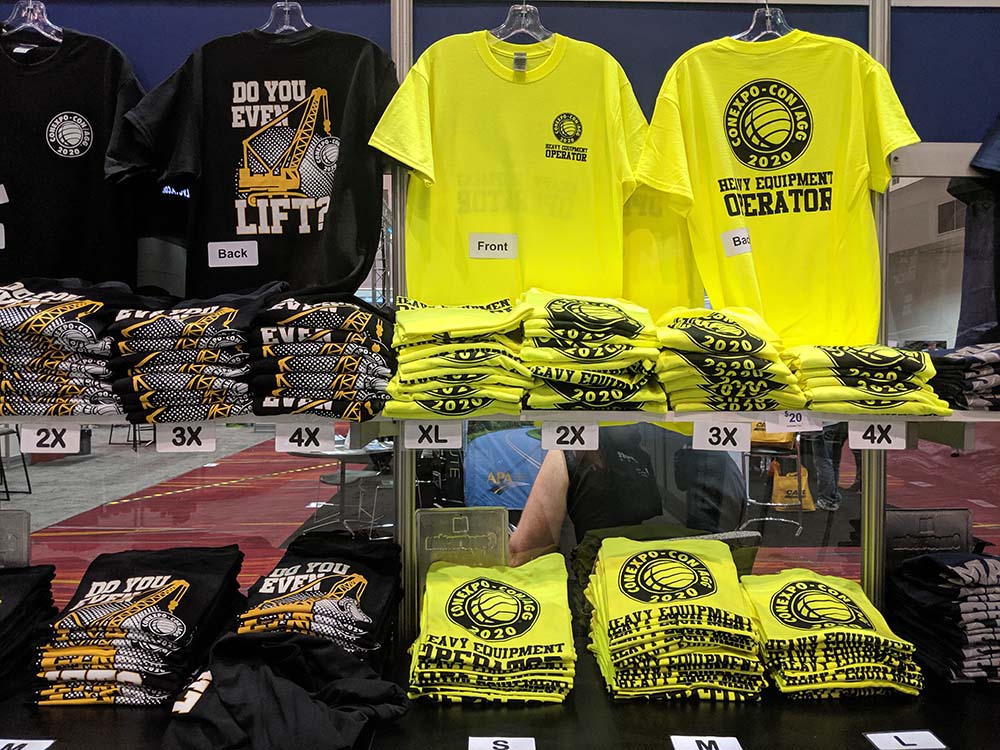 Construction Swag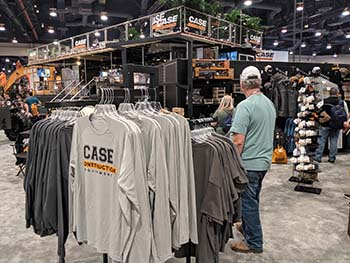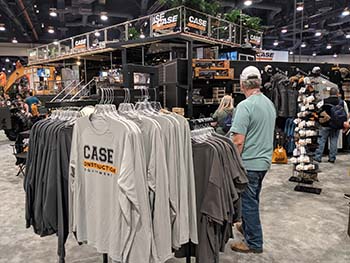 While we're all familiar with expo swag, what was striking about CONEXPO-CON/AGG was how vendors had so much of this material available to buy. Shirts, toy trucks and gear were available to purchase at the major booths. Granted, most people think of swag as a freebie, but how much of that stuff ever even makes it home with you? Granted, not sure how likely it is that someone chooses to buy a $25 shirt over taking that free key chain, but that's beside the point.
I can only wonder what happens to all leftover 4X sizes that have the "2020" date plastered on them though.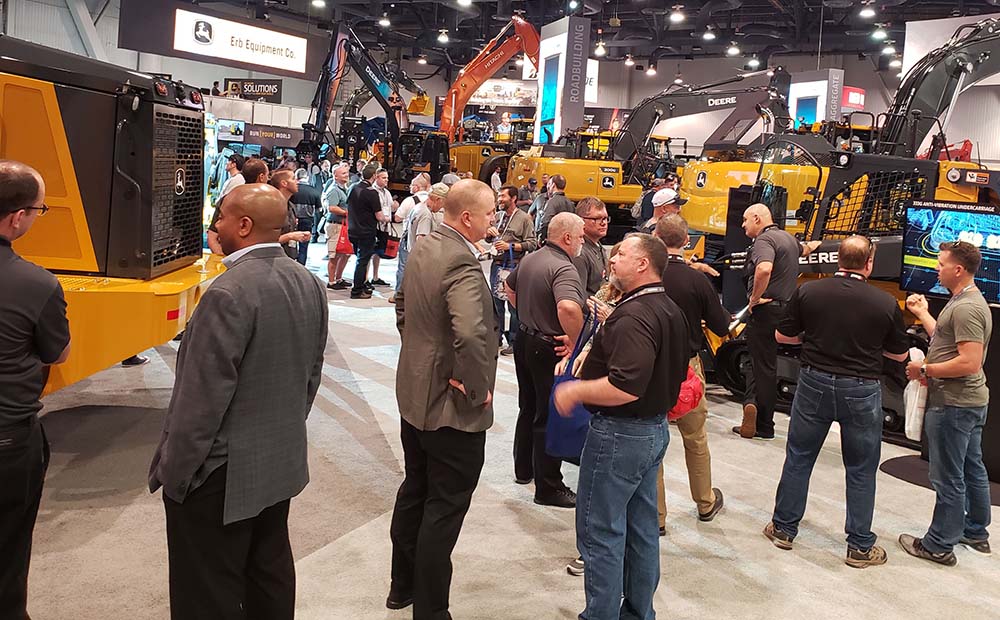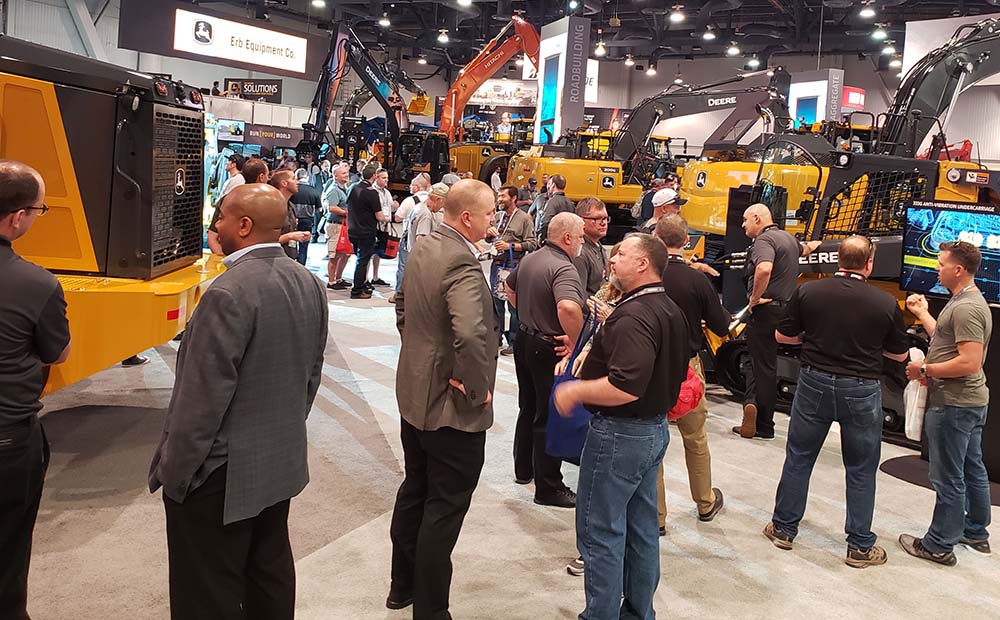 More than giant machines

CONEXPO has been referred to as the 'heavy metal' show, and seeing the size and scale of many of the machines throughout the event makes it easy to see why people think of and call it that. However, it's also an event that highlighted the growing role women play in the industry and showcased construction recruitment best practices. All of which is to say, it's about so much more than those big trucks.
When the future of an industry is being disrupted and reshaped by forces inside and outside of it, being able to focus on such developments is as critical as it is necessary.