If there was any more proof needed that digital twin technology is here to stay and will continue to be a growing space for an increasing number of industries, look no further than the first day of Geo Week 2023 in Denver, Colorado. Just on that kick-off day alone there were two sessions talking about the future of the technology, to say nothing of the many conversations with digital twins at their center taking place on the exhibitor floor throughout the three-day event.
Not all that long ago, many looked at "digital twins" as simply the next buzzword that will quickly burn out, and while there are still some things that need to be standardized and agreed upon – including something as simple as the general definition – there is agreement that this technology is not going away. On the contrary, the expectation is that it will continue to expand its reach and usability.
One company hoping to be a leader in this growth is Prevu3D, a relatively new name in the space but one generating early buzz, which prides itself on making these digital twins more accessible. At Geo Week, they announced a successful Series A round of funding, bringing in $10 million (USD) to help continue their push towards future needs and a growing list of stakeholders taking advantage of digital twins. Prevu3D founder and CEO Nicolas Morency took some time at the conference to speak with Geo Week News about the new funding, and what it can allow them to do looking towards the future.
That funding round was led by Cycle Capital, a tech investment firm with a specific focus on funding tools and technology that work directly towards reducing emissions and helping companies reach goals and meet regulations around climate change. From the firm's website, they say their "vision is to help build a sustainable and prosperous future through impact investing. We invest in companies that help reduce greenhouse gas emissions, optimize resource and energy use, and improve the efficiency of industrial processes."
They believe Prevu3D fits into this view. Andrée-Lise Méthot, Founder and Managing Partner of Cycle Capital, said in a prepared statement about the funding, "Prevu3D's team is building a unique digital solution that helps manufacturing and production facilities better manage and accurately plan out their industrial plant projects more seamlessly and cost-effectively."
Just prior to our conversation with Morency, a few attendees were checking out Prevu3D's software at the company's booth on the show floor. Those attendees worked within the oil and gas industry, and while at first glance that may seem like a strange fit for a company which had just received significant funding for a climate-focused investment firm, it makes sense upon further reflection. Industries like oil and gas are under the highest scrutiny in this modern age for meeting new regulations and sustainability goals, and digital twins can be a major piece towards driving these achievements. We've seen companies like Bentley Systems develop digital twins products specifically aiming at ESG considerations, and here at Geo Week News we've discussed how digital twins in general can be utilized to reduce carbon footprints.
It's something Morency specifically spoke to in our conversation in Denver, noting, "We can help them, all the industries that are faced with the challenges of ESGs. Our focus remains to be helping people with high-value assets and complex environments," criteria under which oil and gas certainly fits.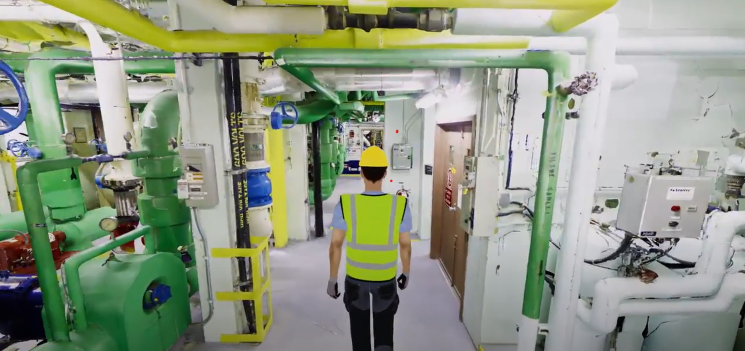 That said, it's certainly not the only industry with which Prevu3D is aiming to work with this new funding in hand. As Morency says above, they are looking to assist any company working in a complex environment. One of the areas they've worked before and will continue to is the food and beverage industry, a space filled with complex factories and warehouses and an industry in which Morency once worked as a mechanical engineer. He also calls out the automotive industry as one with which they've already worked, and expects to increase that. It's another space which ties back to that sustainability angle as well, with the Prevu3D CEO pointing out that "they're all challenged by the fact that they have to go electric or hybrid, and change the power plants."
Even beyond the specifics of sustainability, the increased funding for Prevu3D will allow Morency and his team to continue looking towards the broader future of digital twins. This was something he discussed during his Product Preview presentation at the start of the show, really trying to simplify the process. It's something that carried over to the show floor, too. Asked what kind of feedback they've been getting from attendees, Morency told us they make data "shine," continuing, "When they see me open a terabyte worth of point cloud in two seconds on my laptop and just switch from one place to the other, I think they just are in disbelief that this is actually possible."
Morency spoke more specifically about that simplification idea as well. An important part of the above quote is that he is doing all this on his laptop, meaning that digital twins from the Prevu3D software can be utilized by even non-technical users in an organization, not just those with particularly powerful computers. That's something that motivates him moving forward, and an audience the company hopes to further reach. Morency told us, "We want to expand the use cases to help the HR team, the safety team, to help the operations. We really want to just build modules within the app that are just as simple, but address other challenges, because that reality connects to all stakeholders.
The digital twin space is certainly not slowing down, and this additional funding for Prevu3D, in a way, hammers it home. That it was led by an investment firm with a specific focus on sustainability and environmental concerns speaks to the utility of digital twins in general for large companies across industries moving forward. Morency recognizes that these focuses aren't going away.
"This topic will be relevant forever," Morency said. "I've decided not to raise during the metaverse buzz. I've decided to never go and try to compete with others. I stick to my vision, and I know trying to save the world we live in is a go-to forever."