Since August of 2015, Real Earth has offered a free web-service for converting Velodyne LiDAR scans into high-quality maps, as well as software for registering scans into maps in real-time. The one thing missing from an end-to-end scanning solution was hardware of Real Earth's own.
Real Earth's Stencil and Contour indoor mappers are set to fill that gap. These products, according to AutonomouStuff applications engineer Terry Lamprecht, "are intended to add value by providing a simple collection method and a total solution. Real Earth sees a need to provide both their registration service and complete systems."
Stencil: Integrated Scanner with Velodyne LiDAR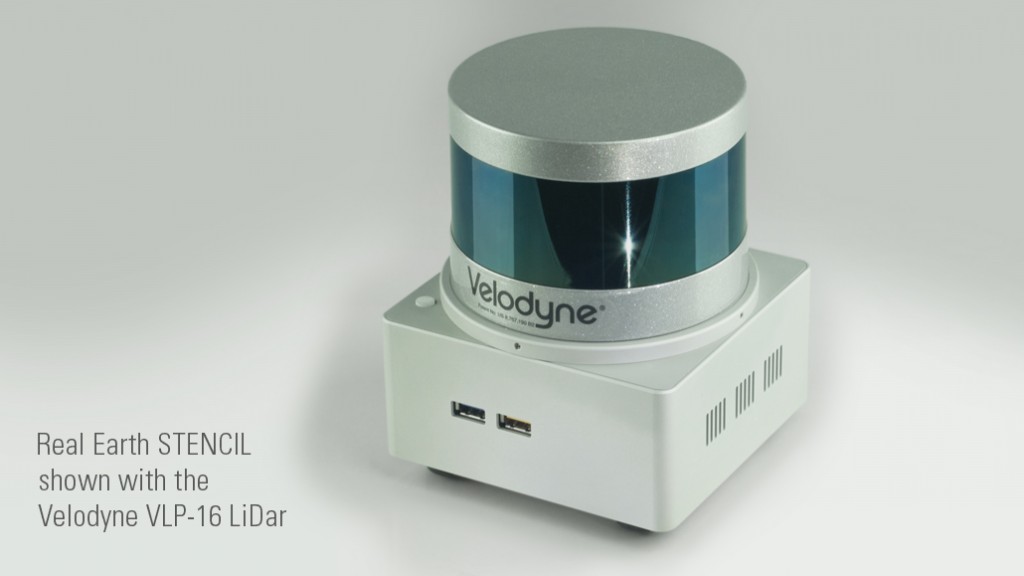 Stencil is a "lightweight and low-cost" unit that includes a spot on top for integration of a Velodyne scanner. Attaching a LiDAR unit turns it into a complete mobile indoor mapping system. The Stencil's form factor is versatile enough that it can be used for handheld, vehicle, or even UAV scanning.
As Lamprecht elaborated, the Stencil is a "small Linux computer that integrates an IMU and runs the Real Earth SLAM algorithm. The Stencil can currently be combined with either a Velodyne HDL-32E or a VLP-16 (PUCK). This unit creates a registered point cloud by continuously aligning the LiDAR data from the Velodyne unit."
The benefits are numerous. Stencil can be used for mapping and scanning applications in GPS-denied areas such as indoors or underground. Having a computer and sensor integrated in the same unit allows it to create a map in real-time, allowing users to ensure consistent and full coverage. Since you can choose either the PUCK or HDL-32E sensor, you can scan with either 300,000 or 700,000 points per second.
Most importantly, Lamprecht says, the system is offered at a "much lower price when compared to other comparable systems for mapping." This makes it a good solution for applications where the Velodyne sensors offer acceptable accuracy, and a versatile addition to the scanning toolbox when it can supplement other, more accurate scanners.