Spectra Geospatial and Aplitop, a supplier of specialized surveying and civil engineering software, have joined forces on a comprehensive tunnel survey solution that provides surveyors and geospatial professionals with a complete hardware and software solution for performing efficient tunnel construction surveys.
For survey and construction professionals, accurate and efficient positioning solutions are crucial to carrying out tunnel construction on time and to design specifications. By combining existing hardware and software components from Spectra Geospatial and Aplitop, a complete workflow is brought to tunnel surveyors. For surveyors who want to expand their business opportunities into the tunnel industry, this solution, called TcpTUNNEL, provides a perfect package to begin offering tunneling surveying services to tunnel contractors. 
Solution components and workflow
The solution is split into office and field components. This workflow begins with Spectra Geospatial Survey Office, the geospatial data hub, where processing, analysis and adjustment of all sensor data such as total station, GNSS and digital level are performed. This is crucial to define the survey control network and plan for subsequent surveys along the proposed tunnel alignment. Next, TcpTUNNEL CAD office software is used to create and visualize project design elements such as alignments and templates. Using a common format, data and designs can be easily transferred between the field and office software.
In the field, the Spectra Geospatial Focus 35 robotic total station is used to collect survey data. Built on the StepDrive motion technology, this instrument is designed to collect accurate data and perform stakeout routines in rugged conditions. Powering the instrument is Aplitop's TcpTUNNEL field software running on the Spectra Geospatial ST10 tablet or Ranger 7 data collector. This provides a comprehensive feature set for tunnel survey tasks. In-field workflows include stakeout of key features such as rock bolts, anchors and drill holes; automated as-built profile collection for verifying the construction process; and graphical reporting of design versus survey data to ensure the tunnel construction quality.
For tunnel survey professionals in the field and the office
The solution covers aspects of the field and office: the office portion involves data preparation, adjustments and deliverable creation while automated stakeout and as-built data collection is carried out in the field. Connecting these workflows streamline the design to field to deliverable process.
Traditional survey tasks for tunnel projects can be quite labor-intensive and require additional data processing. With robotic total stations and automated field software workflows, surveyors save time in the field by reducing manual data collection. Using the TcpTUNNEL platform from Aplitop and Spectra Geospatial survey hardware, data can be transferred seamlessly between the field and office removing heavy workflow processes and streamlining deliverable creation.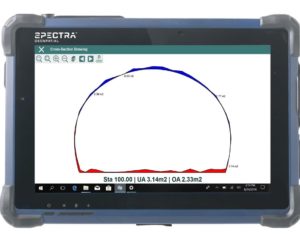 Another tunnel survey challenge is consistently providing positioning information to tunnel equipment operators. Large tunnel projects sometimes run around the clock and require surveyors to guide excavation and drilling machines at a moment's notice. These time constraints challenge surveyors to complete tasks efficiently. Aplitop's TcpTUNNEL software is designed specifically for tunnel survey workflows, with ease of use in mind. The field software leverages the LockNGo tracking technology of the Spectra Geospatial Focus 35 robotic total station to automate the capture of tedious tunnel profile collection, which reduces operator intervention and errors from manual measurements.
Increased confidence in the field and streamlined final deliverable creation
The combination of field and office software provides confidence that the design and survey data are exchanged efficiently, preventing data loss and the need to translate data between different platforms. Simplifying the path of where data flows throughout the tunneling process is key in creating a seamless workflow. In the field, TcpTUNNEL provides several verification workflows to ensure that the measurements are collected to the proper tolerance and location. Back in the office, the visualization and adjustment tools in Survey Office provide an added measure of confidence to the collected survey data. The final result is semi-automated creation of reports and CAD deliverables using TcpTUNNEL CAD software.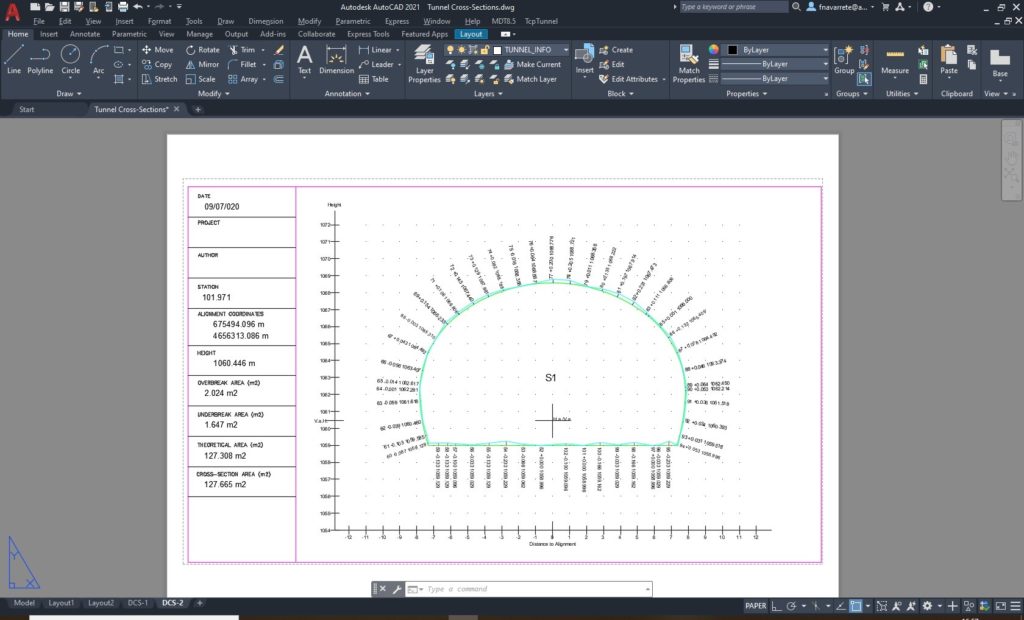 Using the automated data collection workflows provided by the Focus 35 robotic total station and TcpTUNNEL software, surveyors can automatically collect profile data, reducing errors from manual measurements and decreasing the time between each point measurement. For example, it may take a surveyor several minutes to manually measure a tunnel profile; however, with an automated solution, several profiles can be collected at the same time, which saves several seconds for each profile. Throughout an entire tunnel project, where there can be hundreds or thousands of profiles collected, this can lead to significant time savings.