In the construction industry, rework and waste are constant factors in any build - so much so that they are sometimes built into the cost, or expected by the various trade contractors. Aiming to reduce and prevent unnecessary waste of materials, time, labor, and cost, Solidspac3 has been working on ways to get information that can be acted upon into the hands of contractors, before the cement pours or the drywall is put up.
Solidspac3 is a construction technology company that has developed a could-based analytics platform that can compare plans to reality, informing users of mistakes in construction execution, clashes, and other deviations from the planned work. In August, Solidspac3 released Spac3 2022, a SaaS solution that delivers interactive and prioritized QA/QC variance reports. While this functionality in and of itself can be useful for contractors and trades, the fact that these reports can be generated within 12 hours is significant. By having a report in hand, construction teams can return to the job site the next day to investigate and fix installation issues before they impede the rest of the workflow.
"12-hour turnaround on variance reports was our #1 customer request, and we believe we're the first in the industry to offer this rapid result," commented Alex Von Svoboda, Solidspac3' VP of Sales and Marketing.
"This gives construction managers actionable intelligence to identify all locations on the job site where something has been installed incorrectly. They can then quickly and easily review the severity of each problem along with the relevant 360-degree images and 3D models and scans."
As a stand-alone cloud-based app, the interface provides detailed information without requiring users to have specialized training to view the reports. In the example below, a heat map of floor elevation has been generated - showing how far off the floor heights are from the plan.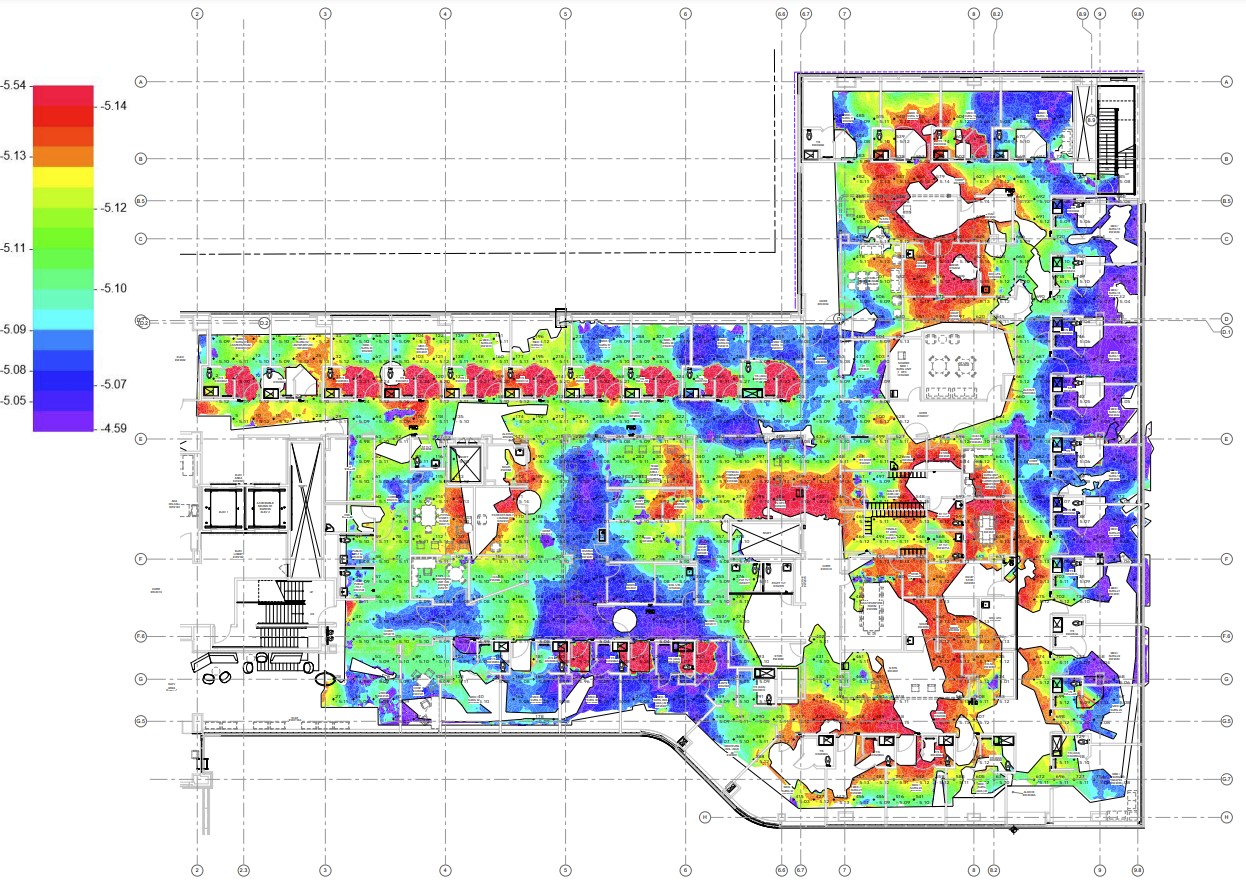 The variance reports generated from uploaded scans and models are sorted in order of priority and issue severity in an attempt to help users identify the most pressing issues and aid decision-making. There are also application-specific reports available for concrete construction, (including floor flatness, levelness and crack monitoring) and others for structural deflection or deviation.
In the new version, users can quickly view, walkthrough and even take measurements within the 3D variance report from a browser. The models can be zoomed and viewed in 3D, keeping the resolution needed to inspect potential problems. For each variance, users can click between the 2D/3D drawings/BIM and point cloud and simultaneously compare plan to reality in 3D space. Users can make accurate measurements in 3D to better understand problems and determine corrective actions.
Spac3 2022 also includes the ability to toggle the transparency of floors, walls and ceilings, making quick comparisons possible. Tools for cross-sectioning are also included, which can allow for better viewing of clashes and alignment issues.
"Spac3 2022 enables construction teams to quickly prioritize and fix QA issues in the field through an easy to on-board app," said Shung Chieh Ph.D., Solidspac3' CTO.
"We've removed the complexity and manual 'heavy lifting' usually required to analyze discrepancies between BIM and reality capture, and deliver a report that is verified, prioritized, and easy to understand. With our interactive reports, users can simultaneously view BIM models and reality capture point clouds and make accurate measurements in 3D. By toggling the visibility and transparency of floor and wall components, we make it easy to review actual placement of components behind concrete, walls, and floors and see issues."
The platform is built on Autodesk's Forge platform, which enables Spac3 to support a wide array of CAD formats, including Revit, Navisworks, AutoCAD, IFC and the vendor-neutreal e57 point cloud format. Workflows with Leica, Faro, Trimble and other scanners are also supported.