Sense Photonics announced today that it has achieved an industry-first by successfully demonstrating 200-meter detection with its proprietary global shutter flash LiDAR system. This mid-range capability is a sweet spot for autonomous vehicle development, and its small size and low cost may make it a perfect fit for systems needing both short and long range capabilities from the same architecture.
The proprietary lidar system from Sense Photonics has no moving parts, which overcomes a challenge for other road-based lidars. By eliminating the need for precise alignment the sensors' laser emitters and detectors are not threatened by the vibration of vehicle use. The new system has an architecture that is proprietary to Sense Photonics.
Where a typical lidar system scans or spins to collect data (above), sense photonics has taken a floodlight approach – illuminating the entire scene simultaneously with an array of thousands of lasers (below).
The Sense system leverages the company's proprietary emitter and single photon avalanche diode (SPAD) sensor. Sense Silicon, a backside illuminated CMOS SPAD device with more than 140,000 pixels, is designed to work seamlessly with the Sense Illuminator, a distributed 940nm laser array of more than 15,000 vertical-cavity surface-emitting lasers (VSCELs).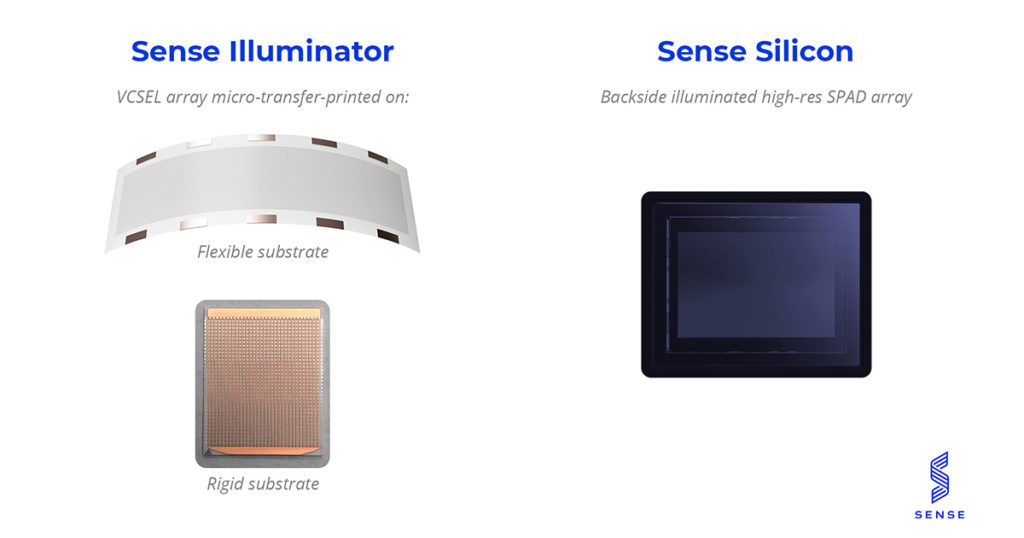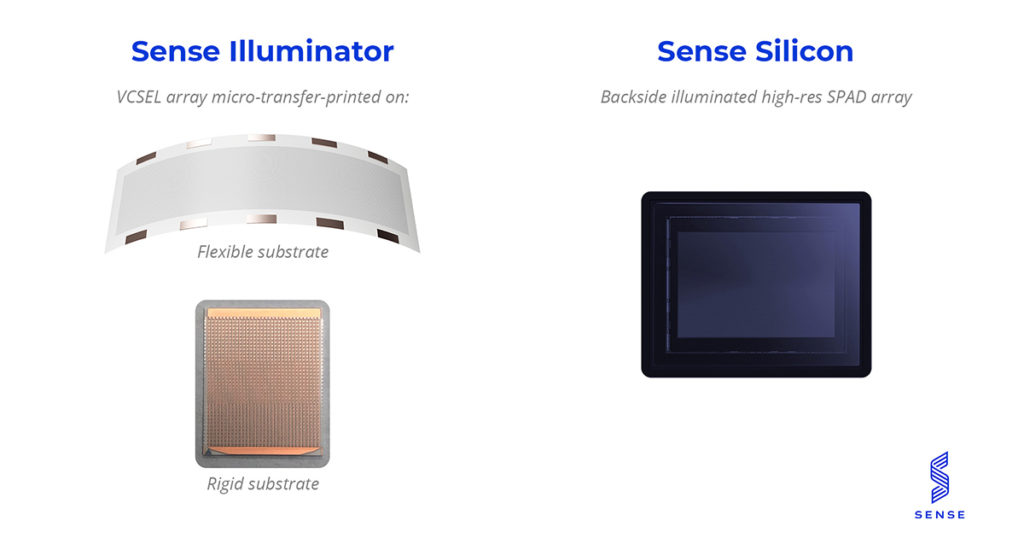 Together, they are the core building blocks of Sense's camera-like architecture enabling the first high-resolution, eye-safe, global shutter flash LiDAR that can reportedly detect 10% reflective targets at 200 meters range in full sunlight outputting tens of millions of points per second.
In a press release from Sense Photonics, the company touts the global shutter acquisition as "a new standard in the long-range LiDAR industry" because it can remove the need for complex motion blur correction while allowing pixel-level, frame-by-frame fusion with a RGB camera data.
The innovative flash architecture from Sense Photonics is already capturing the interest of automakers, AV companies, and Tier 1 suppliers. Customer evaluation systems are being finalized and will be available mid 2021 to meet current demand requirements, with start of production being planned for late 2024.