To increase the ease of use for field applications, Trimble has announced a new tablet that they have custom-built for survey and GIS use. The Trimble T7 tablet connects to Trimble's suite of survey instruments and Global Navigation Satellite System (GNSS) receivers and has a few key features that make them especially attractive for heavy survey use.
While there has been a marked increase in the number of scanning and GPS devices that managed via handheld tablets, many solutions rely on popular consumer-grade devices as the platforms to deliver their software or to connect their equipment. Using off-the-shelf tablets such as the iPad has the benefit of lowering the barrier for entry by allowing users to use technology solutions that they may already own, but there are some serious drawbacks when deploying them for fieldwork. Tablets can be fragile, difficult to keep charged when used for long periods, or in areas that are far from power supplies. Consumer-grade tablets are, generally, just not built or equipped for the abuse of the day-to-day work of surveying or construction.
A professional-grade built-in GNSS receiver supports GPS, GLONASS and BeiDou constellations as well as Satellite-Based Augmentation System capabilities for accurate real-time positioning. The Trimble T7 can be paired with multiple systems such as the Trimble S-Series total stations, Trimble SX10 scanning total station and Trimble R-Series GNSS receivers. The tablet can run the latest field applications including Trimble Access and Trimble TerraFlex.
The Trimble T7 tablet also features two Trimble EMPOWER module slots, which enables users to attach field-replaceable modules. Available modules currently include a 2.4 GHz radio for controlling robotic total stations and a sub-meter GNSS receiver for increased positioning accuracy. Custom modules can also be developed for specific workflow needs.
Another common field issue is battery life, and most consumer-level tablets do not have batteries that can be changed out during use, so they must be recharged. The Trimble T7 features a hot-swappable battery that can be changed out without turning off the device, minimizing interruptions. The T7 lists the typical battery life during "medium usage" as between 4-7 hours, and both batteries on the device have LED indicators that can be used to monitor their battery levels while working. An external battery charger is also available from Trimble that could be used to keep a bank of extra batteries ready to go for all-day projects. Some of the connectivity, when used heavily, can affect this battery life, but Trimble does offer some tips for maximizing battery life when connected, including to enable some of the battery-saving tools built into the Windows 10 operating system.
The T7's platform has been ruggedized and tested to military specifications to protect against moisture, dust, vibrations, and to survive being dropped. It can be operated from -4°F to 140°F (-20°C to 60°C) and can even survive being immersed in up to 1 meter of water for 2 hours.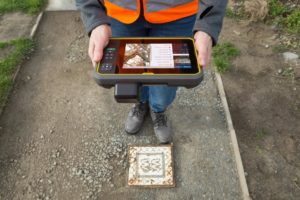 The display is protected by Gorilla Glass and is designed to be readable outdoors, even in sunlight. The 7-inch display size was chosen as a middle ground between being easy to view while being small enough to be portable, says Jason Rossback, marketing director for Trimble Geospatial Field solutions.
"The T7 has an ideal 7-inch screen size for mobile workers who need to manipulate map views in software such as Trimble Access, but also need a device compact and rugged enough to carry through the woods and other difficult environments."
While they do need to survive the trip into the field, they don't necessarily need to go "home" after each excursion. The Windows 10 powered tablet comes equipped with 8GB of RAM to support running complex software applications in the field. For connectivity, the T7 can connect via 4G LTE cellular data, over Bluetooth, and Wi-Fi. This built-in connection ability can enable users to upload, sync, and share data in real time as well as receive on the job support from the office. Not having to wait until a return to the office to upload data is a significant time-saver when working on complex projects.
The Trimble T7 tablet is expected to be available in August 2019 through Trimble Geospatial Distribution Partners. For more information, visit:  https://geospatial.trimble.com/t7.