Co-authored by Paul Tice and Rob Snyder of ToPa 3D.
Over the past few years, software developers have caught on to the abundant opportunities in the AEC industry. Meanwhile, firms in the AEC industry have been constantly looking for better solutions to improve communication efficiencies in their construction projects. Marry these two—a software developer with a keen ear for pain points and a robust industry looking for solutions—and voila, Revizto is born.
What is Revizto?
What Revizto actually does may not be clear to the casual onlooker. Users can't design with Revizto directly, so to some, it may look like just another BIM model viewer. And it could be said that it is a viewer–but a very robust viewer, enabled across multiple devices, accepting massive federated BIM models and 2D drawings (which it spatially aligns within the model automatically), and containing what amounts to a social media platform for marking up and sharing construction-issue information across project teams instantly without the need to wait to sync manually.
Revizto is built on Unity, but it communicates seamlessly with several other well adopted software platforms including Revit, Navisworks, ArchiCAD, AutoCAD, Civil 3D, Tekla, SketchUp, Rhinoceros and VR platforms HTC Vive and Oculus Rift. Complementing these viewing, communication, and interoperability capabilities, Revizto has a reporting system with a powerful search engine that finds exactly the issue in question, and all the information tied to it.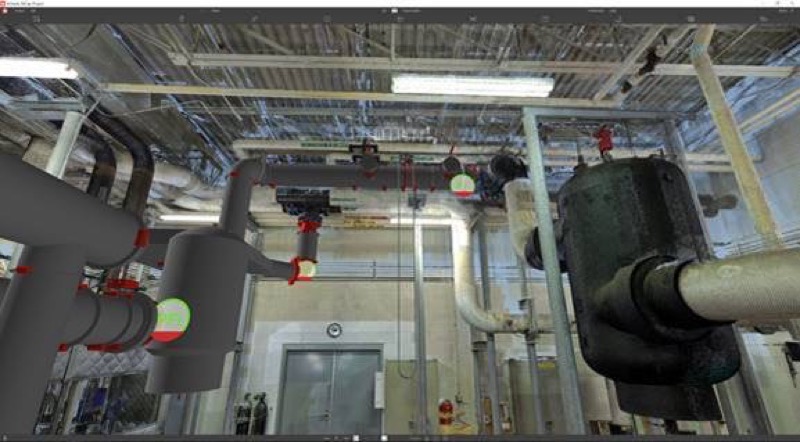 Now that the capabilities of this platform are being revealed through user experience, it is not surprising that Revizto is creating a disruptive ripple in the AEC industry… As of the writing of this article, Revizto has about 20 employees in the United States. But don't let the company's small size fool you, its work is already bearing much fruit. Some very large firms are completely switching gears to use Revizto as their tool of choice for field collaboration, Issue and potential RFI tracking, and other BIM coordination tasks.
Recently, I conducted a number of interviews with Revizto staff including Scott Howes, northwest territory manager out of Portland, Oregon and Brett Settles, global director of customer success in the Greater St. Louis area. I learned a lot about the underlying philosophy of Revizto and some of what sets them apart from other companies serving the AEC market.
Welcome to hyper-fusion
Revizto fuses multiple data sources together in one visualization. This provides the user a distinct advantage over non-graphical methods of presenting data, since it offers a quick and intuitive way to comprehend a space or structure, and remains quick and intuitive feeling no matter how complex a model or drawing gets. Furthermore, this fusion enables Revizto to work a collaboration tool, since issue flags display not only on the 2D drawings, but also on the 3D model—and in the right location, since the drawings are spatially linked, or infused, into the model.
So, whether a user would like to view a markup or issue in 2D or 3D, or in a fusion of both, they can. Original patents of this in-situ visualization can be found in Bentley Systems "hypermodel" concept and has been developed since 2012 by a number of other companies as a method to better understand complex structures, designs, and spaces.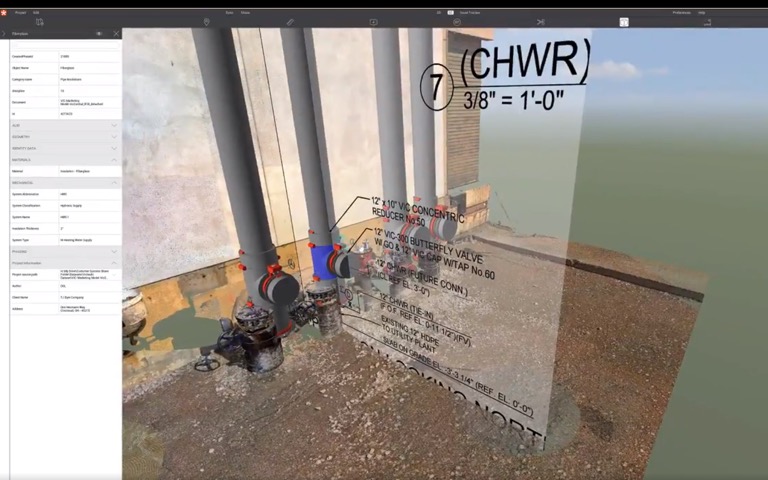 Viewing models and drawings in this way alleviates many field communication problems that arise in the quality control and Request for Information (RFI) processes, such as taking photos of issues in the field and misplacing them, attempting to form a mental picture of a complex structure based on drawings alone, or not having enough information from the model without accompanying drawings. In short, Revizto pulls all of this together with a very sophisticated rendering engine and smart bi-directional linking code.
Getting into the weeds and features of Revizto
Marking up issues and areas of interest in Revizto turns out to be very easy and, from our perspective, one of the magical qualities of this platform.
PDF markups in Bluebeam (a common and widely adopted drawing markup platform in the AEC industry) goes on to a 2D PDF like ink on paper. 2D markups in Revizto, on the other hand, do not live "on" the sheets. It's better to think of these markups as essentially hovering above them in 3D space. This allows these markups to have their own coordinate system much like an object in CAD. And because of this interesting innovation, these markups are now free to bi-directionally travel between multiple platforms sharing this same coordinate system.
Revizto "stamps" function in this manner and can contain metadata such as issue properties, tags and assignees, requiring one click to distribute all the data to a user's scheduled reports (which are robust and well thought out) and dashboards, and preps these to be printed to PDF or filtered if needed across all devices. These markup features stay in that 3D spatial position so you can see it in any sort of view: 2D or 3D, or in drawing-model fusion.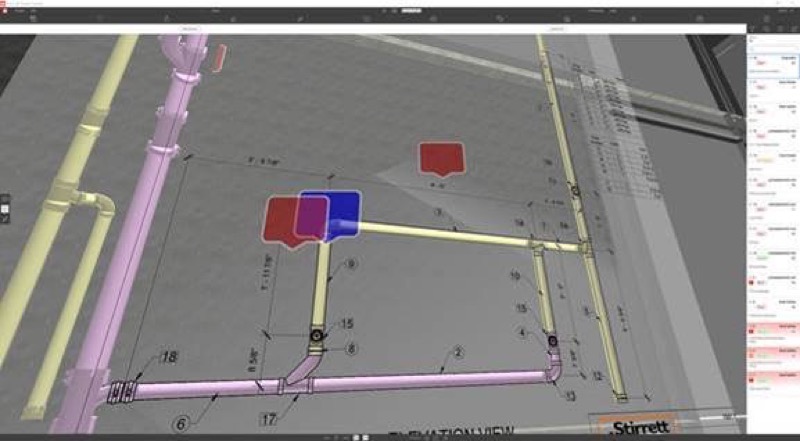 QA/QC – A Use Case for Revizto
In my company's experience, software applications designed for issue tracking are not all created equal—some are better designed than others as tools for clear communication and driving toward issue resolution. Revizto is among the best of these issue tracking tools because it allows the user to:
Integrate construction issues into the project's drawings, BIMs, and 3D laser scan models, propagating issue flags across all of those automatically for clear communication of WHERE an issue exists — for example, a dent in a wall can be flagged ON THE DENT, IN THE WALL, in the 3D scan model, and that flag will also show up on all relevant drawings automatically.
Assign issues to individuals so the team can know WHO owns each issue.
Communicate in the app about issues in real time across the project team about the status of each issue. Users can do this through issue-based discussion threads (a kind of social media), with photos added to those discussions, so the whole team can easily understand WHAT each issue is about, in detail, and in context.
Facilitate the viewing and access of this information across all devices, iOS, Android, Mac, PC; Placing the WHERE of the issue into each and every team member's hands.
Create a clear record of communication, per issue, for easy review of status and issue history so the team can see clearly HOW each issue is going to be, or has been, resolved.

Integrate task creation and resolution with Procore.
Avoid technology glitches like issue status synching bottlenecks (last one to synch wins) and handle all issue edits in real time while users are on Wi-Fi.
Show the project's drawings automatically in the correct position, in-place within the project's BIMs and scan models, so the team can see a FUSION of the projects BIMs, scan models, and drawings, all in the same space, and use that as a HOST for project issue creation, discussion, and resolution. This makes effective use of all of the project's graphical data and allows a better understanding of WHY each issue matters and why it impacts the rest of the project.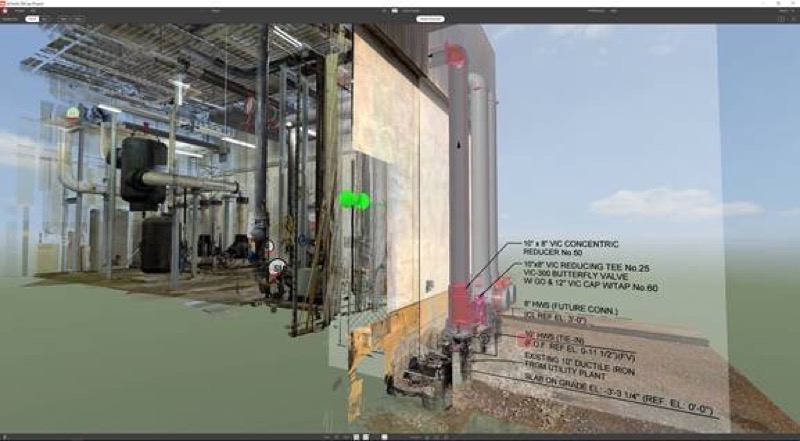 Point clouds and reality capture integration
As of this writing, Revizto has recently added full point cloud integration. The software can also accept OBJ files (meshes). While there is no limit known yet on how many polygons Revizto can take before coming to its knees, Settles suggested that image textures are actually a bigger performance issue than polygon count.
OBJ has other benefits over point clouds, chiefly reducing files to about 5-10% of the original size.* The OBJ can also hold coordinate values (SCENE, RECap, ContextCapture – to name a few) which is certainly helpful for producing 2D/3D model fusion on the fly, eliminating a potentially inaccurate reality capture model alignment.
Imagine everything viewable in one platform, all geolocated, on a mobile device.
Revizto's "Why"
The company explains its goals: "…if we look to the advancements of the UK [BIM processes and collaboration workflows], these are a model in some ways for Revizto."
Revizto believes that everyone needs to be involved in the BIM process. Like any other kind of relationship, it's all about communication. Revizto leadership identified a communication gap in the industry and filled it through model/drawing fusion-based coordination. Revizto starts at the beginning of the BEP (BIM Execution Plan), enabling communication in real time on 2D/3D issues, clashes, and coordination. Overall, this leads to excellent accountability and quite simply, a better understanding of the project.
It could be surmised that Revizto is a competitor to some Autodesk products. When I asked Revizto how they are setting themselves apart from Autodesk's BIM 360 Field/Glue, or BIM Docs which has an RFI tracker, Revizto pointed out that their software bridges the gap between the field and designers. Revizto provides entry into BIM with a user-friendly platform that is both simple and accessible. As Settles suggests, "we centralize communication. We are the connective tissue between design, review, coordination, and construction–centralized into [one]platform"
Settles goes on to explain a differentiator from some other platforms on the market. "We carry BIM intelligence from authoring platform into the review space," he says, "communicating issues into the field and back.
Finally, Revizto describes itself as bringing "high-end intelligence by finding things from 2D to 3D and vice versa." With other BIM apps, technicians and pros are often siloed due to the technical knowledge requirements of operating different platforms, Revizto's intuitive and relatively simple interface provides an easy learning curve. That facilitates adoption by eliminating the need for users to learn a list of nuances, a need that often stands in the way of getting work done. It's an elegant solution package, to be sure.
How they've arrived here, and where they're going
When asked how they've understood the needs of the industry so acutely, Revizto suggested that it is in their feedback loop: The most important feedback is based in part on the Revizto user and Slack groups.
The long-term future of Revizto? Better communication with less information loss, bridging the gap between 2D/3D tech and real-time collaboration. Revizto is an Autodesk developer–they need Autodesk products to function in their current state. While some may think of Revizto as a competitor to existing platforms, it may be more accurate to say that they have successfully listened to the market, improved on what exists, and provide a useful gap-filling platform that compliments existing design and clash software.
When asked whether Revizto is looking to have AR integration, they responded with, "AR is absolutely in our road map, with tablets being the first target. "
It was a pleasure to interview the staff at Revizto; many thanks to Brett and Scott for their participation and infectious enthusiasm for what they have brought to the market. My company is currently using Revizto and as a company, we have been very pleased with the functionality and simplicity of this robust platform with excellent customer support.
* Correction, 11/15/18: The article originally stated that Revizto could convert point clouds to OBJ files. This requires the use of 3rd party software.