Mobile mapping has been a game-changer for surveying and reality capture in general, adding a new level of speed and efficiency to large-scale projects. Rather than needing to continuously shift the position of a static terrestrial scanner, trying to ensure you get every necessary angle captured, a mobile mapping system can be attached to a vehicle – airborne or otherwise – and many are lightweight enough to be transported while simply walking through a space. One of the potential drawbacks of a mobile mapping workflow, however, is that in most cases the data cannot be seen until after the project is complete and the data is processed, which at times can lead to mistakes being found after and a return to the site being necessary.
The way around those concerns, of course, is implementing a real-time data capture system. This is exactly what has recently been implemented by GeoSLAM into their ZEB Horizon scanner. The company announced earlier this month that the tool is now available with real-time feedback on data capture. Users can attach a mobile device – GeoSLAM says most every device is compatible – to the newly-dubbed ZEB Horizon RT. With the device facing the user, it will big up the data being collected and generate a preview of the point cloud in real-time, eliminating the fear of missing part of the scan and not finding out until after leaving the site. There are a number of additional accessories that can be added as well, including but not limited to ZEB Vision for colorized point clouds, ZEB Pano for 360-degree panoramic photos to scans, and mounts for both cars and UAVs.
The ZEB Horizon has long been one of GeoSLAM's star products as a highly portable lidar scanner. With its lightweight design, the scanner can be used as a handheld tool, which works particularly well for surveying indoor spaces, and can also be attached to UAVs for larger-scale projects outdoors. Speed is one of the big benefits of switching to a mobile mapping solution, and the ZEB Horizon makes waves there as well with 300,000 scanner points per second with relative accuracy up to 6mm, dependant on the environment in which the scan is taking place.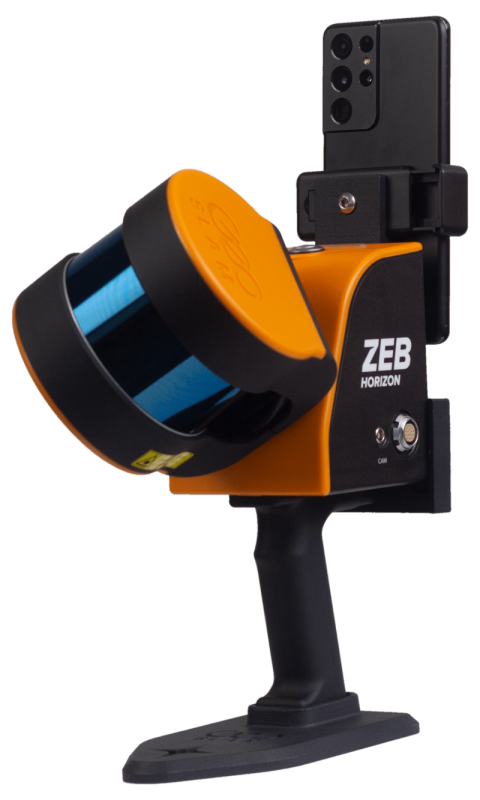 Those specs all remain true for the ZEB Horizon RT product as well, with the added benefit of attaching your mobile device to check the data in real-time. In their announcement of the new feature, GeoSLAM highlights three main benefits from making the upgrade. First is route planning, as the real-time system shows the user where they have already walked, eliminating the possibility of double-scanning an area, thereby improving efficiency. Second is quality control, with the point cloud preview providing insight into whether or not all relevant areas have been scanned, and with the desired accuracy. And finally, they point out the SLAM Condition Indicator, which is real-time feedback in the web interface which provides users with greater confidence of their current capturing conditions.
GeoSLAM, based in the United Kingdom, has been one of the leaders in SLAM (Simultaneous Localization And Mapping) technology for over a decade since their founding in 2011. They offer both hardware and software solutions. In the former category, in addition to the ZEB Horizon and new Horizon RT, they also offer the ZEB Go and ZEB Revo RT, and for software their offerings include Connect, Hub, and Draw.
On the addition of the ZEB Horizon RT, GeoSLAM chief product officer, Dr. Neil Slatcher, said, "We're always on the look-out for ways we can make our customers' lives easier, enabling them to go further with our technology, so we're delighted to release this latest update to our already-popular ZEB Horizon. With thousands of the devices in use across the world, we're confident this will be a popular addition. The real-time option for the ZEB Horizon not only provides greater visualization of data during a scan, but gives users confidence in the field that they are capturing the data they need."