While BIM and supporting technologies are embraced by design and integrated construction technology teams, most organizations aren't maximizing their investment because BIM fails to gain traction with operation and field teams. Procore Technologies' BIM viewer bridges the gap between design, operations, and field teams through intuitive design and robust functionality, enabling them to communicate information as a project moves from preconstruction to construction and mobility and leverage the model out in the field.
Until recently, mobile BIM viewers were rarely utilized by remote teams in the field because model complexity and processing requirements lead to a slow and unreliable experience. These holes in communication and disconnected information ultimately cause all kinds of delays, waste in the field and stress. With Procore BIM, remote teams can view coordinated models on their mobile devices. Unlike other technology providers, Procore's unlimited users model allows BIM teams to freely invite all project stakeholders into Procore increasing accountability across the entire project team.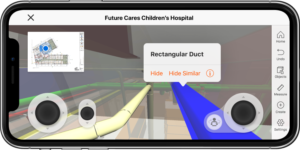 Procore BIM allows the entire project team to effortlessly navigate and explore models in the field using patent-pending joysticks. Procore BIM lets users step into the model by translating their movement into a virtual experience; lock the view and look around while work is being checked. Field teams have the ability to effectively validate both planned and installed work by referencing the coordinated model and taking a measurement. Superintendents have the ability to create an observation when there is a conflict that needs to be tracked and communicated among field teams, while project engineers can also quickly generate a coordination issue, include details, and assign it to the BIM team for review. From there, BIM Managers can elevate the issue directly to an RFI in Procore, connecting BIM and field teams, all on one platform.
Design Coordination
Task management has been streamlined by Procore's Design Coordination software, that enables BIM Managers to streamline the clash management process to prevent rework before construction begins. Design Coordination is a real-time collaboration tool that drives trades to take action and simplifies communication helping BIM teams get "clash-free" models faster. Once BIM teams reach model sign-off, coordination issues can be moved to observations and viewed on mobile devices, giving teams the ability to track commitments made by detailers and/or designers during the coordination process with the trades actually installing the work in the field.
Teams are always looking at the source of truth because of Procore's Drawings tool integration, which is a key feature for quick reference and navigation in the 3D models. When drawings are slip-sheeted, the 3D viewer automatically updates the drawings being used for navigation so that there aren't any discrepancies between the current set of drawings and what is being leveraged in the model. All models are automatically versioned when uploaded to Procore and can be given a status (influenced by ISO 19650) to mitigate reliance risk and ensure field teams know if the models are currently in coordination, are signed-off, or are as-built.