To develop a single aerial engineering surveying solution that includes a drone, camera and processing software, Phase One teamed up with Quantum Systems to integrate its new P5 128-megapixel camera into their Trinity Pro fixed-wing mapping drone, and Trimble for its data processing software Trimble Business Center (TBC). The solution was announced during Trimble Dimensions in Las Vegas.
In a video accompanying the release of the new platform, Michael Messerschmidt from Phase One explains that the P5 camera is the result of the development of the global shutter, released in 2022, which enabled a smaller camera that is more light-weight and purpose-built for the UAVs and the surveying industry. Experience with both drones and cameras inspired Phase One to develop the P5 camera. While aerial imagery customers were moving into the drone space, the company sensed a lack of cameras that were light enough for readily available UAVs and accessible for the normal surveyor.
Quantum Systems Trinity Pro mapping drone integration
Robert Leake (Quantum Systems) explains in the same video that to push the boundaries of drone-based surveying, they needed a partner with a great reputation which they found in Phase One. The Trinity Pro drone is the most performing drone in its weight class and can fly up to 90 minutes in any kind of wind and weather conditions, can cover large areas and take off vertically in any tight space imaginable, which is required for certain construction projects. With the P5 camera integrated with the Trinity Pro drone, sub-centimeter accuracy can be obtained which is required for surveying projects.
Phase One states that the Phase One P5 camera has been meticulously crafted to address the shortcomings of conventional cameras for UAVs in terms of speed, weight, and data quality. For example, the utilization of an electronic global shutter, combined with precisely calibrated lenses and sensor, minimizes the need for extensive post-processing and software corrections typically required to address pixel distortion, thereby ensuring the preservation of high-quality data. More info and a spec sheet of the camera can be found here.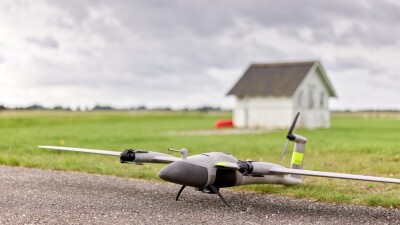 In conjunction with Quantum Systems Trinity Pro, the Phase One P5 enhances productivity: with a proven track record of over 75,000 flight hours, The Trinity Pro ensures reliability and reduces maintenance requirements, allowing surveyors to focus on their core tasks. Quantum System's Trinity Pro UAV facilitates high-productivity missions with a ground speed of up to 22 m/s while maintaining safe operational altitudes ranging from 60 to 120 meters AGL, enabling the rapid surveying of large-scale areas with just a single flight.
Trimble Business Center
After integrating the camera and the drone, processing software was the only lacking component for creating a new drone-based surveying platform. Trimble Business Center (TBC) was chosen because of the combination of providing accuracy and usability to the end user. In the aforementioned video, Joe Blecha (Trimble) explains that TBC enables surveyors to leverage UAVs as another powerful tool to complete their tasks: the software enables surveyors to transform field data from GNSS receivers, total stations, laser scanners, mobile mapping systems, drones and more into high-quality, actionable information and client deliverables.