Connecticut-based HYPACK, best known for its hydrographic survey and processing software, has announced the release of the NEXUS 800 UAV system. The NEXUS 800 was produced in partnership with Infinite Jib, Velodyne, and SBG Systems to provide a fully integrated mapping solution that "seamlessly harmonizes" LiDAR data with photogrammetry.
Inifite Jib provides the UAV airframe for the system. Among other fairly standard features, it offers includes an on-board PC for processing real-time point cloud and image information.
An onboard Velodyne LiDAR Puck LITE supplies LiDAR scanning. This sensor, which weighs less than 600 grams, scans at a 100 m range and captures 300,000 points per second.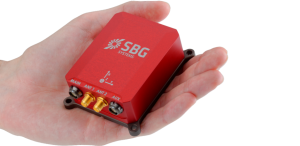 For more precise data capture, the NEXUS 800 system also includes an INS/GNSS unit from SBG Systems. The Ellipse-D is one of SBG's systems for lower-cost survey. It provides real-time positioning accurate to 2 cm, as well as heading and attitude correction.
This system runs on HYPACK's software. The software can be used at every stage of the data-gathering process, including mission planning, acquisition, post-processing, data analysis, and product creation. It offers real-time image and point cloud viewing during the flight, and correlation of imagery and point clouds during post-processing.
Taken as a whole system, HYPACK says the NEXUS 800 is an end-to-end, turnkey solution. It "tightly integrates" hardware and software, as well as the dual capture methods of LiDAR and photogrammetry.