Patented Lightning technology lets new TX8 measure light pulses at nanosecond level
Trimble Navigation on Tuesday introduced a time-of-flight-based, 3D laser scanner that scans one million points per second at sub-two-millimeter accuracy to 120 meters for applications in plant and process, engineering, surveying, architecture, construction and forensics.
Sunnyvale, Calif.-based Trimble credits its patented Lightning technology for maintaining precision over the scanner's 120-meter range by accurately measuring the time, at the nanosecond level, for a pulse of light to be transmitted to and reflected from an object back to the scanner.
The company said the ultra-high speed TX8, making its debut at the Intergeo conference in Essen, Germany, has a 360 x 317 degree field-of-view with a typical scan time of three minutes to quickly produce high-density 3D point clouds.
TX8 and Leica P20
The TX8 makes its debut a year after Leica Geosystems introduced its ScanStation P20 ultra-high speed, time-of-flight scanner at Intergeo last year. The Class-1 P20 raised the bar for industry hardware by using waveform digitization technology to capture one million points with low noise at an extended range of 120 meters.
The TX8 looks somewhat similar to the P20. Both use a vertically rotating mirror on a horizontally rotating base and both claim to collect a million points per second with no lighting conditions.
"Spec for spec, from that standpoint, you might draw that conclusion," Trimble's Todd Steiner, portfolio manager – survey optics, told SPAR from Intergeo Wednesday.


However, there is one significant difference between the two laser scanners: the TX8 features the option to upgrade the measurement range to 340 meters. Steiner said the data collection rate and accuracy measurement for the extended range is not spec'd out yet.
Still, Steiner explained Trimble wasn't necessarily looking to break the mold on ultra-high speed, time-of-flight laser scanners with the debut of the TX8. He said the scanner's real value for customers, including the extended range option, is its wide variety of applications for civil engineering, surveying and forensics.
"It's not really a new play for us, it's just a new solution to address the markets' needs," Steiner said. "The good thing about Trimble, we have a wide-reaching distribution channel that is very adept at [understanding]the applications the TX8 is well-suited for," Steiner said.
The TX8 is aimed at the following applications, in particular: 
General surveying: Capture high resolution data for topographical maps, generating 2D and 3D CAD views, measure distances, areas, and volumes
Industrial facilities: Capture accurate as-built documentation of a facility for redesign and revamp projects or for updating existing plant documentation in 3D
Civil engineering: Capture existing conditions such as roads and buildings which require high density and long range data
Accident Investigation: Quickly and thoroughly document accident scenes
BIM: Capture as-built and as-is conditions for MEP or structures contractors working on virtual design and construction (BIM) projects
Heritage: Quickly document heritage sites and historical buildings by capturing high density and long range data
Trimble said the TX8 and the optional range upgrade should be available in the fourth quarter through its Geospatial Division distribution network.
'New era for geospatial data capture'
In related news, Trimble also introduced the V10 Imaging Rover, an integrated camera system that captures 360 degree digital panoramic images for visual documentation and measurement for survey, GIS, engineering, and oil and gas professionals.
Trimble said office-bound users of the V10, with Trimble VISION technology, can take measurements and create deliverables using Trimble Business Center office software.
The V10 uses calibrated imaging sensors to capture digital images directly from the range pole. Twelve calibrated cameras – seven panoramic and five downward-looking – integrated in the V10 provide complete site visualization and documentation with a 60-megapixel panoramic image that can be used to make photogrammetric measurements.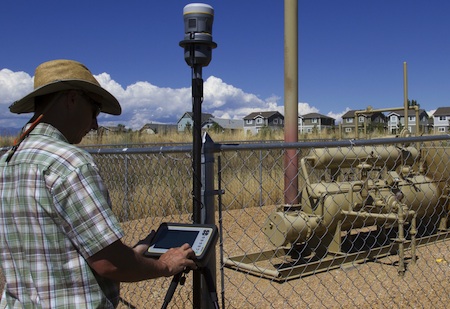 "The Trimble V10 Imaging Rover ushers in a new era for geospatial data capture – positions from pictures," said Phil Sawarynski, business area director of Imaging Solutions for Trimble's Geospatial Division. "The capability to easily integrate panoramic images into traditional datasets and take measurements from those images sets a new standard for positioning applications."
The V10 should be available in the first quarter of 2014.