A new online comparison platform for 3D scanners named Aniwaa has been launched with the goal of making it easier to research and directly compare scanners. With this new platform, Aniwaa hopes to become a central location for information that will help to inform 3D scanning purchasing decisions and to connect consumers to resellers near them.
There is no doubt that the 3D scanning hardware market has exploded in the last few years, with new mobile, SLAM, and traditional scanners being released, not to mention extensions of existing product lines (such as the BLK lineup from Leica) that are broadening the use cases and business cases that they serve. However,  it has been difficult from a consumer perspective to compare hardware directly, or know the options that they may have available.
Pierre-Antoine Arrighi, Aniwaa's co-founder, has worked with 3D scanning for more than 10 years in his academic and professional career.
"3D scanners are a fast-growing category; we're seeing many industrial applications reaching maturity and a strong untapped potential overall," says Arrighi. 
"New hardware is being released frequently, which is creating a very fragmented market space and making it difficult for potential buyers to make an informed choice. That's why we're constantly improving our tools to help our users find the best 3D scanning hardware for their needs and budget."
To address the scattered information available to potential buyers, Aniwaa offers a redesigned comparison engine indexes over 430 products (and counting), encompassing the full spectrum of 3D scanning systems. The tool includes a range of filtering and comparison options designed to help users narrow down their selection, and users can compare up to four 3D scanners at a time, side by side, and get a comprehensive overview of the products that interest them.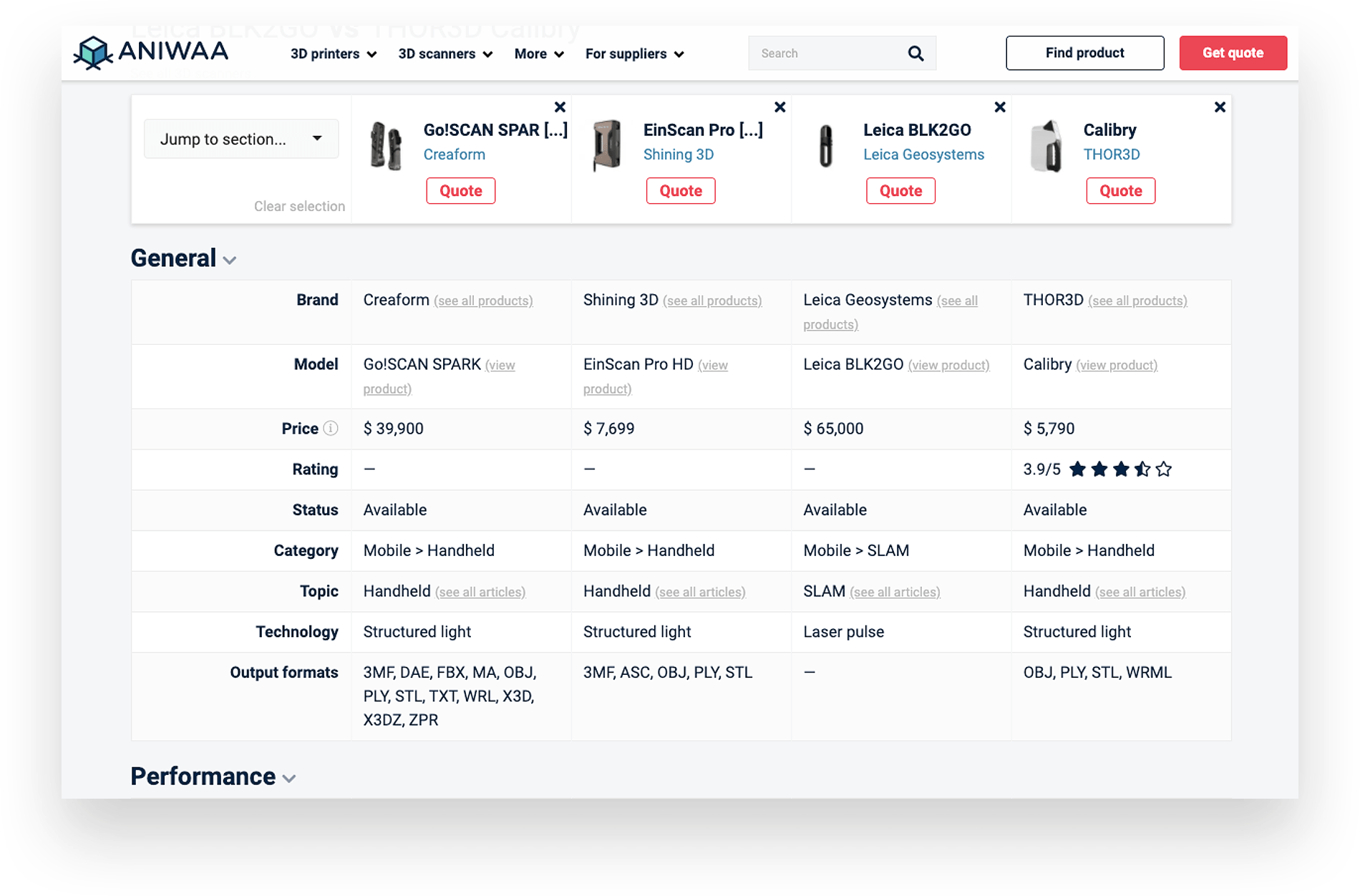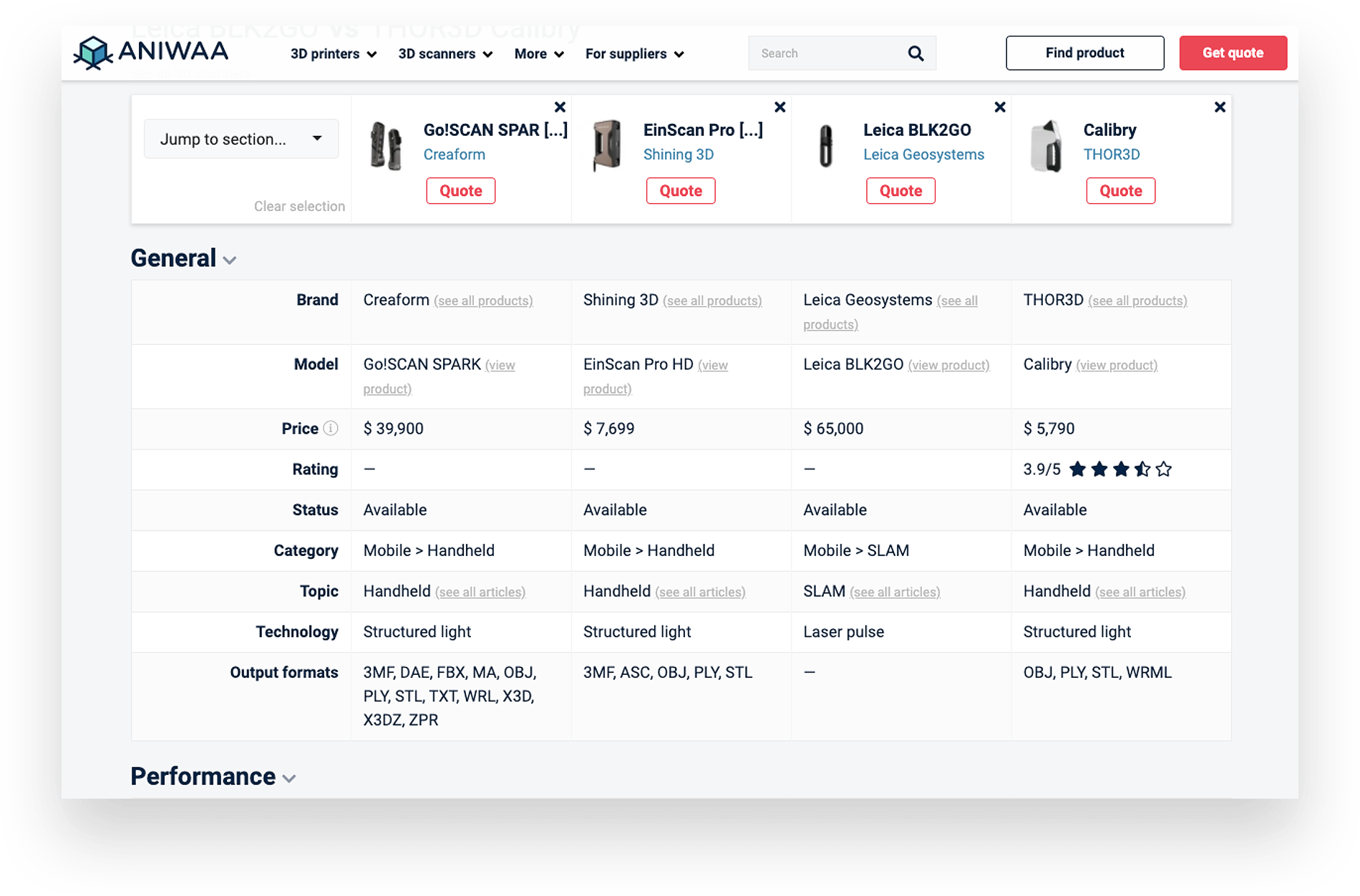 Data included in each hardware listing includes a price or price range, the technology used by the scanner, output formats, field of view, max range, scan speed, etc. Measurements can also be toggled between metric and imperial units, and the prices can be adjusted to several currencies.
The pricing, in particular, may be a big draw for a platform like this, as this information can sometimes require outreach direct to the company or reseller to obtain it. Where specific prices are listed on the site, Ainwaa's pricing information is based on the manufacturer's suggested retail price (MSRP). However, because actual prices may vary, sometimes significantly, depending on factors such as the country you live in, taxes and the reseller's pricing policy or location, often Aniwaa provides an estimate. Where there is not a specific price available, the site invites users to contact them to get a more specific quote.
Aniwaa's CEO and co-founder Martin Lansard says he's very proud of what they have achieved.
"With the COVID situation, physical trade shows are declining sharply while the product discovery and comparison steps are moving online. This new release strengthens Aniwaa's position as the go-to 3D scanner evaluation platform, helping not only buyers but also suppliers– from manufacturers aiming to build their brands to resellers looking for qualified leads. We're all excited by what's ahead and look forward to supporting the growth of our industry and helping 3D scanning companies thrive."