ClearEdge3D rolls out new EdgeWise BIM Suite integrated with Revit
ClearEdge3D, Inc. on Tuesday announced at Autodesk University in Las Vegas the release of its newest software platform, EdgeWise BIM Suite, with new object recognition and feature extraction technology, which is fully integrated with Autodesk's Revit software and reported to save 70 percent over traditional workflows for as-built, building information models.
Based outside Washington, D.C., privately-held ClearEdge3D said the new release combines its EdgeWise MEP and EdgeWise Building software into a single BIM platform that makes creating Revit building models significantly faster than traditional workflows.
With EdgeWise, walls can be exported to Revit plum and square and best fit to the point cloud or converted to their exact as-built condition.
ClearEdge3D said it worked closely with Autodesk's Revit product team to fully integrate the technology to create an as-built modeling toolset within the Autodesk Building Design Suite and the individual Revit products.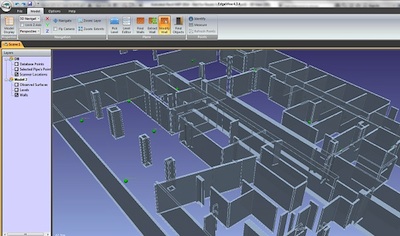 Windows, pipes, round duct, and conduit are extracted and exported to Revit as properly specified family objects. ClearEdge said the new technology was developed using a National Science Foundation research grant.
Digital Surveys, a U.K.-based engineering services company, said using EdgeWise BIM Suite on a recent project to scan and model an aging hotel in central London saved more than 70 percent in their workflow.
"I honestly don't think we could have completed the project on time and on budget without EdgeWise," said Ben Bennett, managing director of Digital Surveys.
For a free 14-day trial, contact Janice Starrs at [email protected] or visit the company website. ClearEdge3D also produces EdgeWise Plant for the process facilities market.