Esri's new version of flagship mapping software heavy on biz intel apps
Esri has rolled out the much anticipated, new version of its ArcGIS platform that enables the real-time collection and sharing of data with GIS.
Based in Redlands, Calif., Esri said ArcGIS 10.2 allows users to more easily deploy web GIS, which Esri calls "the key component for implementing GIS as a platform," and said it helps users "organize their work and simplifies geographic information discovery, access, sharing, and collaboration."
Specifically, web GIS:
Enables more users to build maps that work across different devices
Reduces the need to create custom applications with included ready-to-use applications and application templates
Integrates GIS more easily with other business systems such as IBM Cognos, MicroStrategy, or SAP
Provides access to vast collections of ready-to-use maps (basemaps, demographic, terrain, etc.) and GIS services
Can be used as a content management system to organize, secure, and facilitate access to geographic information products
Other 10.2 features
Other features on 10.2 include more support for using maps in the field in an organization, new geoprocessing tools, support for new data formats and databases, and better search capabilities for rasters and imagery.
New ArcGIS Runtime SDKs for Qt, OS X, and Microsoft .NET Framework app and new web mapping APIs for creating online web applications were also released.
Esri said coming soon, developers will be able to create custom applications for phones and tablets that can go offline and continue to work with their maps and data.
The new version expands the analytic functionality of GIS to all users via ArcGIS Online, which now has new analysis tools for investigating geographic relationships, patterns, and trends within data.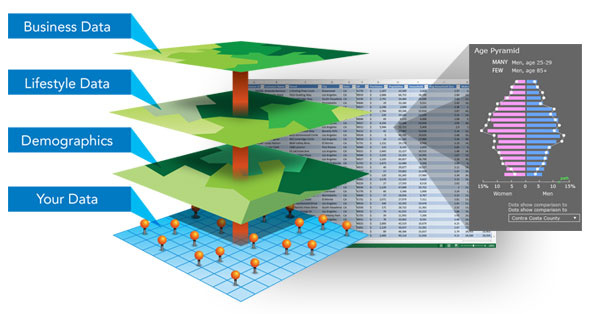 Portal for ArcGIS
Esri said its Portal for ArcGIS product is a core part of 10.2 and can now be deployed on internal networks behind firewalls to share maps, applications, and other geographic information within an organization.
Portal for ArcGIS provides a secure front end for ArcGIS for Server, which hosts dozens of apps and full integration with ArcGIS for Desktop. It includes geographic viewers and analysis tools designed for users new to GIS.
Experienced GIS users can connect to Portal for ArcGIS from ArcGIS for Desktop, developer APIs, and other Esri applications. The Portal for ArcGIS extension software is included with ArcGIS for Server Advanced (Enterprise or Workgroup) and is licensed and priced based on the number of named users.
Esri also released a new extension to ArcGIS for Server called ArcGIS GeoEvent Processor, which allows users to access live data streams and process real-time data on the fly, displaying relevant information from these feeds in ArcGIS clients.
10.2 also expands Esri's support for major business intelligence systems, including new MicroStrategy BI and Microsoft Dynamics Customer Relationship Management tools. These let users of those platforms perform location analytics on their business data and focus their marketing.
ArcGIS Online access
To boost online participation, Esri said all ArcGIS for Desktop (Basic, Standard, or Advanced) organizations will receive an ArcGIS Online subscription. The number of named users will be equal to the total number of ArcGIS for Desktop licenses current on maintenance, Esri said, adding Desktop customers will be contacted about the details in the coming weeks.