Euclideon's Geoverse software tackles massive 3D point clouds
Merrick & Company said Monday it signed a deal with Euclideon Pty. Ltd. to distribute its Geoverse software suite, which allows real-time visualization over the Internet of 3D point cloud datasets at full resolution, no matter the size or density.
Headquartered in Greenwood Village, Colo., Merrick is an AEC and geospatial technologies firm, generating $116 million in annual revenue serving clients in the energy, national security, life sciences and infrastructure markets.
Merrick's Geospatial Solutions (GSS) group said it will sell the "revolutionary" software, which includes Geoverse Massive Data Manager (MDM), Geoverse Convert, and the Unlimited Detail software development kit (SDK), within the United States and Latin America.
Euclideon, based in Australia, said its Geoverse software, built on its Unlimited Detail technology, allows geospatial professionals to manage and view massive point cloud datasets used to support operations within the transportation, utility, energy, government and defense markets.
Geoverse Convert converts 3D data points – captured from laser scanners and photogrammetry – to the Unlimited Detail format and reduces data volumes to 5-20 percent of the original size.
The format loads into Geoverse Massive Data Manager in less than a second for viewing at 30 frames per second – no matter the size of the 3D point cloud data sets. 3D models can be stored in a central repository on the user's local hard drive, networked server, or secured cloud storage for streaming to multiple users.
Euclideon said by shrinking datasets users can store up to 20 3D models for every one stored previously.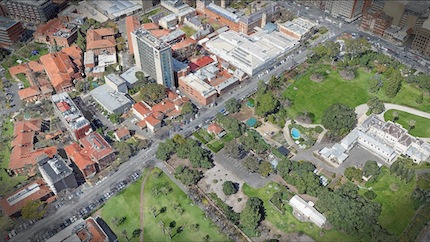 "Euclideon's Unlimited Detail technology offers a novel approach to 3D point cloud data management, visualization, and dissemination that the geospatial industry has never before experienced," said Matt Bethel, Merrick's geospatial director of technology. "This disruptive technology overcomes the size and density restrictions that have always limited the use efficiencies and new application growth of the 3D market."
The Geoverse Software Development Kit for OEMs integrates the Unlimited Detail visualisation technology into existing software applications. Currently, the following formats are accepted by the software: OBJ, BIN, e57, LAS, LAZ, FLS, PTS, PLY, PTX, XYB XYZ/TXT and LlargBin.