Leica Geosystems has released a new laser scanning bundle that enables users to rely on a purpose-built workflow to save time, leverage new tools and experience a seamless field-to-office process.
Leica Geosystems' new laser scanning bundle combines the Leica BLK360 imaging laser scanner (hardware) with Leica Cyclone REGISTER 360 BLK Edition (software) and Leica Cyclone FIELD 360 (app). It enables users to rely on a purpose-built workflow from capture to registration to delivery. A new direct workflow makes it easier for customers to move from one phase of capture to the next of production. The release also coincides with the release of the Cyclone 2020 product suite, which offers significant improvements across the portfolio and strengthens the connection between Leica Geosystems' data production tools and the Autodesk design suite.
Connecting multi-vendor reality capture and design solutions
Leica Geosystems' new scanning bundle enables seamless connectivity and workflows from Leica Geosystems Reality Capture products to Autodesk's Reality Computing and design solutions. Autodesk's Reality Computing and design solutions include Autodesk BIM 360 and Autodesk ReCap. Additionally, the bundle includes an automated and scalable registration and QA workflow that fully integrates with other Leica Geosystems reality capture solutions, such as Leica CloudWorx plug-ins for Autodesk products. The CloudWorx family of plug-ins for Autodesk is available for AutoCAD, Revit and Navisworks.
Each CloudWorx plug-in includes a collection of tools perfectly suited to working with point cloud data for the design package's target market, such as the creating 2D drawings and 3D models or performing clash analysis and FF/FL analysis. The goal is to move from raw point cloud to final deliverables using various semi-automated productivity tools. CloudWorx plugins are compatible with RCP clouds as well as Leica Geosystems' high-performance point cloud engine through connectivity with JetStream technology for a more integrated, collaborative and productive reality capture workflow.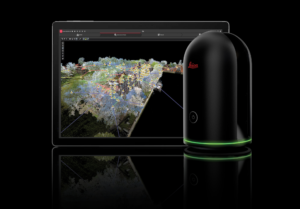 Additionally, the new bundle provides an improved and seamless capture-consumption workflow for Leica Geosystems' customers with direct connectivity into the Autodesk ecosystem, as it allows users to publish directly to Autodesk's native RCP format, skipping the previous steps that required the creation of smaller interchange files (e.g. PTS or E57) just to reimport them back and index in ReCap. Users can now batch their full publishing workflows in one step, click and go away. Leica Geosystems continues to improve support for RCP by working hand in hand with the Autodesk development teams to support expanded publishing workflows.
From a data perspective, it can be said that Leica Geosystems will deliver point cloud production through the scanning bundle, while Autodesk's technology will consume the data. Autodesk excels at creating deliverables from point clouds that can be understood by users without 3D expertise and translating the richness of reality capture into digestible deliverables that can be actioned by architects, engineers and designers within their current workflows. Leica Geosystems likewise excels at creating and processing point clouds with a reputation for unwavering accuracy and quality. By ensuring that Leica Geosystems' users have the best possible data going into Autodesk solutions, Leica Geosystems does their part to support the production of high-quality deliverables within AutoCAD, Revit and Navisworks. The strategic partnership between Leica Geosystems and Autodesk offers an opportunity for improving the intersection of reality capture and traditional design workflows.
An optimized workflow that supports scan control, optional pre-registration and GeoTagging
What makes the release of the scanning bundle unique, is that users can now stay in one familiar interface from capture to processing: they can take advantage of Cyclone FIELD 360 and leverage light-weight, right-sized field pre-registration, Geotagging and push-button auto-registration and QA/QC workflows offered through the updated product bundle.
While ReCap is key to democratizing access to point clouds for a new generation of users, Cyclone REGISTER 360 was launched alongside the BLK360 in 2017 and has been a popular companion to the BLK360 since that time. Cyclone REGISTER 360 has continued to add features, such as direct RCP export, that support Autodesk users to quickly move from capture to deliverable production in Autodesk design packages whilst leveraging the strength of Cyclone for "survey-grade" point cloud preparation – from registration, QA, clean-up to delivery.
With the support for scan control, optional pre-registration and GeoTagging in the field, the job of the user has become easier and more efficient. Scan control refers to the ability of Cyclone FIELD 360 to control scanner settings and start scans remotely from a mobile device. Pre-registration takes place in Cyclone FIELD 360 where individual BLK360 setups are visually aligned in the field to assess completeness and capture quality before automatically completing the full registration process in Cyclone REGISTER 360 (BLK Edition).
GeoTagging is the process of attaching photo, video, voice, or measurement assets to points within the captured data. Users can produce these tags using their Cyclone FIELD 360 mobile device during the data capture process to capture important information about site conditions and add context to a data set that might be processed by someone who did not attend the fieldwork. GeoTags persist throughout the entire Leica Geosystems reality capture toolchain though to AutoCAD, Revit and Navisworks when paired with CloudWorx and either JetStream or LGS files as the data source. Automating and streamlining the entire workflow was the goal, and has now been achieved with the joint partnership with Autodesk.