BIM Field Trip Solutions combine Leica's software, hardware for BIM lifecycle
Leica Geosystems, Inc. on Wednesday rolled out new customized packages of hardware and software to move contractors from 2D to 3D workflows for all stages of building information models (BIM), including concrete layout, MEP layout, quality assurance, renovation/retrofit, and operations/maintenance.
Called BIM Field Trip Solutions for Contractors, Leica said the hardware and software selections are tailored to the needs of the contractor at three distinct levels.
Leica said its "BIM One Box," the new Nova MS50 MultiStation, introduced in June, offers total station layout capabilities that can handle BIM layout points from Revit, AutoCAD or any other BIM or CAD program. The hardware also integrates real-time delta reporting for quality assurance checks and laser scanning capabilities for capturing as-built point clouds to be compared with the as-designed model.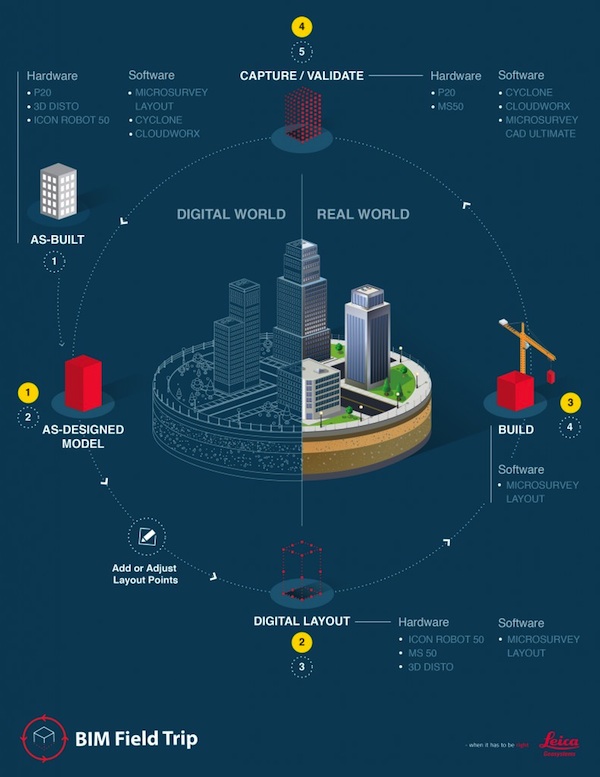 The BIM Field Trip products are available at three levels:
BIM 101 – digital layout using paper or CAD files as a starting point. Hardware such as the 3D Disto, iCON robot 50, and DISTO handheld laser measuring devices are combined with field and office software for BIM workflows for preconstruction as-builting, concrete layout, MEP layout, preconstruction as-builting and quality assurance.
BIM 102 – provides an intermediate-level solution to help contractors improve their BIM workflows. For preconstruction as-builting, ScanStation laser scanners capture existing building conditions in the form of near photorealistic, highly accurate point clouds that can be used directly in Revit for faster and more accurate modeling. For digital layout, high-precision iCON robot 50 robotic total stations combined with intuitive field software creates a "paint-by-numbers" installation in the field that reduces errors and provides a higher level of predictability of project outcomes. For MEP and interior BIM applications, the 3D Disto combined with specialized MEP software streamlines interior layout. For preconstruction as-builting, layout and quality assurance, the new Leica Nova MS50 MultiStation performs robotic layout while the field software tracks the layout locations.
BIM 103 – is for contractors that are experienced in BIM. Hardware solutions such as the multistation, high-definition laser scanners and robotic total stations are combined with field and office software to create advanced 3D workflows that streamline preconstruction as-builting, construction layout, and quality assurance as-builting.
"For many project teams, the benefits of BIM stop in the office; there simply hasn't been a total solution for BIM as-builting and construction layout that connects all the dots from the model to a real-world jobsite and then from the jobsite back into the model," said Cathi Hayes, Leica's BIM business manager.