New Geospatial 2014 software platform manages big data, analytics
Just over a month after introducing a new geospatial business group, Intergraph Corporation on Monday announced a new software suite for geospatial data management including real-time reporting in a mobile environment.
Intergraph's parent company, Sweden-based 3D imaging firm Hexagon AB, last month rolled out big changes for its subsidiary, including a new geospatial business group called Hexagon Geospatial.
"Many organizations must quickly understand and make sense of massive volumes of geospatial data," said Mladen Stojic, president of the new geospatial business, who also pointed out the need to integrate mobile and analytics into the cloud for geospatial data management.
Based in Huntsville, Ala., Intergraph said two applications in the Geospatial 2014 platform provide for new mobility. For instance, Mobile MapWorks lets users see, edit, validate and update their GIS from a mobile device in the field in real time.
Intergraph Mobile Alert, released in August, is a cloud-based service that provides crowdsourced incident information to subscribing organizations such as local governments or utilities. It's free to the public as an iOS or Android app and allows them to report issues, such as dangerous potholes or vandalism, using their mobile smartphone. Subscribing organizations receive the crowdsourced information by email and access the reports though a web portal and OGC-compliant web services.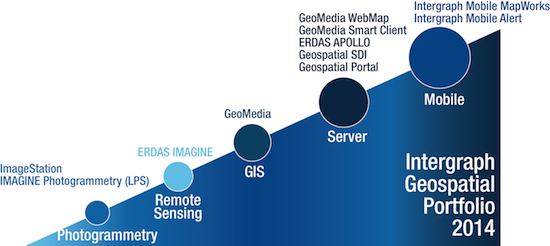 Other applications in the Geospatial 2014 portfolio, which builds on last year's introductory geospatial software, include: GeoMedia, ERDAS IMAGINE, ImageStation, ERDAS APOLLO, GeoMedia Smart Client, GeoMedia WebMap, Geospatial Portal, and Geospatial SDI.
The software also has a new spatial modeler that allows users to work with point clouds and model and define real-world objects that depict relationships and behavior. Users can also now exchange Esri file geosdatabase data across users' geospatial enterprises.
The new ERDAS ECW/JP2 SDK on Android, iOS and WinCE devices allows third-party developers to use Intergraph's data compression technology to solve mobile problems such as removing storage constraints and delivering high-performance image data.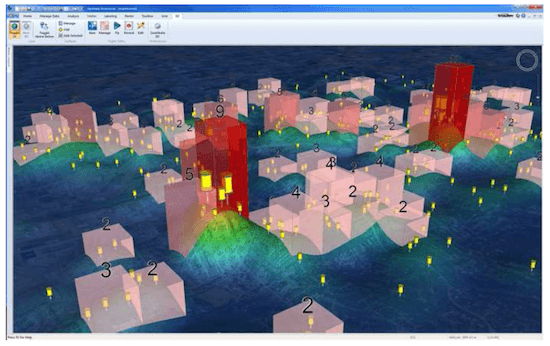 And, the ERDAS APOLLO application has been expanded as the core enterprise data catalog with the management of basic vector data to the Advantage and Professional tiers of this offering. GeoMedia Smart Client users can also now convert datasets from the server side vector cache to raster output as .png or .jpg tiles.
"We are also continuing to develop creative and intuitive interfaces, smarter workflows and automated technologies that support the entire geospatial information lifecycle, transforming multi-source content into dynamic and actionable information," said Stojic.