Big news at the busy Hexagon booth at Intergeo 2023 surrounded the Leica BLK2GO PULSE, the new first-person laser scanner that combines lidar sensor technology with the BLK2GO form factor. Notable features include instant data availability and an intuitive companion app that can be controlled with a users own smartphone, the new product can deliver full-colour 3D point clouds instantly in the field.
Juergen Mayer, President Reality Capture at Leica Geosystems, mentioned the easy, intuitive user experience and the delivery of complete data instantly as some of the key benefits of the new product. He further elaborated on how those benefits were driven by users and the technology itself at Intergeo.
"Our users wanted a quicker deliverable, and that's something we've given them with the BLK2GO PULSE," Mayer told Geo Week News. "At the same though, we're also trying to push the limit of what's possible to truly democratise reality capture in a way that allows different teams and stakeholders to newly collaborate."
That sort of collaboration is a key element of HxDR (Hexagon Digital Reality) which is Hexagon's cloud-native platform for geospatial solutions at any scale, which was also showcased at the booth. Reality Cloud Studio is a SaaS application runs on HxDR and was released earlier this year, but attendees were able to experience it for themselves at the booth. Numerous stations outlined what collaboration and storage in a single cloud environment that is accessible from anywhere truly looks like.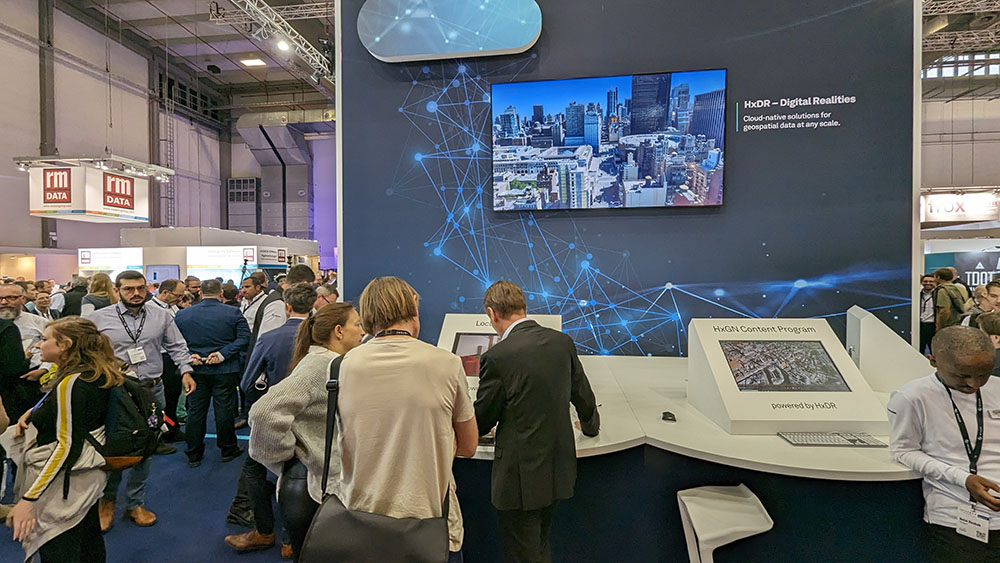 Even better was the ability see the processing power and accessibility of the system and assets, which you can do as well here.
That kind of accessibility on both the software and hardware side is something that was highlighted all across the Hexagon booth, as the company is committed to exploring what's possible in digital reality. The benefits of that approach are evident in a practical sense, with users no longer having to register for access to these sorts of assets, allowing multiple people to know and interact with a single source of truth.
Critically though, that accessibility also impacts scalability. With the cloud, users have that much more processing power, but the infinite scalability of the platform is what should compel changes in expectations and behavior, opening up new opportunities with assets that can range from a city block to an entire country.
The Leica BLK2GO PULSE is planned for release in early 2024. Learn more about it well as the entire HxDR ecosystem.