With the growing adoption of technological solutions in the construction industry, a trend that may have come a bit later than many would have preferred but still a crucial shift taking place, much of the focus is on some of the flashier hardware. Things like reality capture and laser scanners to create accurate 3D models of a site or a building are visually impressive and fly in the face of most stereotypes around the industry, which typically gives them a bit more press. It's fair too, as those tools provide big value to all different types of projects. That said, other technology to help transform some of the day-to-day productivity tasks from analogue to digital are just as, if not more, valuable to project managers.
Procore is one of the biggest names in this space with their construction management software, providing key, on-demand information to a variety of stakeholders across a project. Earlier this month, they made an announcement to enhance their product even more for users. The construction management software provider announced that they will be integrating said software with data from Safe site Check In to boost on-site productivity. Procore users will be able to download Safe Site Check In within the Procore App Marketplace to help boost productivity, enhance safety, and provide a complete, real-time view of jobsite attendance.
This integration, and the general idea of both of these productivity-related digital tools, hit on one of the themes of the now-infamous 2016 McKinsey report around the construction industry's need to adopt more digital solutions. One of the themes from that report was that a lot of key day-to-day work was still done on pen and paper, which is both more time-consuming and makes it more likely that some sort of human-induced mistake is made. Those mistakes then turn into project delays and budget overtures.
These analogue processes can be for everything from stockpile monitoring, potential clashes, and even the check-in process for employees, which is what this new integration addresses. This was typically a procedure on job sites that managers completed with physical paperwork, a tedious, error-prone exercise. Safe Site Check In allows for a private QR code to be created to match the project's specifications, and the data from workers entering the job site will automatically be integrated into Procore's management software. This integration, which can be completed in less than 30 minutes, will streamline this process for managers and allow their time to be spent completing other important tasks on a site.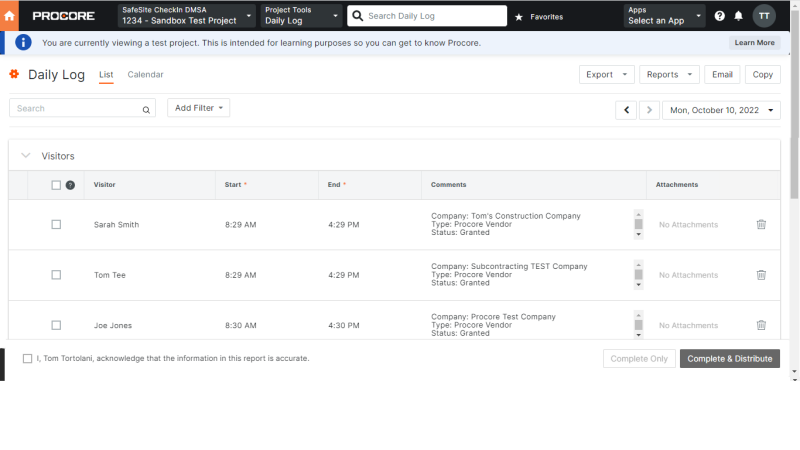 This is just the latest addition to Procore's management solution, which can assist project managers with a variety of aspects of a job. The software solution provides tools for every stage of a project, including preconstruction tools to manage designs, estimates, bigs, and projects; project management tools to connect staff on-site and in the office to ensure everyone is looking at the same up-to-date information; and financial tools to be confident that all budget information is in line with expectations. All of this information, including the information brought in by this integration with Safe Site Check In, is integrated into one easy-to-use platform, a significant upgrade over analogue processes which require vast filing systems and tedious searches for the correct documents.
Safe Site Check In, a newer company founded in 2021, has a bit of a more focused view but with the same general goal of streamlining a formerly convoluted process. The company's website calls out three key areas their software addresses: Staff and subcontractor management, on-site safety, and cost control. For the former, managers can not only manage attendance and verify work hours, but also digitally track key information like certifications and training status. Users can also customize the app for their specific project, ensuring that owner and government regulations are acknowledged and known, as well as giving the easy ability to report incidents on site. All of this also massively cuts down on paper being used – both cutting costs and improving sustainability processes – while also increasing efficiency, all of which ultimately shows up in the bottom line.
On the partnership, Procore Vice President of Global Partnerships and Alliances Kris Lengienza said, "The Procore App Marketplace continues to play an increasingly critical role in construction project management and the industry's digital evolution. We're proud to have Safe Site Check In in the marketplace to allow mutual customers to maximize their investments in jobsite productivity."
Safe Site Check In CEO David Ward added, "The construction industry is undergoing significant changes. While digital transformation remains top of mind, general contractors are also challenged by the labor shortage and increasingly thin profitability margins. Using Safe Site Check In, integrated with Procore, enables them to take advantage of the productivity benefits of digital tools while gaining a better understanding of workers to run more effective projects and create safer job sites."