High-performance lidar system provider Innovusion developed and tested a commercial vehicle lidar solution with driveblocks, an autonomous driving technology provider. By combining Innovusion's Falcon lidar sensor with driveblocks' advanced perception and sensor-fusion software, both companies aim to speed up commercial vehicle automation by providing a robust and integrated solution for different environments, such as agriculture, container yards, and highways.
Innovusion's lidar sensor
Innovusion's flagship product is the Falcon sensor that can detect objects at distances up to 500 meters and dark objects with 10% reflectance up to 250 meters. The system produces 1,500 configurable scan lines per second, creating an image-like 3D point cloud that allows for greater confidence in detecting and classifying objects. It is an automotive-grade product that has been a standard configuration of the Aquila system for NIO ET7, ES7, and ET5 since 2022 and with 100,000+ units currently in use, continues to be mass-produced. 
Mapless Autonomy Platform
Autonomous driving technology provider driveblocks is known for its Mapless Autonomy Platform for automated and autonomous driving in the commercial vehicle sector. Its core technology is a combination of transformer neural networks and geometrically interpretable sensor-fusion to create a local environment model based on sensor data. This eliminates the need for pre-mapping and continuous map updates in the cloud.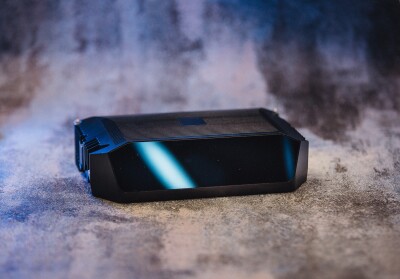 The Mapless Autonomy Platform offers object detection and classification, as well as ground and driveable-space estimation. These functions are readily available through an SDK and can be deployed on automotive-grade embedded hardware and development computers. They work out of the box with Innovusion's high-precision and resolution lidar sensors. The algorithms can utilize data from a single sensor or an array of lidar sensors. In addition, they can take into account measurements from third-party cameras.
Road-testing of the solution
After development, the jointly developed solution was successfully integrated into a demonstrator vehicle and road-tested on European highways to measure the performance of Innovusion's lidar and driveblocks' perception algorithms. The solution proved to be highly reliable and the combined technology from both companies is expected to enable several important assistance and automation features for commercial vehicles. The solution demonstrated its performance in varying lighting conditions, tunnels, and on the Brenner Pass, a mountain pass over the Alps that forms the border between Italy and Austria containing a steep inclination profile.
During these tests, Innovusion's lidar reliably detected other traffic participants like trucks and passenger cars for ranges of up to 300m. This was enabled by the dynamic adjustment capabilities for the high-fidelity region of interest provided by the Falcon sensor. Smaller objects were detected for up to 150m. These figures could be confirmed in low-light conditions such as tunnels. Both companies aim to expand this collaboration, by increasing the capabilities of the perception platform as well as moving towards commercial deployment of the solution for vehicle automation shortly. The new pre-integrated lidar solution is expected to be available from Q1 of 2024.