Stream UP is IDS GeoRadar's latest Ground Penetrating Radar (GPR) offering in its Stream product line. Stream UP is a multi-channel, multi-frequency, double-polarized and lightweight ground-penetrating radar (GPR) system dedicated to utility mapping on extensive areas. A multi-channel array system refers to a system that is able to increase detection probability and generate high-quality 3D volumes of underground data, while a multi-frequency array system enables to discover both shallow and deep targets using two different frequencies in the same solution.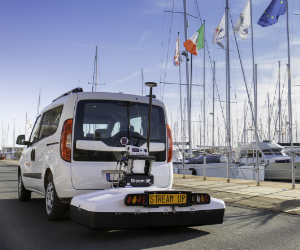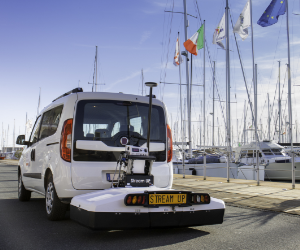 The Stream UP GPR system offers a new approach to the utility detection world that includes the entire workflow, starting from the mounting procedure until the exportation of CAD files.
All Stream Family solutions have double-polarized antenna dipoles to optimize the detection of transversal targets (using HH polarization) and longitudinal targets (using VV polarization). This results in a mapping capability that is not achievable with a single polarized GPR array system. Finally, Stream UP has been designed to facilitate the whole underground mapping process, to easily ship the system around different sites or transport behind the acquisition vehicle, to mount it on an economic car thanks to his weight under 100 kg that allows for using a standard tow bar, and to split the system into multiple modules to ease the life of a utility locator.
Data capturing and processing workflow
Stream UP and its post-processing software IQMaps, allows a better ease of use and a productivity dramatically increased (up to 30,000 sqm in a working day by a single user). By capturing the positioning and identification of buried pipes and cables beneath the ground and combining the results with a topographical survey, a comprehensive detailed utility map can be generated. The system facilitates the data acquisition from the pre-acquisition phase onwards, as the same vehicle can be used for transport and acquisition, while its improved compactness increases its transportability. Stream UP is assembled in just seven mounting phases that can be performed in less than ten minutes. Only two people are needed for assembly, with just one person required for transport and make it operational.In the acquisition phase, the enhanced eDAD-S technology enables to maintain the highest data quality, acquiring up to 60 Km/h (90 mph) without coupling the antennas to the soil. This is possible thanks to the high scan rate (15.000 scan/sec) and the dynamic stacking that allows to improve the SNR (Signal to Noise Ratio) at any speed without modifying systems settings. This function allows to optimize acquisition in any traffic condition and obtain maximum SNR in every situation.
Finally, Stream UP relies on the new uMap acquisition software allows to remotely control the system with no physical connection between vehicle and Stream UP for large areas with real-time diagnostic and without interruptions. After data acquisition, the IQMaps immersive reality software offers high data visualization speed and data analysis features, such as fast loading of georeferenced tomography, target management, variable depth 3D view and data processing of extensive areas.
"Surveyors, utility companies and contractors, now more than ever, need accurate, highly reliable, and up-to-date information – available for immediate use. Using the latest technology, detecting underground features becomes a simple and efficient task, increasing your safety and the protection of buried utilities. Our detection and mapping solutions provide a truly streamlined process from the field to the office, and back again, able to cover the entire utility detection, avoidance and mapping workflow with integrated solutions", adds Lorenzo Bonelli, IDS GeoRadar Marketing Specialist.