Construction progress management is going to the dogs. Well, the robotic dogs anyway.
HoloBuilder, a construction technology that offers reality capture solutions for progress documentation and construction project management, has announced a unique partnership with Boston Dynamics that will bring HoloBuilder's reality capture experience to a robotic platform. HoloBuilder's new application, named SpotWalk, is a new product from HoloBuilder that integrates with Boston Dynamic's "Spot" robot – a dog-sized quadrupedal robot designed to be able to nimbly navigate challenging environments, including stairs and uneven ground.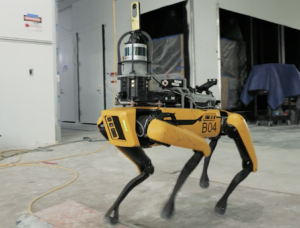 HoloBuilder's construction documentation solutions make use of 360 imagery data, computer vision, and artificial intelligence. At Autodesk University this week, HoloBuilder have announced that they plan to partner with Boston Dynamics to bring autonomous 360 reality capture to construction projects. 
Boston Dynamics has spent a significant part of its development on mobile robotics, going after some of the toughest challenges, usually focusing on military applications. Boston Dynamics have developed systems for control and balance and equipped their robots with perception, navigation, and intelligence capabilities. The typical terrain of a job site – including obstacles, uneven ground, and changing materials underfoot – is what Spot was designed to be able to conquer, so the partnership is a good fit.
According to Christian Claus, CMO, and Head of Partnerships at HoloBuilder, it is a step towards the digitization and automation of the industry. 
"With SpotWalk, we can now enable our customers to capture data much more frequently and more precisely to get an even clearer picture of what the site's progress is. We are very excited to release SpotWalk and to continue our very positive collaboration with Boston Dynamics to not only support the industry but to also drive digitization and automation forward."
 When controlled by the HoloBuilder SpotWalk application, the robot can walk through job sites autonomously while capturing 360 images to record the progress of a construction project over time. The product creates an ongoing record of a project, which can provide actionable data and documentation without interruption of work. This lack of time loss is a significant driver for this type of technology, says Andrew Cameron, Project Manager at Hensel Phelps. Hensel Phelps conducted early pilot tests of the SpotWalk app at their $1.2 Billion San Francisco Harvey Milk Terminal 1 Airport project. The pilot showed that even with minimal training on-site, the project team could get SpotWalk functioning. 
"Time and accuracy are two things that are very important to a job site. Traditionally, you would have to sacrifice time out of a busy day to harvest job site pictures and organize them," says Cameron.
"This partnership between HoloBuilder and Boston Dynamics removes a time-consuming step while providing accurate construction photos with a high degree of fidelity." 
HoloBuilder is not unfamiliar with autonomy and machine learning. Its machine learning engine, SiteAI, is being harnessed to analyze images captured by SpotWalk. Spot can be utilized in two different modes. The first mode trains Spot to capture a route by driving it via a smartphone-connected interface. The second mode drives Spot autonomously on its path, taking pictures at defined capture locations. 
According to Boston Dynamics Vice President of Business Development Michael Perry, the SpotWalk application is the first-of-its-kind integration for their robots. 
"Our efforts have been to create a highly mobile robotics platform that can easily navigate unstructured or unknown environments. HoloBuilder's SpotWalk app takes this a step further by creating an easy-to-use interface that fits seamlessly into construction workflows. We're excited to see this integration start rolling out to early customers soon."
During the Autodesk University announcement, Boston Dynamics and HoloBuilder stated that they planned to partner with other innovative companies who would agree to provide feedback to help them continue developing the robot and application. 
The SpotWalk app will be available through an early adopter program beginning today, in which customers will receive two Spot robots, the HoloBuilder technology suite, and on-site training.