From attendees to exhibitors, nearly all were impressed with the 10th annual SPAR International
The 10th Annual SPAR International Conference on End-to-End 3D: Capture, Process, Deliver wrapped up last week in beautiful Colorado Springs. One word: wow. Having only been editor of SPAR 3D – and a member of the industry – for a month, I was awestruck at the hardware and software technologies exhibited and discussed by nearly 100 speakers over the past three days. And the sense of community was very palpable, which I found truly amazing given the wide range of industry categories represented by attendees and exhibitors.
But I'm not the only one completely impressed by all that went on at The Broadmoor Hotel & Resort. Here's what a few attendees and exhibitors had to say:
Paul Couture of Crime Sciences Inc., a U.S. reseller of the iStar 360º panoramic camera manufactured by nctech Ltd. In Edinburgh, Scotland.
"It's been a few years since I've been to a SPAR conference, but this one was certainly one of the better organized ones, and the venue was certainly fantastic here, nestled in the foot of the mountains," he said. "And the food was great as well."
"The first day we didn't get off the booth, all day long," Couture said. "So, many places I wanted to go and see, but couldn't get off the booth." He'll be back next year, he said.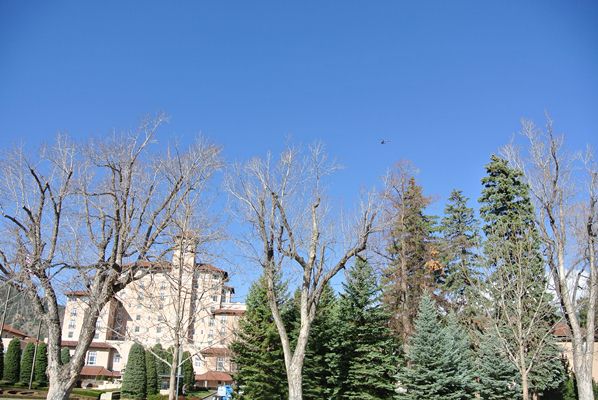 See that tiny black dot up in the air? That's Dan McGovern, our new editor taking a chopper ride as The Broadmoor is digitally captured.  
Alexandra Grounds is the head of BIMSphere, a consultancy set up recently by Amtech Group of the United Kingdom, a software house focused on electrical design and engineering, which recently branched out into BIM.
She's been to SPAR Europe but it was her first time at SPAR International, but given her reaction to the conference, most likely not the last.
"I found SPAR really good, really interesting. I was very impressed. I loved the diversification you have here," Grounds said. "[SPAR] is not just about surveying for one industry, it's all industries and how it cross-pollinates. I think that's a fantastic thing to have. I've just learned so much here. And I've made some really good connections."
Grounds was also a presenter at SPAR discussing BIM and infrastructure and how laser scanning can be integrated into BIM but also the lessons learned and how we can manage data better.
Dr. Aaron Morris is product manager, Reality Capture for Autodesk, and a veteran of previous SPAR conferences.
"The show was phenomenal for us," he said. "Lots of impromptu demonstrations with lots of people in the mix. It was very beneficial, both from a business standpoint and from community feedback."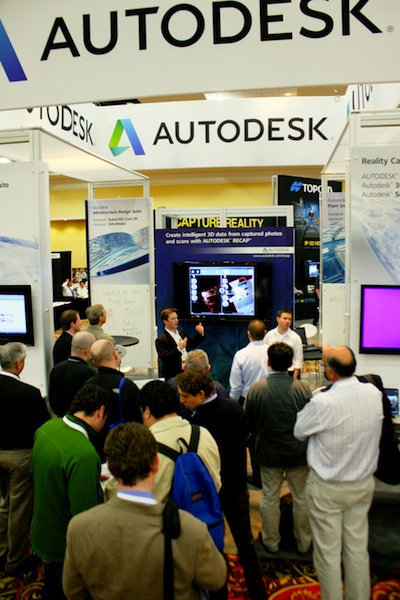 A crowd at the Autodesk booth watching Dr. Aaron Morris discussing the latest and greatest from Autodesk was a familiar scene 
Morris Freeston, a three-year veteran of SPAR International, is owner of Transit Technical Services in Neilburg, Saskatchewan, a provider of construction survey work including laser scanning in the industrial sector.
"Excellent show. Great exhibits. Just to see the new entries in here the different types of software and hardware available is just amazing," said Freeston. "It's always good to meet the actual people that produce the software, and it's great to be able to talk one-on-one with them."
Fernando Santiago is with FS Surveying, a civil engineering and land surveying business in Puerto Rico.
"It's been really great to be here," he said. "We're trying to expand our services by introduciung the 3D business to the island because nobody is doing it there. All the information I got from people that are actually doing these kinds of jobs make you realize what kind of work you can offer using this technology."
It was Santiago's first year at SPAR, but he said he's already "scheduled in my agenda" next year's conference in Colorado Springs.
Ryan Sweeney of Sweeney Excavation in Hamden, Conn., is a first-year SPAR attendee.
"I thought it was pretty awesome," he said. "We're just getting into researching laser scanning and photogrammetry, so we actually learned a lot at SPAR to figure out ways to bring that into the excavation industry. I'm pretty sure we'll be back next year."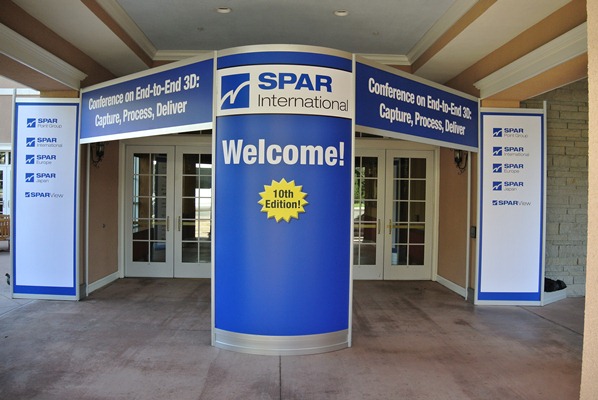 The main entrance to the Broadmoor Hall before the crowds arrived. 
Larry Kleinkemper, president of Lanmar Services, a modeling company in Austin, Tex., is focused on advanced technologies for the AEC marketplace. It was his fifth year at SPAR.
"It was fantastic. I go to a lot of conventions and SPAR is always the best. It's a great bang for the buck. You meet the people that are making the magic, and that's what's exciting for me," he said. "There are a number of groups and companies here that have developed new technology that allows us to do things we couldn't do six just months ago."
Finally, Jonathon Coco is with Forte & Tablada, a consulting engineering and land surveying firm in Baton Rouge, La.
"It's been really kind of life-changing for me," he admitted. "My biggest problem [at SPAR]has been just finding time to get away from meetings with all these people that I never thought would have given me the time of day, but they sat down with me, had lunch with me! These are folks that build the tools that I use everyday, write the software that I use everyday."
"I'm trying to make all our company's processes much more efficient. My clients don't like to hear that it will take me weeks to do the work. They want it yesterday," Coco said. "At SPAR, I learned many things to satisfy my clients. In a nutshell, that's why I'm here."
We got to see a live demo of how bullet trajectories are calculated to uncover crucial information for police investigations.  
Jerry Boyd tells us a bit about how lidar and thermal imagery data fusion can identify energy loss. 
It's all about robots in this session on 3D machine vision.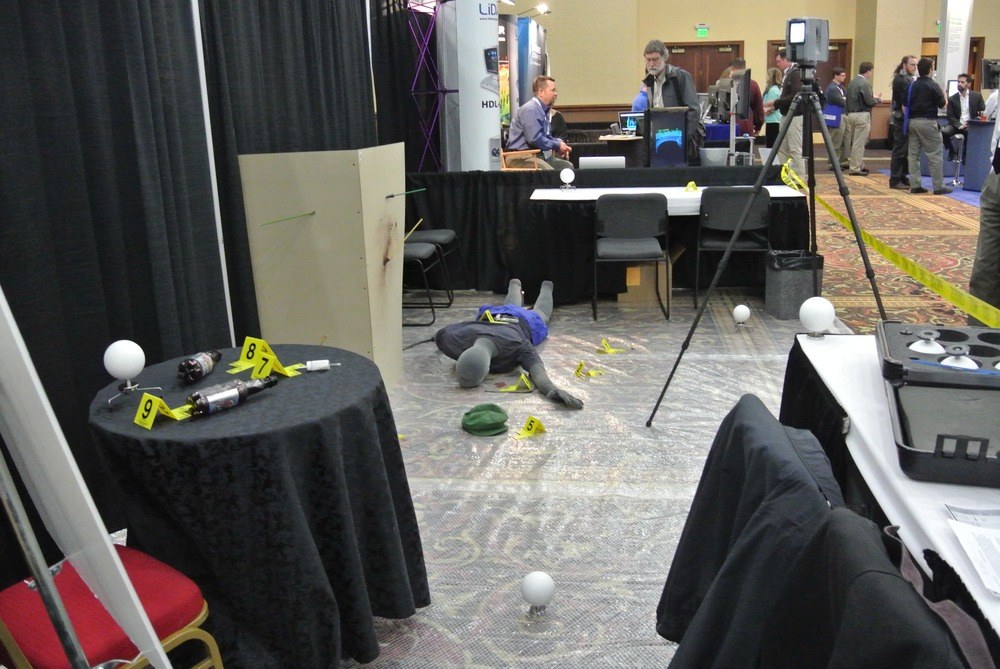 Just your typical display on the show floor: a crime scene featuring a body and bullet holes in the wall.