The HxGN Content Program is Hexagon's aerial data program. Covering North America and Europe, it is the largest library of high-resolution aerial imagery, elevation data, 3D models, and analytics. The recent addition to this library is aerial imagery and elevation mapping data of Puerto Rico and the U.S. Virgin Islands.
More specifically, the new data set includes four-band 6-inch (15cm) resolution orthorectified imagery of the Commonwealth of Puerto Rico, except two islands which are offered at 12-inch (30cm) resolution, namely Isla Mona and Isla Desecheo. In the U.S. Virgin Islands, four-band orthorectified imagery of St. Thomas and St. John Islands are offered at a resolution of 6 inches, while St. Croix Island is offered at a 12-inch resolution. Updated 12-inch digital surface model (DSM) data of both regions are made available too. All data has been captured during the 2021 - 2023 flying seasons and is available through a streaming subscription or download on Hexagon's Digital Reality (HxDR) Datastore.
Data consistency as a prerequisite for mission-critical operations
Hexagon's exclusive distributor in Puerto Rico, PRX, says that the aerial imagery data is the sharpest and most up-to-date aerial data available for both regions. Its quality is consistent among different islands, allowing accurate information on ground conditions. As such, it is essential for applications such as executing response plans, conducting search and rescue operations, and helping reduce vulnerability to incidents such as hurricanes and earthquakes. Because the data was captured over the last few years, it has served as critical baseline sets showing unbiased records of property and infrastructure conditions, and has provided a "unique perspective for emergency preparation, response, and management.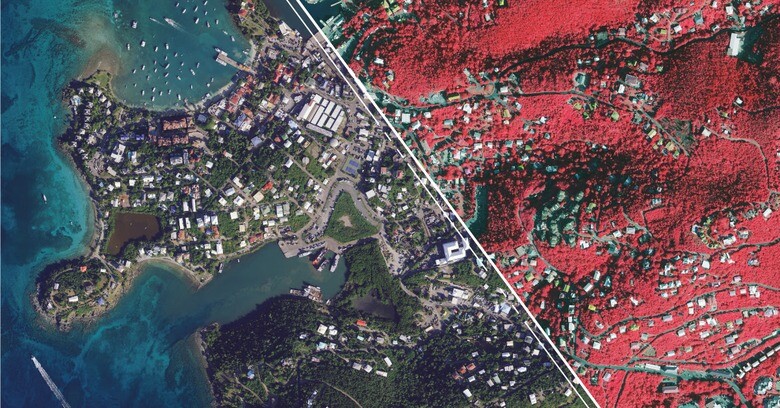 While the availability of high-quality, accurate and up-to-date imagery shows the value of Hexagon's imagery library, the data is used for many additional use cases, including engineering, agriculture, utility, and mapping. Puerto Rico has relied on Hexagon's aerial data products throughout the last decades to address today's most challenging problems in the private and governmental sectors, including public health planning, climate response, asset management and risk mitigation.
Additional datasets and applications
The orthorectified aerial imagery and elevation for both areas are only two data products of the HxGN Content Program. The program offers 2D and 3D datasets captured with Leica Geosystems' airborne sensors including the Leica ContentMapper, ADS100, and DMC-4, including countrywide datasets of standard orthoimagery, imagery-derived Digital Surface Models (DSM) and stereo imagery with a resolution of 15cm - 30cm (US) and 12,5cm - 30cm (Europe). For select major cities, the program offers additional datasets derived from 5 cm resolution imagery and 20 points per square meter density lidar data, including lidar point clouds, a lidar-derived DSM and Digital Elevation Model (DEM). These Metro HD city datasets are flown with the Leica CityMapper-2 true hybrid and lidar airborne sensor.
In addition to different types of aerial imagery and elevation data, the program offers multiple 3D models. Combining aerial imagery and lidar point clouds results in the creation of ultra-high-resolution urban digital twins with photorealistic texture. These meshes are a good fit for smart city integration and analysis, infrastructure optimization and city modeling. Lidar point clouds enable the creation of city models made up of untextured 3D objects displaying building footprints, height, orientation and more. Finally, the program offers 3D tree models for a variety of use cases including solar potential assessment.
Imagery data as a basis for machine-learning application development
Because the program combines consistency over large areas, the resulting aerial data is very suitable as a basis for developing machine learning products. Together with developers of machine learning technology, Hexagon has developed value-added products that extract information based on the user's needs. Examples include change detection, land classification, deforestation monitoring, or object detection. When Hexagon bought Melown in 2019, advanced machine learning expertise was brought in-house. Today, the HxGN Content Program provides an opportunity to develop new machine-learning products that update location-based information at a faster rate than humans do.