On September 19, Google announced that their Aerial View API is generally available. Aerial View gives developers access to existing cinematic videos or enables them to create immersive experiences at scale for any US location themselves. The product has been used by real estate and media agencies to create 3D immersive experiences of buildings and their surrounding neighborhoods to bring to life as part of an engaging experience or to provide information to potential buyers and renters.
For developers interested in building custom 3D visualizations, Google offers Photorealistic 3D Tiles, which was launched earlier this year and the result of a partnership with Cesium. As of September, the product is available in Preview, meaning a different launch stage than before that helps developers do more with 3D Tiles. In an online blog post, Google announced it made updates to the product's quota and terms, and released 2D Map Tiles and Street View Tiles in Preview for non-JavaScript environments, among others.
Google releases Solar, Air Quality and Pollen APIs
Just before Google Cloud Next '23, the company introduced a new suite of Environment APIs to help developers better understand an ever-changing world so they can create new sustainability tools, share actionable insights, and encourage people to adapt to new environmental realities. In total, three APIs were announced: Solar, Air Quality, and Pollen.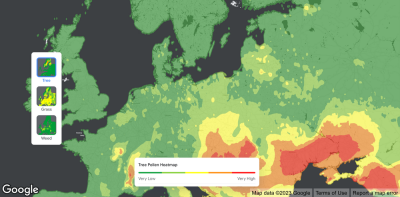 The Solar API helps solar companies give homeowners the information they need to make informed decisions about solar installation. The Solar API builds on the foundation of Project Sunroof, a personalized solar savings estimator for consumers powered by Google Earth imagery. Google expanded on these capabilities using artificial intelligence to provide data and insights that are more precise than publicly available lidar data or satellite-derived 3D models. The API is available in over 40 countries for over 320 million buildings.
The Air Quality and Pollen API help companies better understand climate and environmental changes. The Air Quality API gives access to reliable air quality data, the ability to visualize pollution via heatmaps, and delivers in-depth pollutant details and recommendations to target audiences. The Pollen API provides access to current pollen information for the most common allergens worldwide. An online blog post explains how the API can be used in combination with other immersive experience products from Google to provide new user experiences to its users. More information about the model that underpins the API is available in another blog post.