Neptec Technologies shows Barrick Gold benefits of OPAL-360 laser scanner on an operating shovel at Goldstrike mine
These days, the challenge for Barrick Gold Corporation, the world's largest gold producer, is navigating the turbulence of the gold market toward profitability, while keeping a sharp focus on cost control and keeping workers and equipment safe.
The Toronto-based gold miner reported last month an $8.5 billion second-quarter loss, mainly due to "significant decreases in long-term metal price assumptions following the sharp declines in spot prices in the second quarter."
Wild gyrations in gold prices have been the norm since hitting a high of $1,920 per ounce in September 2011. Spot prices crashed 30 percent in the first six months of 2013, according to Thomson Reuters GFMS' update to its Gold Survey-2013.
They fell again to a six-week low last week, hours before the gold market gloom was swept away when the Federal Reserve surprised global investors by keeping its quantitative easing bond-buying program at $85 billion per month and not "taper" the program as expected, sending gold prices up 5 percent, their highest level in 16 months.
While gold market insiders debate whether the metal's 12-year bull market run has come to an end, Barrick and the rest of the mining industry are managing the impact of the back-and-forth gold market compounded by rising costs for fuel and materials.
Andy Chapman, production systems engineer for Barrick, told SPAR the economic situation is "a perfect storm," squeezing margins and resulting in some industry consolidation and big-time cost-cutting.
"We're in a very tight position as everyone else is," Chapman said. "There is a constant drive to keep costs down, and do it safely and cheaply. It's harder to keep that profit margin in the green."
Nowhere are cost controls more imperative than North America's largest gold mine, Barrick's Goldstrike mine in northeast Nevada, located on the Carlin Trend, the most prolific gold mining district in the Western Hemisphere.
The mine yielded 1.17 million ounces of gold last year, which Barrick sold on the spot market for an average price of $1,669 per ounce – an all-time record high, but costs jumped 17 percent in 2012, Thomson Reuters' report said.

 
Barrick's Goldstrike mine
Barrick's Goldstrike actually consists of three distinct mines, including a vast open-pit, surface mine called Betze-Post. Open-pit mines are dug on benches, basically vertical levels of the dug hole where ore and rock are dug back to a bench face.
Moving lots of rock
The top priority in any mining operation is extracting as many microscopic pieces of gold from huge quantities of rock at the cheapest cost.
Betze-Post is a drill-and-blast, truck-and-shovel operation using the P&H 4100, a massive shovel the size of a small apartment building able to scoop up more than 100 tons of rock at a time.
"At the very base of this business, we're moving rock. Rock that contains gold," Chapman said. "So, the more rock we move, the more money we make."In the complex loading area of open-pit mines, where precision and efficiency are always strived for, productivity is measured by the mining cycle, which includes loading up to 400-ton haul trucks, hauling the ore and rock to the dump point, dumping it and going back to the excavator, where the driver queues up and waits for room at the shovel to spot.
Once a shovel is available, a driver will spot the truck into position next to the shovel. But it's not as easy as it sounds. Because of their sheer size, these shovels have a large blind area and the operator typically can't see the left-hand side of his shovel.
Another big factor complicating a driver's visibility is that "an open-pit mine is the dustiest place in the world," Chapman said. And, while workers know to steer clear of the shovel during loading, accidents can happen.
Maximizing mining cycle time
Each component of the cycle time has its own inefficiencies, but Chapman said there is a "large human factor that can lead to negative impacts on the overall mining cycle, particularly related to spotting."
"Just as there are drivers with different levels of skill on the road, the same goes for the mining industry," Chapman said.
Sometimes, drivers park too deep or too shallow next to the loader, risking damage to the $20 million shovel. Or, if the driver makes an error positioning the truck too close to the shovel for efficient loading, or not close enough, that means truck respotting, adding more costs to the operation. Other costly spotting mistakes include tire or body damage backing up over a rock or into a dig face.
Chapman said his company wants to minimize the cycle time for spotting by optimizing the placement of the truck. Because of the enormous scale of the open-pit mining operation, shedding just one second of cycle time can translate to over $1 million annually in cost savings, he said.
Barrick already spends lots of money to train its haul truck drivers. From technical training in hydraulics, electricity and diesel engines to performing maneuvers on both sides of the shovel at a bench face.
Sometimes, the company will pull an experienced driver out of the workforce to help train green drivers and pass down tricks of the trade, such as keeping the bucket at the end of the shovel's extended boom in the left-hand, rear view mirror (kind of like the hanging tennis ball in your garage for safe parking).
Skilled labor shortage
But due to a skilled-labor shortage impacting gold mining firms, the average haul truck driver only has about two years of experience, making training for new drivers difficult, Chapman said.
At the root of the problem of spotting, is a lack of technologies and processes. "We're still using visual cues to get the truck to line up with the shovels," Chapman said.
Several innovations in the past have made the mining industry more efficient and productive, including machine automation like driverless haul trucks and intelligent feedback systems. But figuring a state-of-the-art fix for spotting in the potentially dangerous loading area remained elusive for Barrick.
For many years, the company experimented with mounting digital cameras on shovels. While relatively cheap, the cameras "don't lend themselves to tracking things in a dusty environment," Chapman said. "The natural progression was to move into lidar sensors because they are a bit more robust and rely less on the visual component."
But, again, Chapman was disappointed. He said the lidar systems they researched were simply not rugged enough to survive in the harsh, high-dust, high-vibration mine environment.
Stymied in their efforts, Barrick teamed up with two other Canadian mining firms Teck Resources Ltd. and Freeport-McMoRan. "Let's pool our resources and address the problem," Chapman said. "There's got to be a better way to do this."Enter Neptec Technologies 
Around that time, Neptec Technologies Corp. was just finishing up work adapting its patented, obscurant-penetrating lidar technology to the harsh conditions of mining operations and other intelligent machine vision applications.
Chapman can't remember exactly, but, perhaps given their proximity to each other, some networking existed between the two firms. He recalls: "[Neptec] said, 'Wait a minute, we can probably do that.'"
Ottawa-based Neptec was spun-off from spaceflight technology firm, Neptec Design Group Ltd., in 2011 to commercialize space technologies by adapting them for terrestrial commercial use by manufacturing 3D machine vision products for machine automation and robotics applications in harsh environments.
Neptec's OPAL technology (Obscurant Penetrating Auto-synchronous LiDAR) fuels its family of 3D situational awareness sensors that can see through dust, smoke, and other particulates to identify objects in real-time.
Space technology
Neptec's first products are the OPAL-360 laser scanner and the 3DRi Software Development Toolkit. The scanner is designed for harsh environments typical of off-road vehicles and mapping sensors used in the mining, oil and gas, and construction industries. It has an operating temperature of -40⁰ to +65⁰C with no fans or heaters. It's environmentally sealed (rated IP67) with no externally moving parts, and is ruggedized and resistant to vibration and shock.
The 3DRi (3D Real-time intelligence) point cloud processing SDK provides automatic scan alignment without reference markers, automatic change detection, automatic object recognition and tracking, and automatic image analysis for real-time measurements.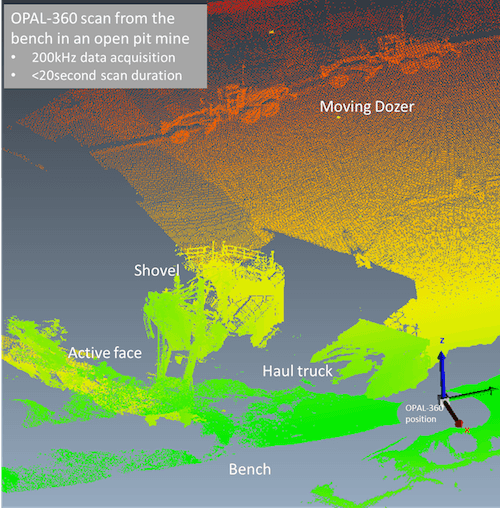 The scanner has a clear mode and an obscurant mode and the software switches between them. The scanner can be configured to collect data in a scan pattern that first gathers sparse data sets sufficient for change detection, and then fills in the gaps, so that you can continuously scan at low resolution, and then switch to capture more high-resolution data should something of interest be detected.
Within one second you have a enough data to start determining objects," said Neptec COO Mike Sekerka. As for accuracy, "it's on the order of a centimeter."
More information. Less Data.
The OPAL scans in 360 degrees in two possible modes: at roughly 200,000 points per second at 200 meters and 25,000 points per second out as far as 2.7 kilometers. Sekerka sums up the OPAL advantage as "more information less data."
"A million points a second are okay for a huge point cloud for mapping, but in a real-time spot-assist application, for autonomous navigation, you can't process that data so quickly," Sekerka said. "It's the right balance between data you acquire, and what you are looking for."
Sekerka and his team were soon out in Goldstrike. Shrouded in dust, the OPAL-360 was mounted on the P&H 4100 shovel and began collecting terabytes of real-time 3D data during loading operations in the mine.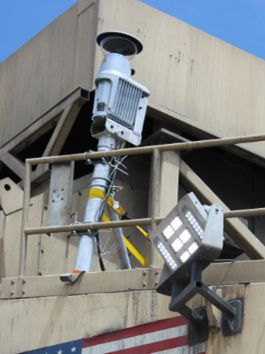 Neptec's OPAL-360 scanner mounted on back of shovel
Scanner on a shovel
Chapman had never seen a laser scanner penetrate through dust before and he marveled at the real-time 3D scans of trucks and heavy equipment near the shovel while it was operating.
"That was the real game changer. It makes the [spotting]process that much more like a video game," he said. "In my experience, I haven't come across another technology that delivers the same level of detail and accuracy."Chapman said the result could be potentially shorter training requirements since a lot of training today is simulator-based. But the benefits of the OPAL don't stop there. While in the field, Chapman saw what the laser scanner and software can do in other parts of the mine as far as traditional survey, mapping and measurement tasks.
For instance, fragmentation analysis to see how well the blast performed and gain more control of the blasting operation and assess the fragment size, hardness and distribution of blasted rock and nature of explosives.
Did we dig where we thought we would dig
He also explained that inherent in the mining process is surveying and knowing where things are to an accurate level of precision, which leads to another OPAL application in the mining area: real-time volumetric dig face mapping to determine the optimal process for a two-million-pound shovel to dig through a bench face.
Proximity detection is yet another use for the OPAL. Since the scanner is equipped with proximity sensors, the OPAL-360 could detect hazards, such as a wandering worker, in the swing area of the shovel and alert the operator.
Finally, the OPAL can provide redundancy in a mining operation. "We don't want an accident ever," Chapman said, adding the scanner could be a redundant system when a shovel's camera fails to pick up a human in the wrong place at the wrong time. "It adds that much more of a safety factor."
Boosting safety, productivity
Following an 18 percent drop in total reportable injury frequency rate in 2012, Barrick continues to implement safety measures such as installing in-vehicle driver mentoring systems and a new approach to rigorously investigating "near miss" incidents. Adding the OPAL to its arsenal could help Barrick reach its goal of a zero-incident work environment.
"This initiative is about improving productivity and safety, and mitigating the chronic skills shortages in our industry," said Peter Wan, Teck's principal advisor on mining technology. "We are very encouraged by the performance of Neptec's OPAL and are looking forward to the next phase as Neptec develops a truck spotting solution for us."
Neptec was at Goldstrike for about a week showing off the OPAL's capabilities. Sekerka and his team are now busy writing the software for the autonomous, spot-assist application to give feedback to the driver to correctly position the truck.
Meanwhile, the fluctuating gold market will continue pushing mining companies toward strict cost controls, while taking advantage of hidden efficiencies in mining cycle times.
"How do we become the mining company of the future, given the uncertainties of the market, rising costs and high emphasis on a return to shareholders," Chapman said. "We do believe [the OPAL]is going to help and we'll see improvement in cycle times and, hopefully, an increase in productivity."
Neptec returns to Goldstrike next summer. Stay tuned.