The HERON MS Twin is a double lidar sensor portable mobile mapping system, equipped with a 5k RGB panoramic camera from Gexcel. The system is meant for surveyors who work in different indoors and outdoors environments, ranging from multi-level buildings to underground mines.
The HERON rugged backpack weights 4.4kg and its size is 540x400x220mm. It is designed both to transport/ship the sensor and to hold the capture head during the acquisition phase.
Hardware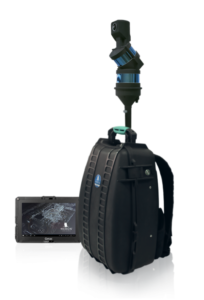 The system features a single capture head including two Velodyne Puck LITE sensors (80-100m measuring range; 360°x360° FOV); one inertial system; one panoramic camera acquiring continuously (15hz) and on-demand at 5K resolution. The capture head has a very compact design and weights 2kg. It is dockable to a rugged backpack or to cars, bikes, quads and more through a vehicle mount. The rugged touch screen control unit allows users to control the system, set the parameters, manage the entire mapping process, make annotations and see in real-time the point cloud generation and the acquired panoramic images. Thanks to the comfy support system the work can be carried out hands-free.
Software
The system is equipped with all the software necessary to create and navigate the 3D model:
HERON Desktop is a post-processing software that reads the HERON raw data, runs the SLAM algorithm, and produces a 3D point cloud model. It is able to reduce drift effects (typical of the SLAM process), split/merge trajectories and point clouds, clean the noise of moving objects present in the area during the acquisition, and use GNSS coordinates for the geo-localization. It allows both the set-up of the entire SLAM algorithm and the fully-automatic post-processing.
Reconstructor is an advanced 3D point cloud data analysis software that offers a complete workflow for post-processing data coming from HERON and the main lidar sensors (tripod, handheld, mobile). Appreciated for its powerful automatic registration algorithm, Reconstructor exports data in different formats and provides full compatibility with third-party software like ReCap, OrbitGT, Edgewise, FARO Scene and Scene Webshare Cloud. GoBlueprint is a free software for the visualization of X-ray 2.5D scaled images produced in Reconstructor. GoBlueprint enables sharing of the HERON surveying results with final clients or colleagues .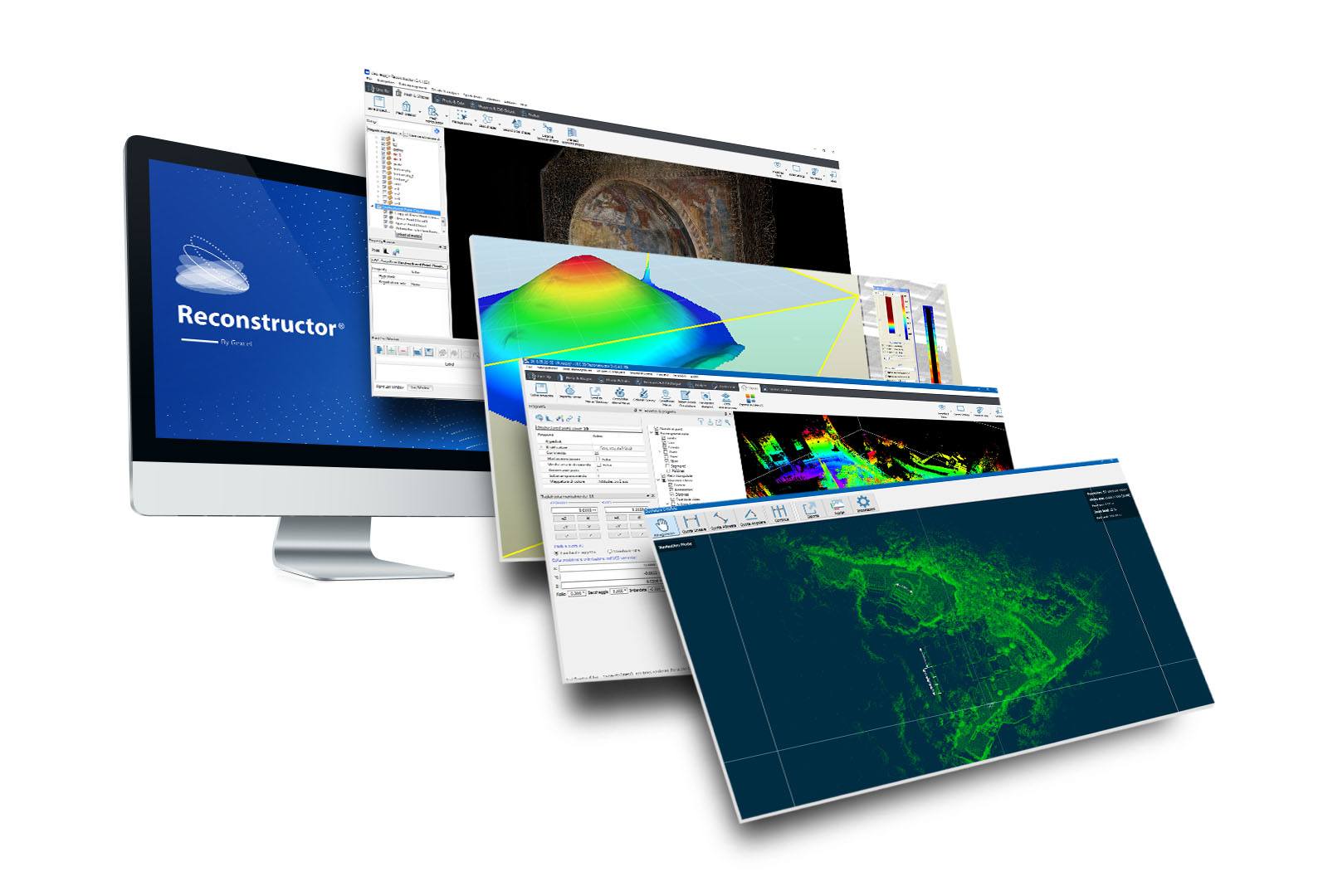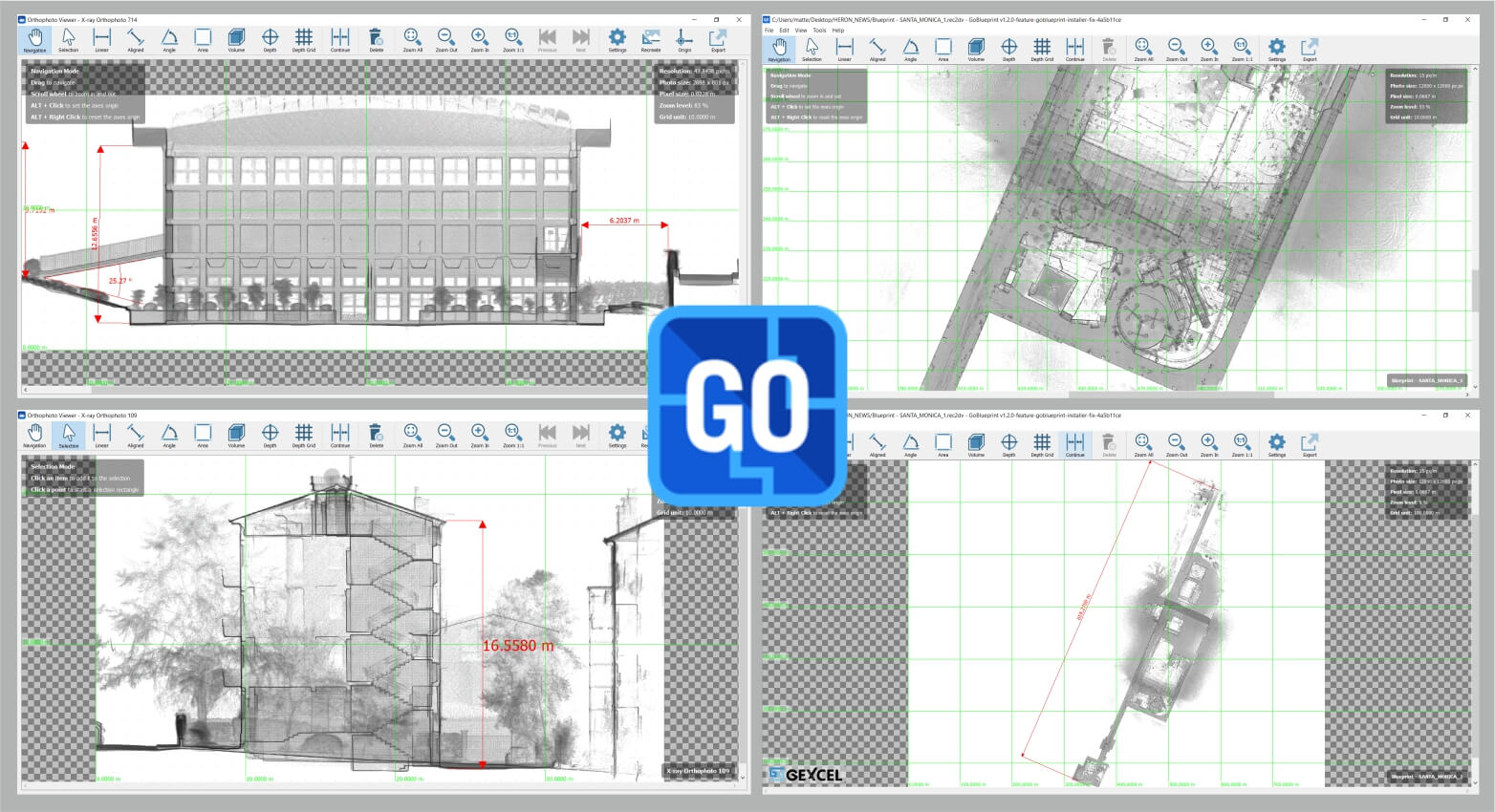 Target audience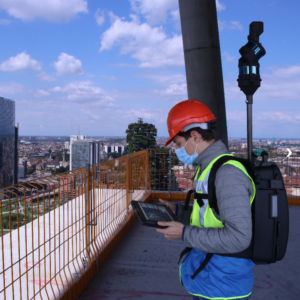 HERON perfectly works indoors, especially in underground mines, tunnels, construction sites, infrastructures, cultural heritage assets. It can support forensic procedures, forestry projects, urban mapping, and is effective also in harsh and complex areas. Outdoors usage is perfect when geometries are present.
The system improves the accuracy and robustness of the 3D model and provides also new features, reaching out more application fields. For example, fast mapping of buildings to automatically get plan views and to extract BIM models, as well as management of large real estate assets, HERON provides measurable images and digital twins in a very short time, by matching the essential requirement of keeping these data always up-to-date. This way, the status of the assets can be remotely checked in an immediate immersive view, where a variety of tasks can be performed, from real-time inspection and maintenance to planning and modelling. Moreover, high-res images of significant details or automatically extracted facade elevations from the 3D model, as well as geometrical information can be added and combined.
System performance and SLAM drift effects reduction
With the new HERON MS Twin, the user can benefit from geometric robustness especially in multi-level buildings surveying. To get an idea: a four-floor building covering an area of approximately 1000x500m can be scanned in around 40 minutes, acquiring 35000 full HD images and hundreds of 5K images. After the post-processing which last no more than two hours, the user can extract a dense 3D point cloud with more than 350 million points, several measurable 2.5D maps, and high-res images aligned with the 3D geometry. All these outputs are compatible with other software platforms (ReCap, OrbitGT, FARO Scene Webshare Cloud) and sharable on the web.
After the acquisition and during the data processing, the user can refine the HERON trajectory and consequently enhance the quality of final outputs such as 3D point clouds, spherical images position, maps and more, following a step-by-step procedure supervised by the user. First, recalculate the trajectory derived on-field by verifying the quality thanks to a color-coded output. Second, minimize the possible residual drifts by connecting overlapping areas or introducing external constraints, and third, get a final trajectory resulting from a global optimization which uses all this information to improve the quality.
Real-time change detection
Thanks to the Tracking add-on, HERON becomes a clever and powerful monitoring device.
When a previous point cloud or BIM model of the site is loaded in HERON, is possible to observe in real-time the differences between this model and the ongoing survey. The differences are displayed in red directly on the screen of the HERON Control Unit. A strategic function when is needed to highlight geometric variations, i.e. for security planning, space control of big areas, logistic activities, "as-built/as-designed" BIM check, and more. The real-time process and on-the-fly delivery reduce costs and time considerably.