Remote GeoSystems releases LineVision Google Earth, app for aerial, mobile video inspections and monitoring
Remote GeoSystems, Inc. has released geospatial video mapping software using Google Earth as a base map for aerial and mobile inspections and monitoring.
Called LineVision Google Earth, the application is a video viewer that allows users to geospatially "navigate" a video recording by clicking a location along the aerial or terrestrial GPS track positioned in Google Earth to spatially "forward" or "reverse" the video to that exact location.
The video then automatically advances to that point in the video so analysts and subject matter experts can visually interpret what was recorded at that specific place and time. As the video plays, a cursor moves along the GPS track, constantly indicating where the current view was recorded, the company said. If something of interest is detected, video users may snap a still image that is geotagged and saved for future analysis.
Remote GeoSystems said professional applications include powerline and pipeline inspections, UAV and terrestrial unmanned systems, aerial lidar and mobile mapping projects, border security and narcotics interdiction, road and railway corridor assessment, humanitarian and emergency response and military mission planning and review.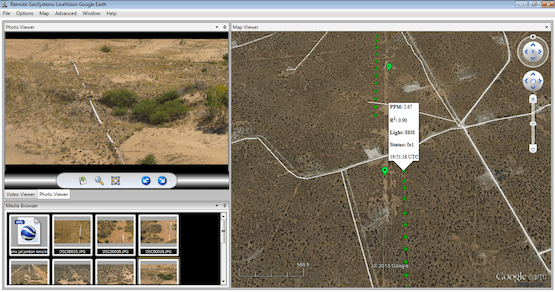 LineVision Google Earth's geospatial video, photo and leak detection data viewing and playback environment lets pipeline operators identify where and when issues are occurring.
The application accepts properly formatted video from a variety of off-the-shelf GPS-enabled cameras, gyro-stabilized aerial gimbal systems and specialized geospatial DVRs.
LineVision Google Earth also allows operators of multi-sensor gimbal cameras and mobile video mapping platforms to synchronize playback of up to four simultaneously collected geospatial video files.
The app also supports geospatial positioning of still photos, audio, waypoint notes and pipeline leak detection system (LDS) data. All these data types can be combined and saved as a .geoSolution project file for easy restoration and collaboration over a local network or on the same computer.
Based in Fort Collins, Colo., Remote Geosystems develops and markets geospatial video mapping hardware and software for utilities, pipeline, transportation, environmental monitoring and other wide-area manned/unmanned (UAV/UAS/ROV) multi-channel video surveillance applications.