At INTERGEO 2017 GeoSLAM made a number of announcements. The company revealed and demonstrated its new ZEB-REVO RT handheld scanner, a new software solution, and an integration of its handheld scanners with ClearEdge's Verity software to offer "real-time construction quality management."
ZEB-REVO RT
First off, the scanner features the same operating specs as the original device. As VP of product management Mark Reid explained, the primary difference is that the device displays real-time SLAM results on a tablet, or any wifi-connected device. In other words, it gives the user a real-time, registered point cloud as they scan, while they're still in the field.
GeoSLAM's new device also includes a simple feedback function that should help users correct for poor results on the fly. As Reid explains, it features a light that glows green when the SLAM results are optimal, and turns to red when the SLAM will produce a worse quality final scan. By paying attention to this light, Reid says, even less experienced users can know when to re-scan an area to improve the final results.
The one downside of the device, says Reid, is that it requires a much more powerful processor to manage the real-time visualization. This means it must be air-cooled, making it less rugged and unsuitable for certain applications like mining. In those applications, Reid said, the original device would be a better choice.
GeoSLAM Hub
The Hub application is a software suite that makes it possible for users to perform full point cloud workflows without moving to third-party software. Hub will enable users to view results, change SLAM parameters and re-process scans for better results, merge scans, colorize scans with ZEB-CAM video, and more.
During a presentation, Reid highlighted the new Draw module, which offers tools for automatically vectorizing the data to create 2D floor plans right in the software. It also enables users to perform 3D modeling, calculate volumes, and add notes and annotations to the files. After that, users can output the files in a variety of formats and send them to other project stakeholders for viewing, and even use in third-party applications as necessary.
The idea, says Reid, was to offer as much functionality as possible in one package—from capture all the way generation of deliverables.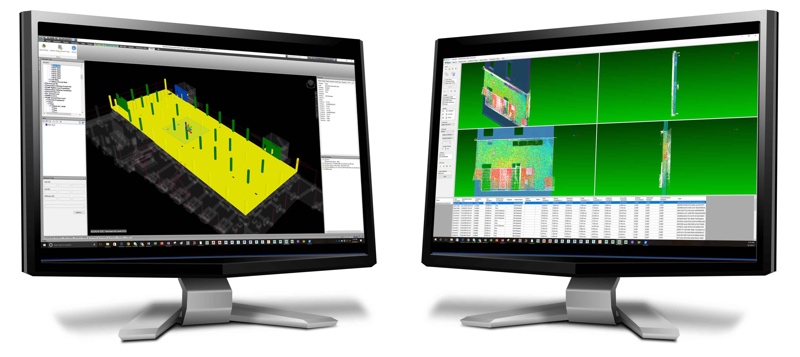 ZEB-REVO and Verity
Last, but not least, GeoSLAM announced a beta program that will see the company that will measure construction as-built data using the ZEB-REVO, and then compare that point cloud data to the original design model using ClearEdge's Verity software application. The handheld scanner could make a great partner for Verity, since it enables more regular scanning than many terrestrial solutions.
"Our customers understand the value of terrestrial scanning," says ClearEdge VP of product management Kelly Cone, "but it can be cost prohibitive for weekly or daily use. Augmenting terrestrial scanning using GeoSLAM's hand-held mobile scanners gives our clients the freedom to scan as often as they want."