GeoCue Group's latest addition to their 3D Imaging Systems (3DIS) series, the True View 515, is an all-purpose grade 3D Imaging System designed for small UAVs.
The True View 515 series is an all-purpose grade 3D Imaging System for small Unmanned Aerial Systems that includes full post-processing software that generates a ray-traced 3D colorized point cloud and geocoded images. It is part of GeoCue's True View 3DIS product series, which is an inclusive hardware and software offering providing users with a complete acquisition to deliverables workflow.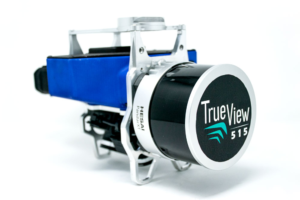 The new True View 515 is meant as an intermediate multipurpose sensor between the existing True View 410 3DIS and the True View 6xx systems based on the Riegl miniVUX.
Lewis Graham, President/CTO of GeoCue stated that the system was developed after clients expressed a need for a system to collect transmission wires, see-through heavy vegetation and that would accept accuracies/precision slightly below survey grade. The new True View 515 configuration is the result of testing many high beam count sensors.
Compared to the True View 410 its higher density/sensitivity sensor generates 3D colorized lidar point clouds, aimed at dense vegetation and wire collection. It offers a solid range at 90m, a cross-track FOV of 120 degrees which includes the imagery data, a precision better than 5 cm (1 σ), an accuracy better than 5 cm (RMSE) and detects distribution wires at 60m.
How GeoCue Group's 3D Imaging Systems work
In 2019, GeoCue Group created a new approach to drone mapping, consisting of 3D Imaging Systems, which coupled a laser scanning with tightly integrated and calibrated photogrammetric cameras. GeoCue' s True View 3DIS are designed to create point cloud data that have been colorized with Red-Green-Blue (RGB) camera data via a rigorous point by point tracing algorithm, that traces every individual point in the lidar data up to the original source image that is interpolated from the orthophoto. The best image is picked by the software and used to colorize the lidar data, resulting in colorized 3D point clouds with very high metric and radiometric accuracy.
True View 515 3DIS is equipped with a 640 kHz, dual return Hesai's PandarXT-32 laser scanner integrated with dual GeoCue photogrammetric cameras and Applanix APX-15 positioning system. Photogrammetric cameras require a mechanical shutter, an electronic mid exposure pulse (MEP), which allows synchronizing the camera precisely with the position and orientation system. Without that tight synchronization, the point colorization for the 3DIS would not be possible. Photogrammetric cameras also have a fixed-focus lens, for guaranteeing a consistent calibration from flight to flight.
Software integration workflows
The True View product line gives surveyors and mappers the ability to collect and deliver high quality data. These deliverables are generated using workflows and tools within the included True View EVO post-processing software. Examples of derived products include break line enforced models, profiles and cross sections, topographic contours, volumetric analysis, classified ground model and more. Every True View 3DIS includes all the software needed to flow from raw collected data to product deliverables; True View EVO, Applanix POSPac and True View Reckon post-deployment data management portal.