Last week was a big one in the world of mixed reality, with Apple announcing their first MR headset, the Vision Pro, at their Worldwide Developers Conference. It was the biggest product announcement for the company since the Apple Watch, but as expected it focused quite a bit on consumer use cases over enterprise. That's not to say there was none, but even the business side was limited to in-office use rather than anything in the field, which to be fair is to be expected for a first-generation product whose battery life is two hours.
Although the Apple announcement is very likely to push forward the mixed reality market – even if this particular product isn't the one that breaks into the mainstream, when a company like Apple gets involved it inevitably moves things forward – augmented reality in the field is still better served using phones and tablets rather than headsets at this point. In this area, there are companies already in existence who are utilizing this kind of technology for field work in the AEC industry.
One of those is Gamma-AR, a Luxembourg-based company who overlays BIM model information onto real, physical spaces and facilitates better connection between workers in the field and those back at the office. Recently, founders Caner Dolas (CEO) and Jayan Jevanesan (CTO) spoke with Geo Week News to talk about their product and the general state of AR usage in the field for AEC projects.
As Jevanesan told us, the company was borne out of experience during his days as a student at RWTH Aachen University in Germany while earning his master's degree. He noted that students worked closely with the industry while studying, and in his time an architect came to the school with an idea to align BIM models on top of reality in order to avoid mistakes and find errors and clashes. That led them to start a university project to build out a prototype, and after he finished school he continued on the project, ultimately winning a startup competition in Luxembourg which gave them funding and business coaching. Eventually, Gamma-AR received a $1 million investment from Husqvarna to really get the ball rolling.
Talking about the product today, Dolas notes that this is an idea that has been around for quite some time, pointing to the concept being discussed as far back as the 1970s, but being able to use it in practice is still a new development. He acknowledges that their timing was just right for this type of offering – for example, phones and tablets were just now powerful enough with good enough cameras to make this kind of AR functionality work – but also points out their experience knowing the industry helped them develop the right end product.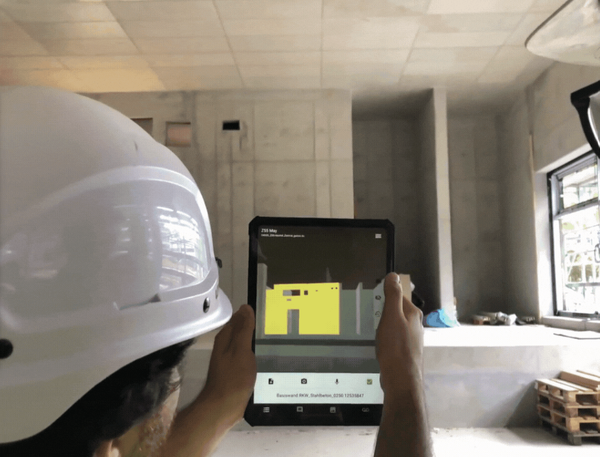 To that point, he said their "philosophy was to be as simple as possible," knowing that for projects to get maximum value it would need to be a tool that anyone could use, not just people with extensive technological know-how. They also embrace the idea of simplicity with their integrations, ensuring that their product can be used alongside other programs and tools that are already widespread on AEC projects, like Autodesk, Procoe, and BIMcollab.
In addition to talking about the creation of Gamma-AR and some of the philosophies in developing the product, we also discussed the use of AR in general for the AEC industry. Dolas mentions that a plurality – he estimates about 40 percent – of Gamma users are general contractors, but with a "growing group of asset owners who want to check off and control what they build so they don't get bad surprises."
They shared a story, too, about just how this type of augmented reality tool can avoid those kinds of bad surprises. Jevanesan and Dolas made a trip to France, where a practice facility was being built for swimmers ahead of the 2024 Olympic Games in Paris. The facility included a rounded roof which was to be supported by wooden columns. Using Gamma-AR, the duo discovered that there had been an error in where screws were placed on the roof to hold up the columns, which if it had gone unfixed would have resulted in not enough tension to hold up the structure. The crew was able to catch the mistake early with Gamma-AR, saving costly rework, to say nothing of the potential danger it could have posed. These kinds of slight differences from plans can be hard to spot just by looking, but can be seen easily when compared to the BIM model in augmented reality.
One of the big themes the two discussed in their conversation with Geo Week News was this idea of connecting everyone whose involved in a project, tying back to that idea of simplicity. They want to ensure everyone can utilize the technology, including the general contractors and asset owners as mentioned above, but also others in the field like foremen and superintendents, along with those working in the office. Dolas says that AR can help foster that communication between the two sides of the business, "because you get object-based information from the site you didn't have before, and with the data you can do much more to improve the planning [of projects]."
Jevanesan and Dolas also recognize that we are still in the relatively early stages of this type of technology, and see significant growth coming in future years. Our conversation came before Apple's announcement of the Vision Pro, but they were certainly ready to see what Apple had to offer. That said, they believe, like most in the industry, that while wearables like headsets or glasses may be the future, we're not particularly close to that reality. People have phones and tablets already, and know how to use them, getting back to that idea of simplicity.
In the nearer future, Jevanesan points to artificial intelligence as the next potential game-changer. AI is the biggest buzzword in the tech world right now, and while there may be some oversaturation with that idea being involved in every conversation, it has its places in nearly every industry. In this case, he says that AI could potential "recognize issues automatically," in real-time. Instead of having to, say, notice yourself that a screw for wood support columns may be off, AI will allow that to be recognized and flagged automatically.
Summing up the benefits of what Gamma-AR, and AR tools for AEC in general, can have for entire project teams, Dolas said, "It will always involve some people in the back office, the planners who deal with the data, because what we do is not just provide an app for the site. That's the software that we provide, but at the end of the processes that are getting enhanced by this, we are talking about much better workflows between the site and the office."