SNCF says Riegl's VMX-450-RAIL best on market but 'significant personalized service' won them over
For France's rail network operator, SNCF (Société Nationale des Chemins de fer Français), maintaining and monitoring the 58,000 kilometers of track and associated infrastructure, including crossings, platforms, marshaling yards, and signaling, can be very challenging.
Because of its complexity, the rail network requires continuous, even repeated, 3D monitoring and inspection. The trick is to avoid changes to the route or track of the nearly 15,000 trains circulating on the rail network everyday, which could impact scheduled departures and end in hours of delays.
"With railway mapping, we can measure lots of infrastructure without accessing dangerous areas," a spokesperson for SNCF's subsidiary, SNCF Infra, told SPAR. "Acquisitions are more secure without impacting railway circulation."
SNCF Infra told SPAR the main goals of railway mapping with the Riegl scanner are: 
create a 3D GIS system with accurate georeferenced data of railway infrastructure
control gauge and clearance analysis in order to detect obstacles and determine infrastructural limits for load transportation
conduct track inspection, i.e. track alignment and superelevation
conduct catenary inspections
check and control infrastructure changes
control vegetation growing too close to tracks and other infrastructure
Other applications of railway mapping include track and base terrain inspection, as well as supervision of renovation at train stations such as thresholds between platform and wagon.
For the job, SNCF investigated current market offerings before deciding on the RIEGL VMX-450-RAIL high-speed, mobile laser scanning system, including a lifting frame for crane installation. Riegl Laser Measurement Systems is headquartered in Horn, Austria with a U.S. office in Orlando, Fla.
"We choose the Riegl VMX 450 because the system is specially designed for railway measurement," the spokesperson said. "Furthermore, the decision to invest in a mobile mapping system was made after looking at all the railway software packages available on the market."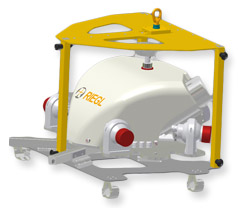 The rail network operator said during its search for a best solution, it also identified Berlin, Germany-based technet-rail 2010's 3D laser scan data-processing software, SiRailScan (SRS), developed specifically for railway mapping.
SRS can be used to simulate train passages, determine and localize clearance gauge and conduct target-actual comparisons of track geometries. The SRS software was customized to the specific requirements of SNCF, which included monitoring for track alignment and railway clearance.
tech-net also specializes in integrating geospatial data, 3D laser scan data, inertial systems and satellite-supported navigation, and multi-sensor systems in track and road construction.
Since Riegl and technet-rail have a partnership agreement, SNCF decided to test out the products on tracks in a Paris suburb, where the entire scanning platform is either installed onto a mounting rack in the rear of a wagon or placed in the engine cart.
Riegl, technet-rail offer 'personalized service,' says SNCF
SNCF purchased the laser scanning system after test results met the rail network operator's "requirements in terms of quality and accuracy."
But it was the "significant personalized service" offered by Riegl and technet-rail that was the kicker. "For this reason, we decided to invest in such a system," the spokesperson told this reporter.
At a maximum effective measurement rate of 1.1 million points per second, resulting in up to 400 scan-lines per second, the VMX-450-RAIL mobile mapping system allows surveying of long stretches of tracks at high speeds, resulting in a dense point cloud containing billions of points.
SNCF Infra told SPAR the data acquisition speed of the VMX in the railway environment can be as high as 80 kilometers an hour.
"We can control, in a really short time, lots of track kilometers, and the interaction between track, catenaries, buildings, and platforms," the spokesperson said. "By comparing two different [scan data]acquisitions, we can then easily and automatically detect infrastructure defects, and then prepare maintenance operation."
The spokesperson added that the benefits of a 3D point cloud of the railway environment gives SNCF "a full vision" of the railway system.