OGSystems debuts LiMo for Android users
Software development firm OGSystems LLC, has debuted a free lidar mobile app that lets Android users view, manipulate and analyze 3D point cloud data without desktop and server resources.
Based in Chantilly, Va., OGSystems calls the new mobile app "LiMo," and said it allows users in the field to access 3D point clouds with up to five million points.
"[LiMo] was specifically created to assist scientists, mapping professionals, and other end users interested in lidar to examine both manmade and natural environments with precision, accuracy and flexibility," the company said on its website. "As data is rapidly collected and processed in the field, having LiMo at your fingertips provides an advantageous capability to monitor and mine data that has been gathered on the fly to assist with emergency response operations, situational awareness and targeting, line of sight, and many other applications."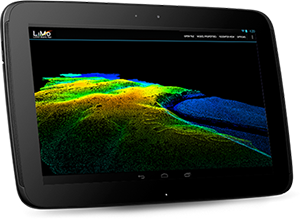 LiMo uses OpenGL (Open Graphics Library), a multi-platform application programming interface (API) for all-native rendering of 2D and 3D computer graphics.
LiMo supports LAS 1.0 through 1.3 files and 8-bit DEM (GeoTIFF) files. It has gesture-based navigation to pan, zoom, and rotate.
OGSystems' clients include businesses and government agencies in the national security, national intelligence, defense, homeland security, healthcare and commercial markets.
LiMo is currently available for free to Android users in the United States on Google play.