Geo Week 2024 is just around the corner, and geospatial professionals, tech enthusiasts, and industry experts are gearing up for an exceptional showcase of innovation, insight, and knowledge sharing. At the heart of this much-anticipated event lies the Exhibit Hall theater, a hub of thought-provoking sessions and discussions that promise to push the boundaries of geospatial technology. This year's line-up is more exciting than ever, featuring a diverse range of session topics that span the spectrum of geospatial applications. From cutting-edge disaster response technologies to thought-provoking discussions on diversity and inclusion, Geo Week 2024 has something for everyone.
Registration is Open for Geo Week 2024!
February 11-13, 2024 | Colorado Convention Center | Denver, CO, USA

Before the full conference program goes live, here's a quick sneak peek of some of what will be on stage right in the middle of the action:
Emerging Technologies for Disaster Response
Disasters can strike at any moment, and in a world increasingly impacted by climate change, preparedness is key. In "Emerging Technologies for Disaster Response," speakers will share the latest advancements in geospatial technology that aid in disaster mitigation, response, and recovery - from recovering from hurricanes and severe weather to managing damaged electrical grids.
Getting Off the Ground with UAV Survey
Unmanned Aerial Vehicles (UAVs) have revolutionized surveying and mapping. Attendees of this session will gain insights into the latest trends and best practices in leveraging UAVs for surveying, offering helpful guidance on navigating regulation, choosing the right systems, overcoming challenges and more.
NeRFs for Geospatial and Beyond
NeRFs (Neural Radiance Fields) are a hot topic in the tech world. This session explores how these cutting-edge technologies are being harnessed in geospatial applications and their potential to reshape the industry, as well as a practical demonstration of their use in the real world.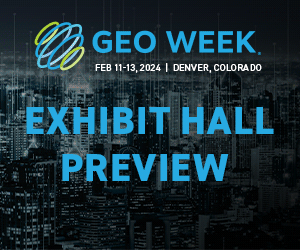 Reality Capture for Accessibility
Geospatial technology isn't just about maps; it's also about making the world more accessible. "Reality Capture for Accessibility" explores how geospatial data is being used to improve accessibility and inclusivity in our built environments. A series of case studies will showcase how this type of data can be used to better cities and buildings through the use of technology to assess changes and address shortcomings.
Focus on Workforce Development
Building a skilled and well-equipped workforce is essential for the industry's growth, especially as technologies continually change, and in light of worldwide hiring and workforce shortages. In this session, experts will discuss strategies for workforce development, education, and training and the importance of providing educational pathways to prepare the next generation for tech careers.
Diversity, Equity and Inclusion
The needs of the industry cannot be met by going to the same wells over and over. This session addresses the importance of pursuing greater diversity and equity in the industry and shares initiatives aimed at creating a more inclusive geospatial world. Lead by the World Geospatial Industry Council, this panel will focus on what can be done to broaden and strengthen our workforce.
Unique Case Studies Showcase
Real-world case studies provide invaluable insights. Attend this session to discover unique, inspiring projects that showcase the transformative power of lidar, 3D and geospatial technology.
Geo Week 2024's Exhibit Hall theater promises a fascinating journey through the latest trends and technology. With sessions covering everything from the cutting edge of disaster response to promoting diversity and inclusion in the field, this year's event is not to be missed. Stay tuned for our in-depth coverage of these sessions and more as we dive into the world of geospatial innovation.