The low-cost 3D capture market has seen some hot competition in the past few years. However, Effortless 3D founder Richard McCormack argues that we still havn't produced the device that will drive truly wide adoption. "There's still a gap," he says, "for a product that can provide reliable 3D capture at a price point that opens the technology to a range of new applications."
This is where Effortless 3D's new E3D MKI, an integrate lidar scanner and HDR imaging system, comes in. At a cost just under £6,000 (roughly $8,000), the E3D looks to be a strong option for customers from AEC firms looking to perform on-site progress monitoring and capture to surveyors who want to fill out their reality capture tool kit with a more portable option.
First things first: It weighs 2 kg and comes in a diminutive 240×110 mm (10×4 inch) package. For sensors, it includes two 360° HDR cameras that capture at 10 MP and a 360° lidar sensor with a range of 0.1-20 meters, resolution of 0.25°, and accuracy rated at 30 mm.
A gap in the market
McCormack says this scanner was "born out of frustration at the lack of a middle-ground in 3D scanning." On the affordable end of the market, you have low-cost scanners built with structured-light sensors. These products are "great for smaller, indoor environments, but lack the flexibility to operate in the range of indoor and outdoor environments that users want to capture." Until very recently, you had to look to the other end of the market if you wanted that flexibility, and buy an expensive terrestrial lidar system.
The idea for the E3D was to make a scanner that splits the difference. It hits a new low price point and uses a lidar sensor. "That choice," McCormack explains, "means our users can be confident they will capture the consistent 3D and high-quality visuals they expect, regardless of their environment or lighting conditions."
But this balancing act doesn't mean a bare feature set. E3D includes "several features conspicuously missing from the affordable systems already on the market, like a removable battery and IP-rated enclosure," which McCormack says can make the difference "between finishing off a project and being left on-site with an unusable device."
It also doesn't mean you'll be locked into an expensive license. "We are advocates of data neutrality," McCormack says, "and believe that a user should be able to do what they like with data they capture."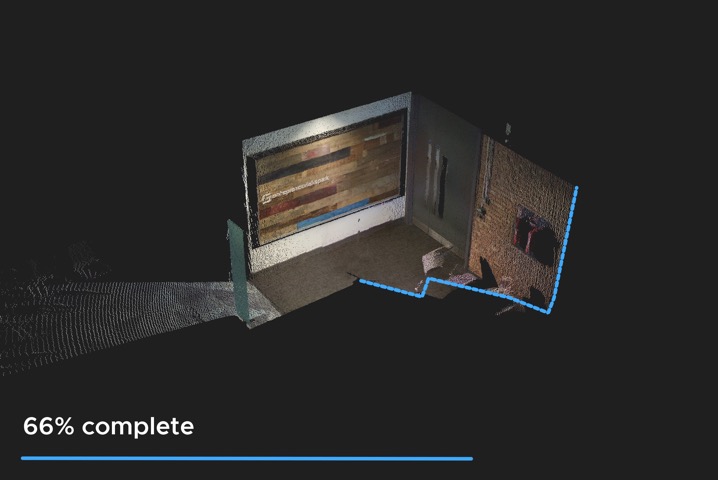 User friendly field registration
E3D comes bundled with software that is easy to use, but, more importantly, designed to help novice users monitor the scanning process to ensure good results.
"Thoroughly understanding a scanning project as it is underway is vital to ensuring you capture everything you need," McCormack says. "This is particularly true for non-technical users who may not be familiar with the shadowing that can result from scanner positioning. That's why we've integrated a live 3D map into our control application, which gives the user a comprehensive understanding of the data they've captured and where they need to capture next."
One component of that understanding is field processing, which is why E3D comes with a tool that offers semi-automatic field registration of point clouds on a mobile device. "There's no 3D point-picking involved," he says, "the user simply clicks on a few objects in the panoramic imagery that match up between scans, and our cloud-to-cloud algorithms do the rest."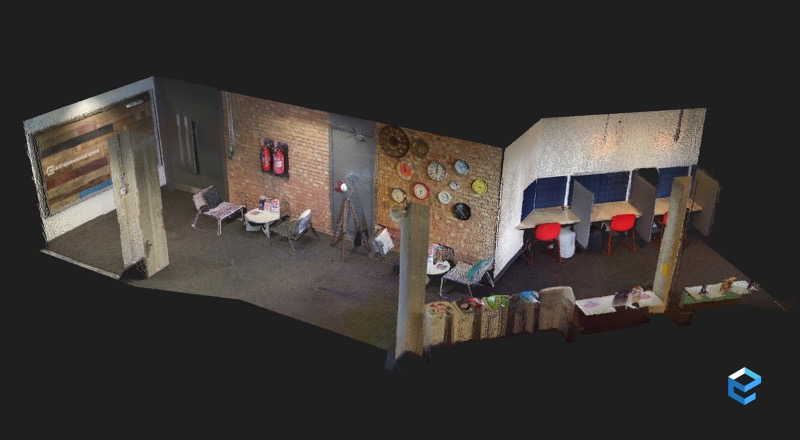 Pick one: fast and easy, or in-depth
Any device aiming to capture both novices and expert users should involve a number of features that make scanning as easy as possible—and can be shut off for those who would rather do the detailed work themselves.
For novices, McCormack compares the E3D to a "point and shoot" camera because "the user simply initiates a scan, then monitors progress from an app as the scanner proceeds to capture the entire scene." This processing includes automatic adjustment of white balance, fusing of exposures for an HDR image, and automatic colorization of the point cloud. On the point cloud side, the system automatically corrects for scanner tilt, filters noise, and registers the new scan. The whole process takes about 30 seconds.
Expert users can get "finer-grained control" by turning off the filters, and exporting the scans to other software where they can perform more complex registration workflows.
Who is Effortless 3D?
If you haven't heard of this company before, you're not alone. Here's the background. Effortless 3D is a spin-out from a UK-based R&D company named Createc that specializes in applied imaging and sensing. The company has often worked to map 3D spaces through sensor fusion and machine learning, leading to projects like developing the 3D radiation scanner currently in use at Fukushima, 3D mapping drones, handheld laser scanners, and liar-based security systems.
For his part, McCormack has worked on projects like a virtual tour system for the US Federal Rail Administration that blended geolocated spherical imagery with 3D measurement features. "More recently," he says, "my focus moved to making 3D laser scanning more accessible. The aim is to open the technology to a wider range of markets and applications by improving user experience, automating data processing, and vastly reducing cost. This, of course, led to the spin-out of Effortless 3D."
Whether Effortless company accomplishes its goal or not, consumers will certainly benefit from the stiff competition that the E3D MKI brings to the 3D scanning market.