Draganfly has been in the UAV business for over two decades, providing drone technology to professional and commercial clients. Now, they are adding to their scope and joining a fast-growing segment of the UAV market. The company announced earlier this month that they have launched a new long range lidar system to add to its arsenal of products.
Draganfly's new long range lidar system is made in North America and is able to improve upon conventional photogrammetry methods, providing accurate distance measurements and improved resolution. The system has a scanning range of 750 meters and is able to produce 0.5 centimeter point cloud precision with two centimeter global accuracy. All of this comes together to produce high-resolution data at two million points per second. The system also includes the processing software to transform the data collected into a point cloud.
The company's new product is compatible with UAVs, along with other aircraft such as helicopters, and can be mounted on a vehicle or backpack to be used as a mobile scanning solution. Dragangly's new lidar system integrates lidar sensors from Teledyne as well as IMU and GNSS sensors from Applanix. With its low beam divergence, the system is able to scan a safe distance from the ground in hazardous terrain.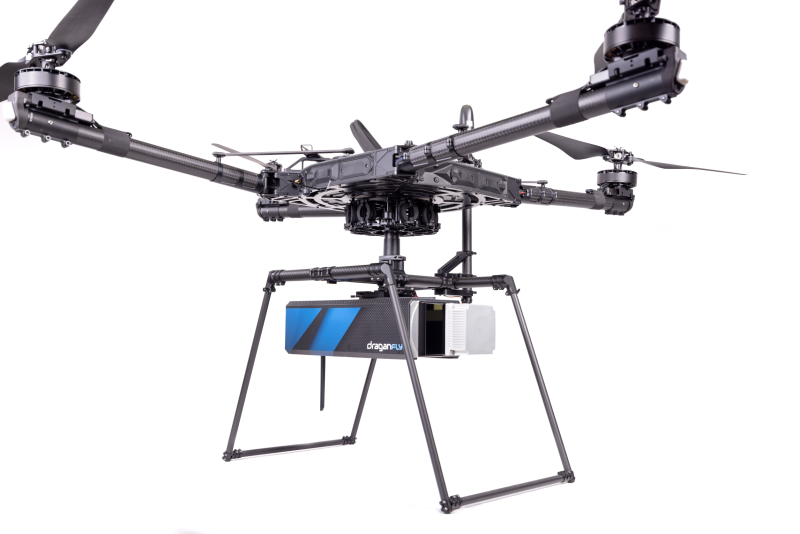 Draganfly now enters a growing lidar drone market, which according to a report from Fortune Business Insights is projected to grow from $129 million in 2020 to $455 million in 2028, with a nearly 18 percent Compound Annual Growth Rate (CAGR). Utilizing lidar equipped on a drone allows data and 3D images to be produced more quickly and with fewer expenses.
Among the reasons this is a market growing so rapidly is the fact that lidar technology has quickly grown both more affordable and more lightweight, the latter point allowing it to more feasibly be attached to drones. The use cases for this technology are wide ranging, including things such as accident scene evaluation to allow first responders to already have the scene assessed by the time they arrive, forestry mapping in order to survey a wooded area much more quickly and cheaply, and mining to help increase ore extraction and do so more safely, among many more applications.
Draganfly has been part of Canada's growing UAV industry and an increasing focus in the country to utilize this technology. The commercial UAV market in Canada is expected to increase by 17.4 percent by 2027. The introduction of lidar to their products will only increase the utility of their involvement with the nation's efforts. Given the geographic realities of the country with its large wooded areas, these drones will be able to more easily survey and map areas of vast unsettled lands, monitoring wildlife in those areas, and surveying pipeline areas in the country.
Cameron Chell, the president and CEO of Draganfly, said in the press release for the company's new system, "Whether it is utilized by air or on the ground, our Long Range lidar system is able to safely and effectively provide industry leaders with the mapping data they require."